Dixie Belle Chalk Paint Experience
The Chalk Paint Dilemma
Have you ever used or wanted to use chalk paint? Although I have been painting furniture for several years, I have always avoided chalk paint. This is mainly because I didn't want to have to finish the piece with wax.
So many of the articles that I read about chalk painting emphasized the importance of waxing and buffing to seal and protect the chalk paint. That was bad enough (says the girl who always uses the automatic car wash), but then it's recommended to reseal the furniture every 6 months to a year.
Say what????
I'm sorry, but I don't have time for that.
Then Came Dixie Belle
But then I started seeing Dixie Belle Paint pop up on Instagram, and all across the blog-o-sphere. There were so many beautifully finished pieces with gorgeous blending techniques. You know, kind of like the one that I was trying to achieve on this poor paint cabinet?
Not only were the pieces gorgeous, but they were also sealed with a topcoat. You heard me right, my friends: SEALED! No buffing required!
Full disclosure: Dixie Belle does sell several butters and waxes for those die-hard dears among you who enjoy getting a workout from buffing out furniture. Yes, yes. I know that it offers that gorgeous old-world glow that even a flat topcoat can't quite recreate. I'll just sit over here and sip my tea while you buff your heart out.
Since Dixie Belle promotes clear coats as well as waxing, and there were so many fabulous tutorials, I was excited to give their products a try. So let's get started with a rundown of some of the prep, paint, and finish products that I tried out.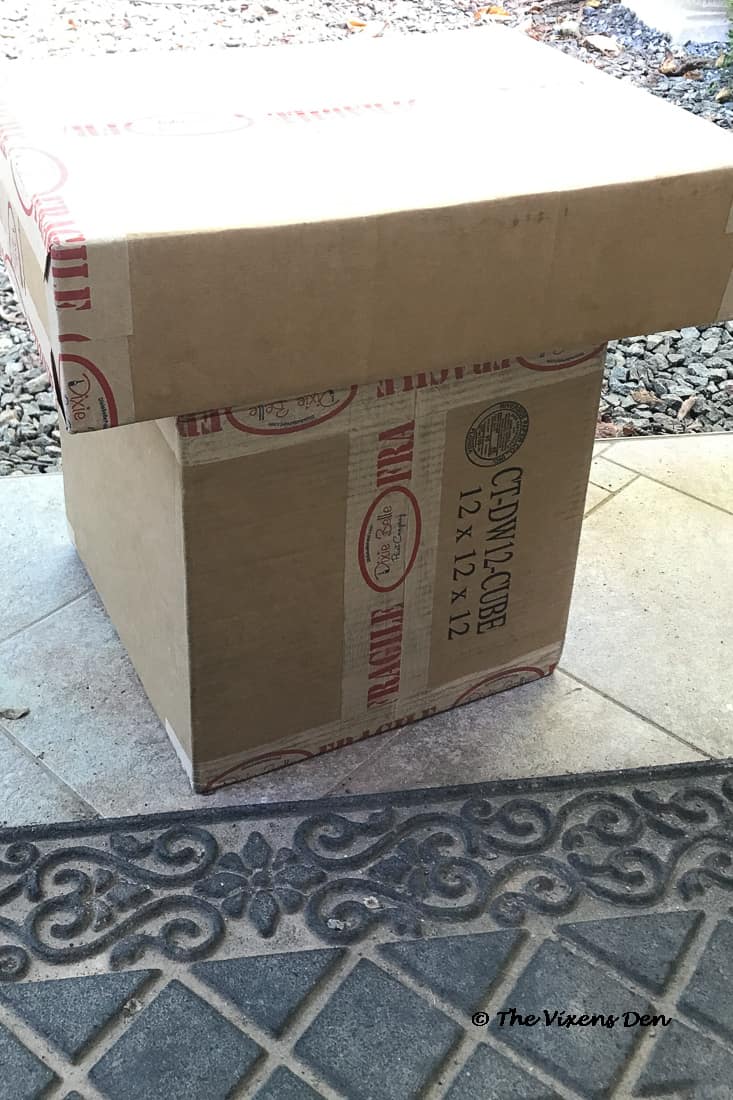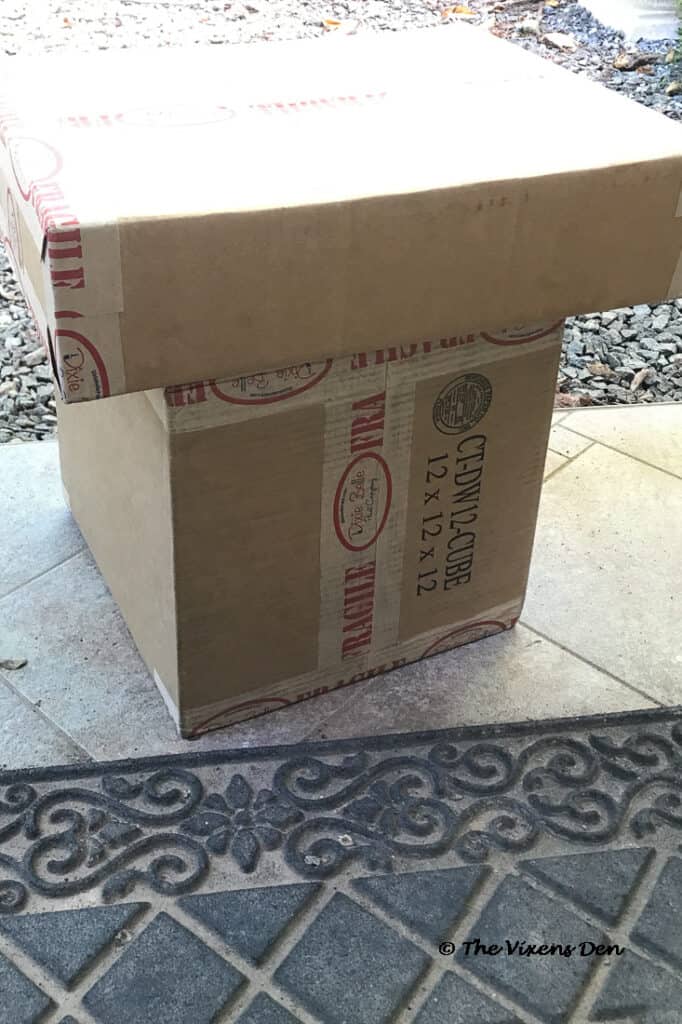 THIS POST CONTAINS AFFILIATE LINKS TO PRODUCTS. I ONLY RECOMMEND PRODUCTS THAT I HAVE OR WOULD USE.
AS AN AMAZON ASSOCIATE I EARN FROM QUALIFYING PURCHASES AT NO COST TO YOU. YOU CAN SEE MY FULL DISCLOSURE HERE.
White Lightning Cleaner
When it comes to any project, proper prep work is key!
Dixie Belle offers a TSP-based product called White Lightning which is used to clean the project before painting. The White Lightning is easy to mix up, just drop a couple of scoops into a gallon of water. I scaled my measurements down to fit a 32-ounce container. Then I poured that into a smaller bowl since I was working on a small piece. This leaves me with plenty of premixed White Lightning for the next project.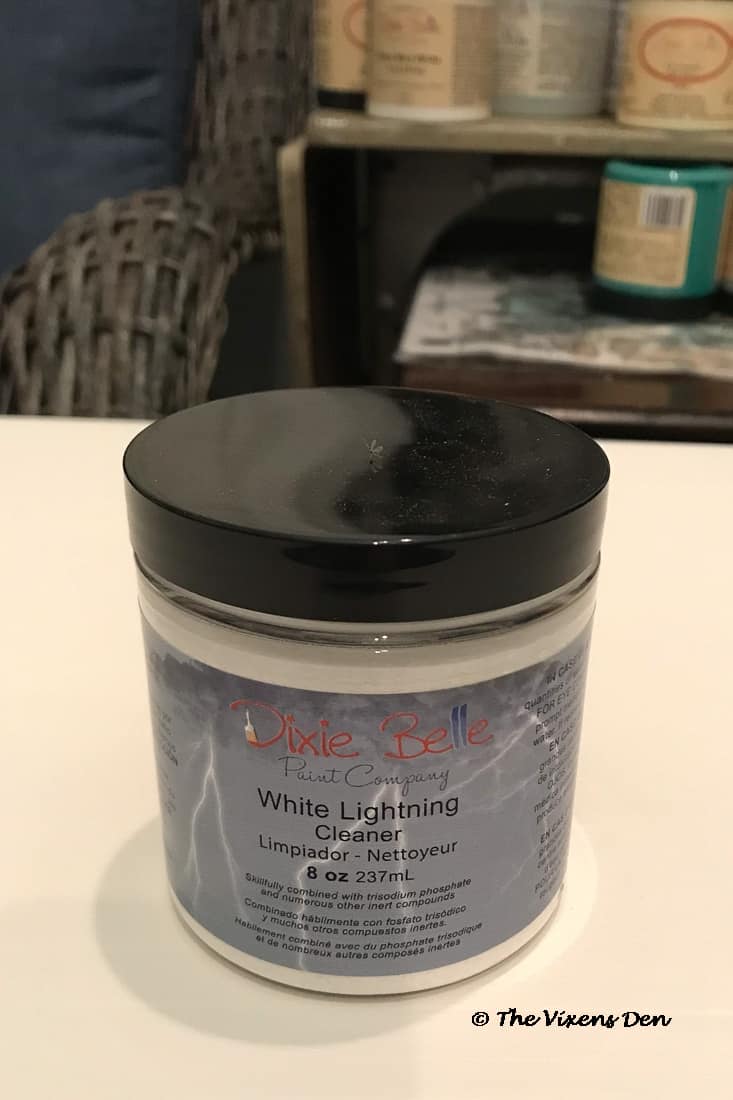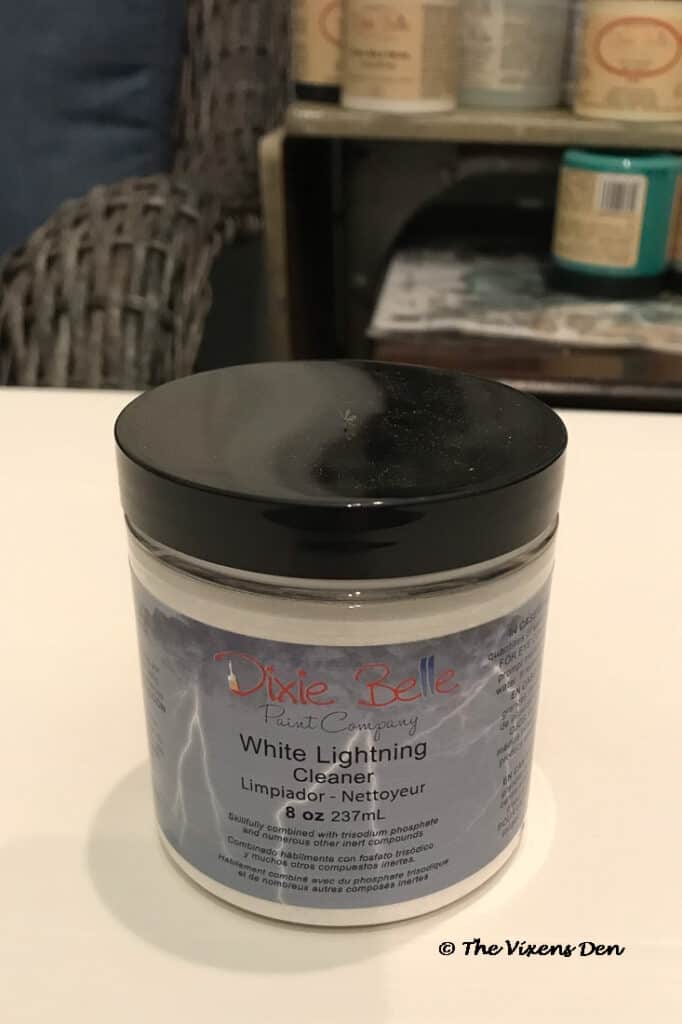 Although the warning labels caution that it's best to use gloves, I didn't really encounter any problems when I forgot to put a glove on before taking a last swipe across the surface of my project. I have semi-sensitive skin and my hands dry out pretty easily whenever I use chemicals, but this product didn't bother them. However, I do recommend wearing gloves, just to be on the safe side.
As I was cleaning the project inside my shop, I was curious to see if there were any fumes from the cleaning mixture. Although it has a noticeable faint smell, there weren't any fumes that left me feeling lightheaded or nauseous. There was just a light smell of a cleaning product.
After I finished cleaning the piece, I rinsed it by wiping it down several times with a clean damp rag. I didn't notice any dried residue left behind, as can happen with some powder or granular type cleaners.
In the cleaning department, White Lightning is a win:
Easy to mix
No odors
No residue
Clean project
Primer
One of the primary selling points of chalk paint is that you don't have to prime your project. Once it's clean, you can just start painting. However, there are instances where priming will produce a better final result. For example, I really should have used a clear primer on the Alice in Wonderland end table, before painting. This would have prevented bleedthrough from the wood tannins.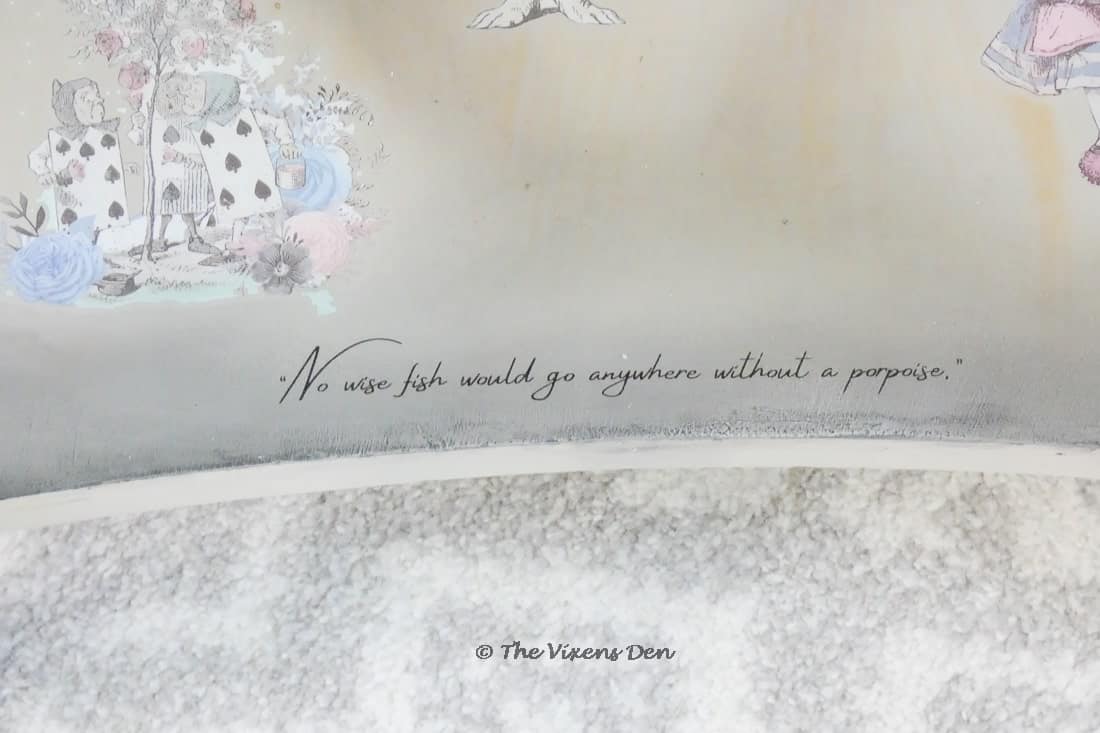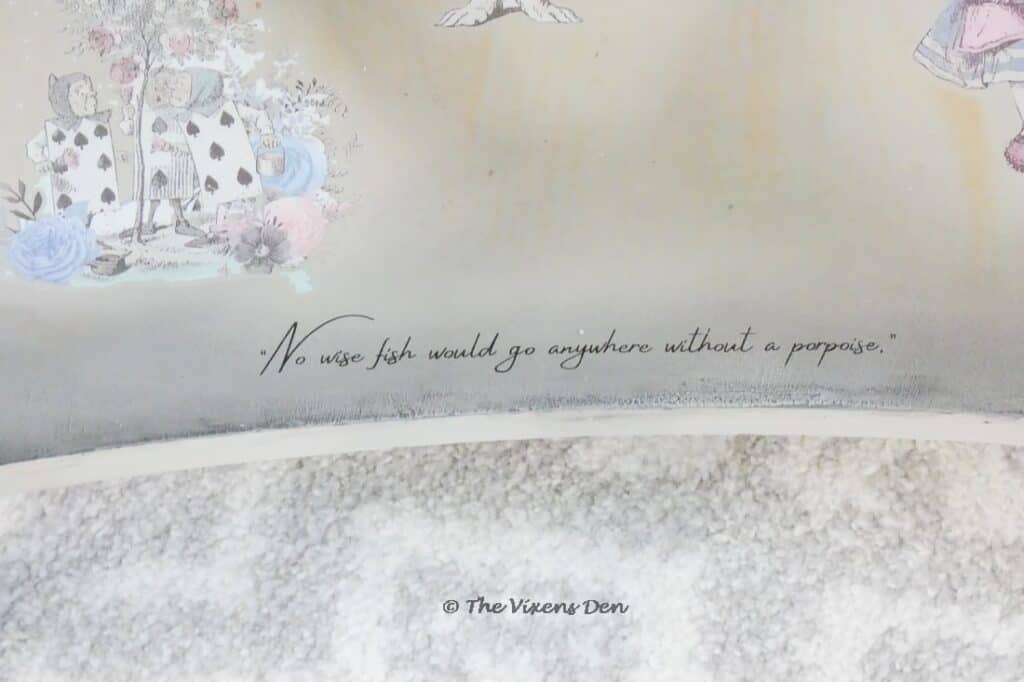 When these situations arise, Dixie Belle offers two solutions:
Boss is also great for blocking odors and stains from materials that may have seeped into the wood. Boss is available in clear, white and gray. Since it's available in white and gray, Boss doubles as a primer as well as a problem solver.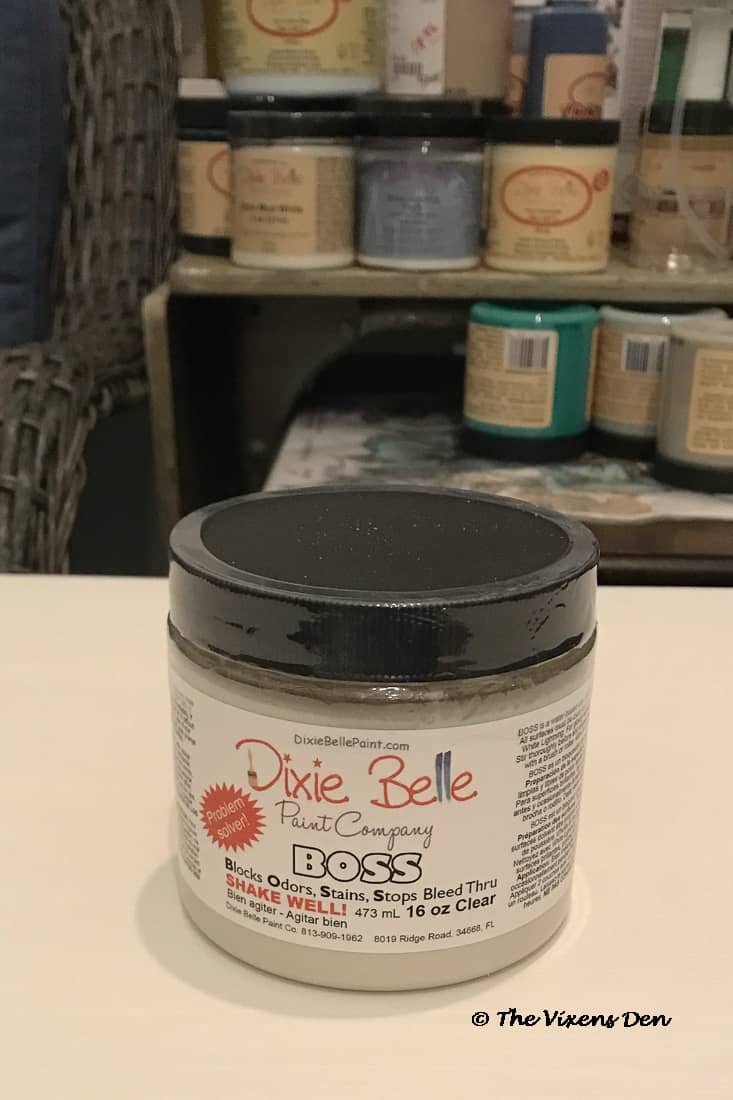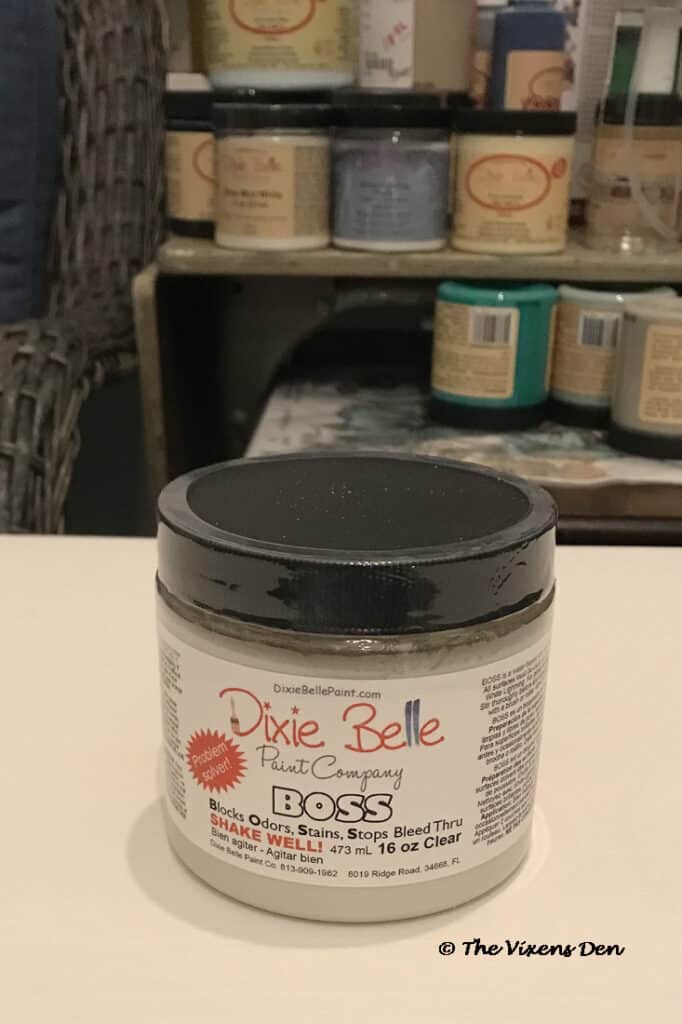 Slick Stick, on the other hand, is the primer of choice when painting hard shiny materials such as metal, laminate, or even glass.
It's challenging for me to not prime a piece since priming has been a part of my process for so long. However, Dixie Belle clearly states that priming is only necessary to solve a problem like odors, stains, or shiny surfaces. Skipping priming definitely helps to speed up the process, so I'm looking forward to moving a little faster on future projects.
Chalk Paint
Dixie Belle has two lines of chalk paint: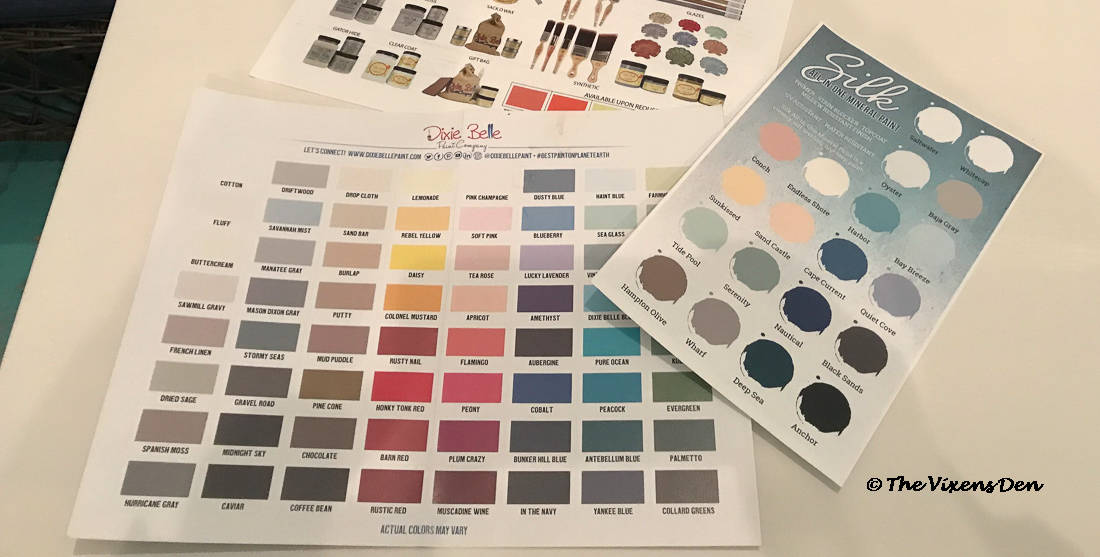 Their line of Chalk Mineral Paint seems to be the "standard" of what everyone refers to when they say "chalk paint" while the Silk All In One Mineral Paint incorporates primer, paint, and topcoat into one paint.
There are different color options for each line. The Chalk Mineral Paint line has bolder color options than the softer palettes found in the Silk All In One Mineral Paint. So far, I've only used the Chalk Mineral Paint. Remember, this is my very first experience with chalk paint, so for those of you out there who have used others, feel free to chime in.
Here's what I noticed while using Dixie Belle Chalk Mineral Paint:
Chalk paint is super thick.
When I saw how small the jars of paint were, I was wondering how in the world I was possibly going to be able to complete an entire project with such a small jar. But here's the thing: the paint is so thick, that you have to water it down in order to apply a thin coat.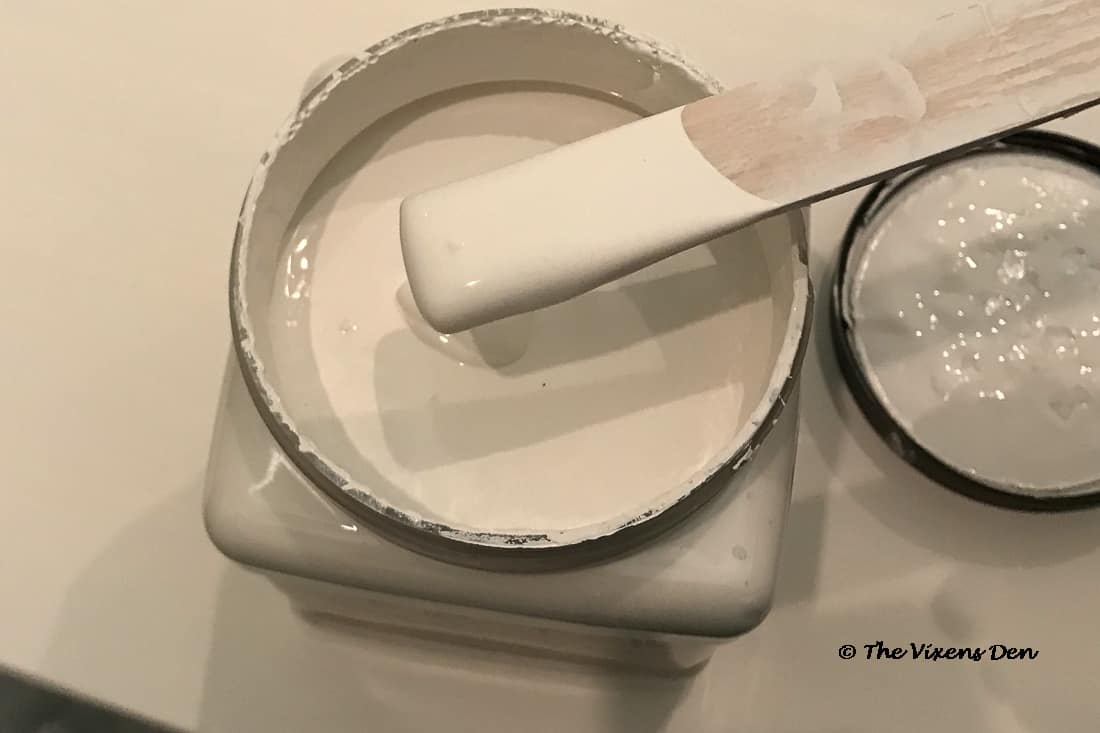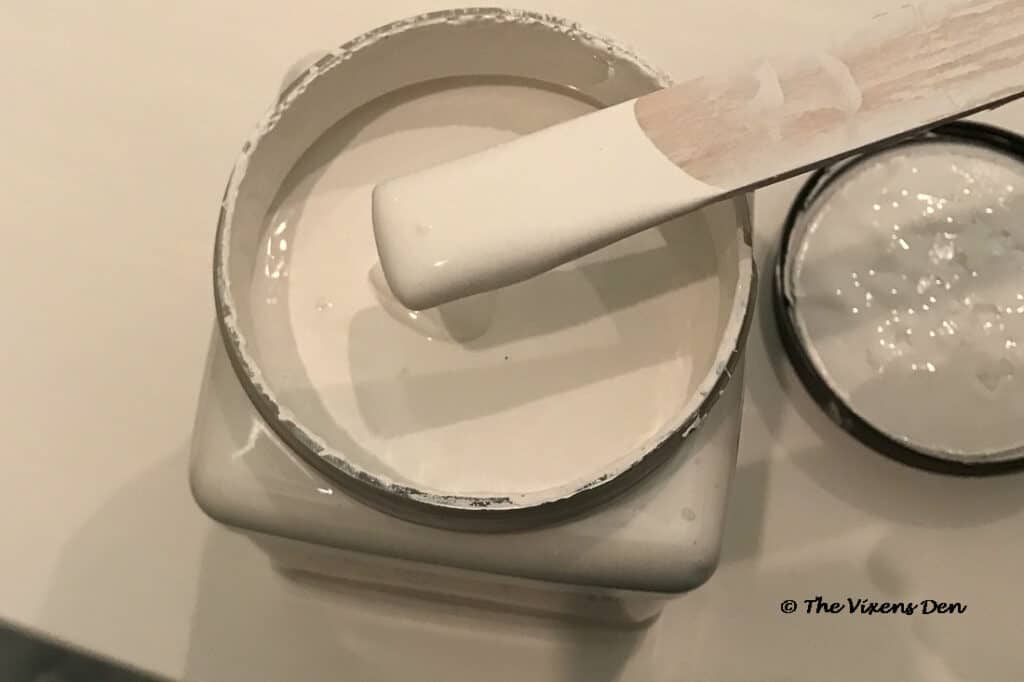 If there's one rule of thumb when painting, it's that multiple thin coats are ALWAYS better than a couple of thick coats. In order to achieve a thin coat, I first dipped my paintbrush into water and shook it off. Then, I dipped just the tips of the bristles into the paint. Sometimes that was still a bit too thick, so I would gently spritz the surface of the project with the Dixie Belle Continuous Spray Mister to keep the paint wet and pliable.
At the end of the project, I had barely made a dent in the jar of paint!
Chalk paint doesn't stink.
Even the lowest VOC latex paint that I've used gives me headaches after extended periods of time in an enclosed space. My studio is tiny, about 12×14, so finding a paint that doesn't stink is huge! It means that I can spend longer in the studio and less time in the drying/airing out period. This also means that I finish projects much faster. Win, win!
Chalk paint blends like a dream.
Remember that poor the doors of that poor little paint cabinet in this post? Well, a dry brushed blended look is what I was trying, and failing miserably, to achieve. But guys, this paint. It's amazing!
I used an artist's brush to paint a line of Dixie Belle Caviar around the edge of the Alice in Wonderland end table top. Then I spritzed the tabletop and the Dixie Belle oval brush with water and began swirling the paint to pull it towards the center of the top.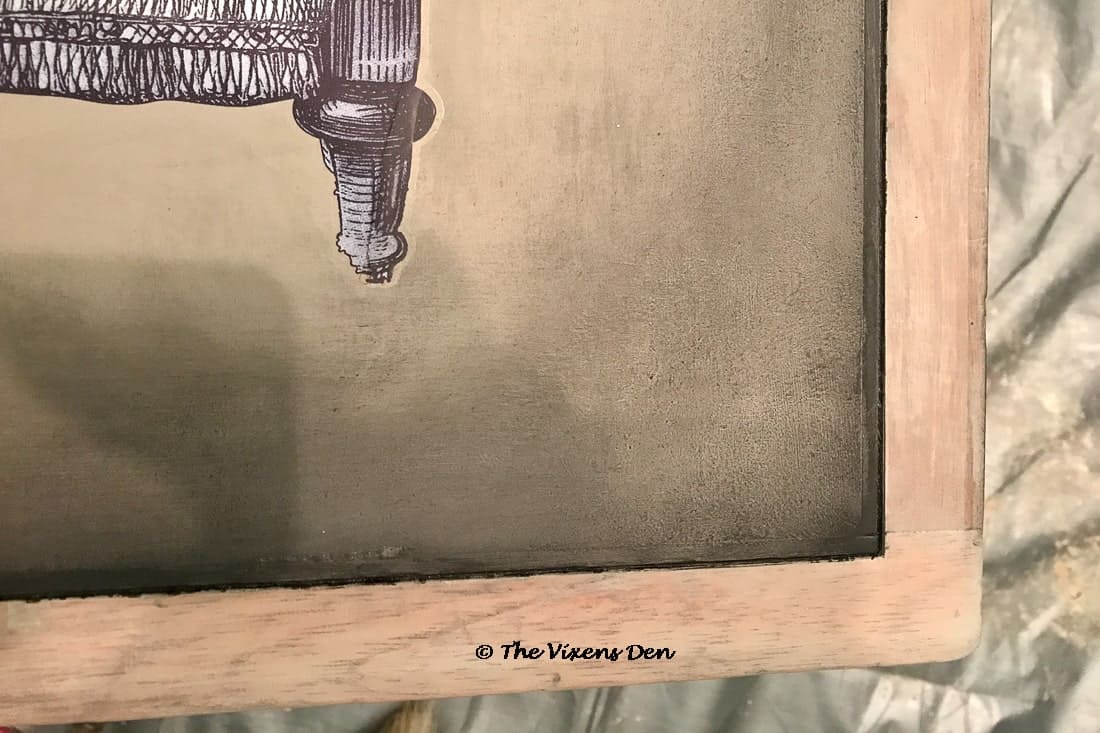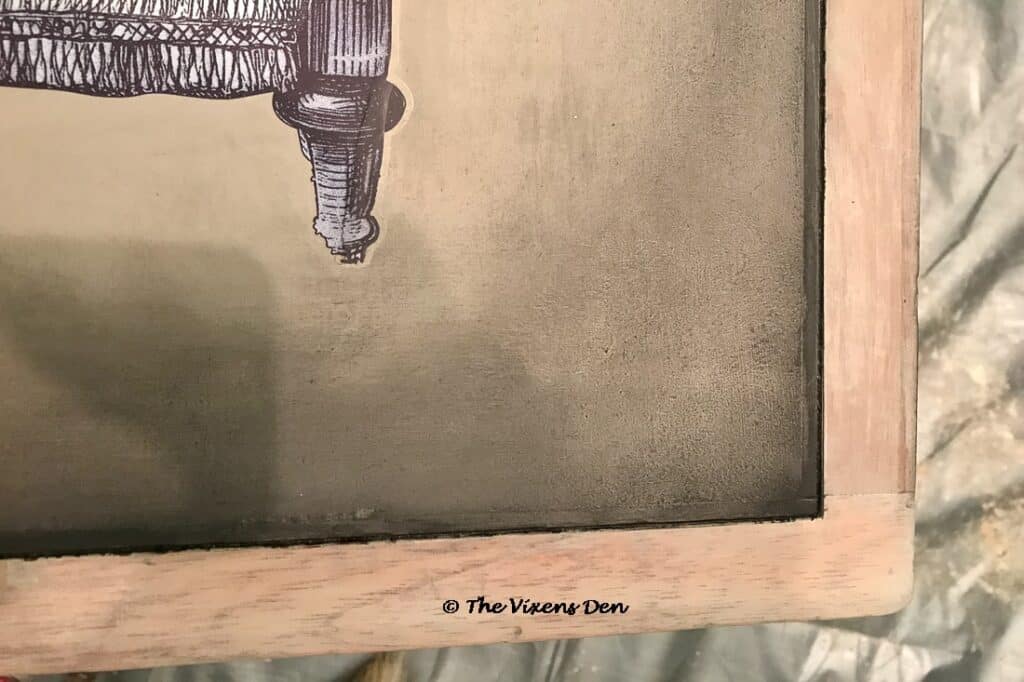 Even though I had to blend and reblend the Alice In Wonderland end table multiple times in a couple of places until it had the right level of shadowing, it happened. I achieved what was, until now, unachievable.
Chalk paint is…chalky.
The texture is very different from the enamel paint that I have used in the past. It's a very dry, textured surface.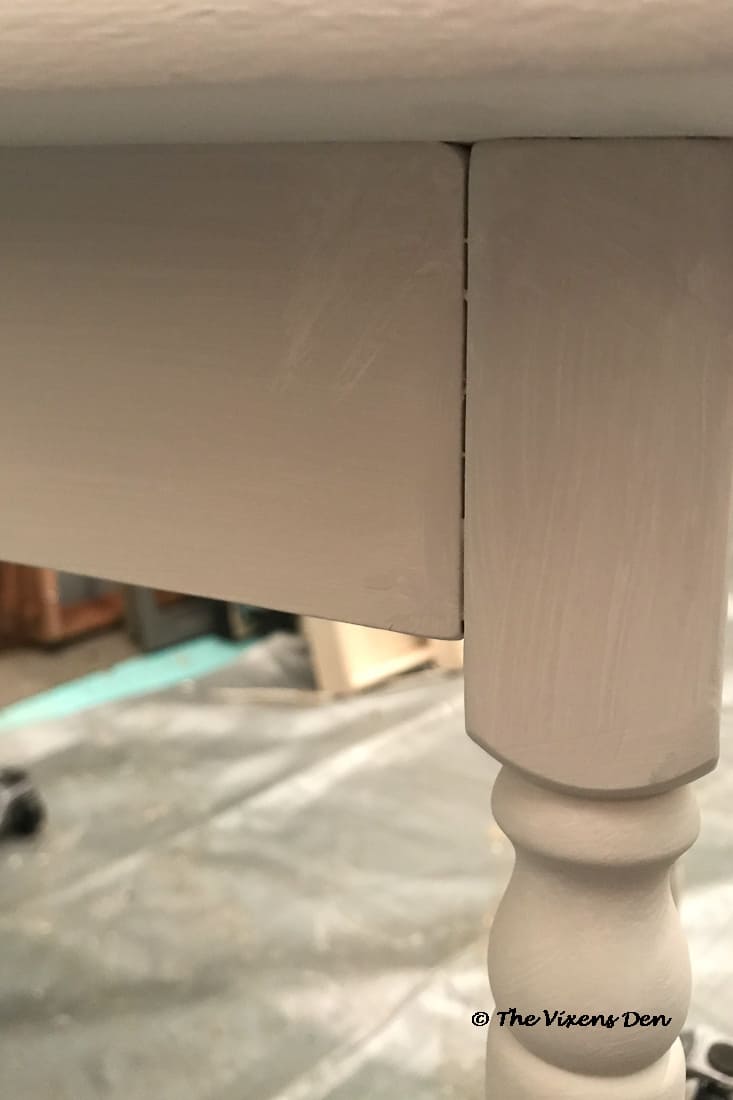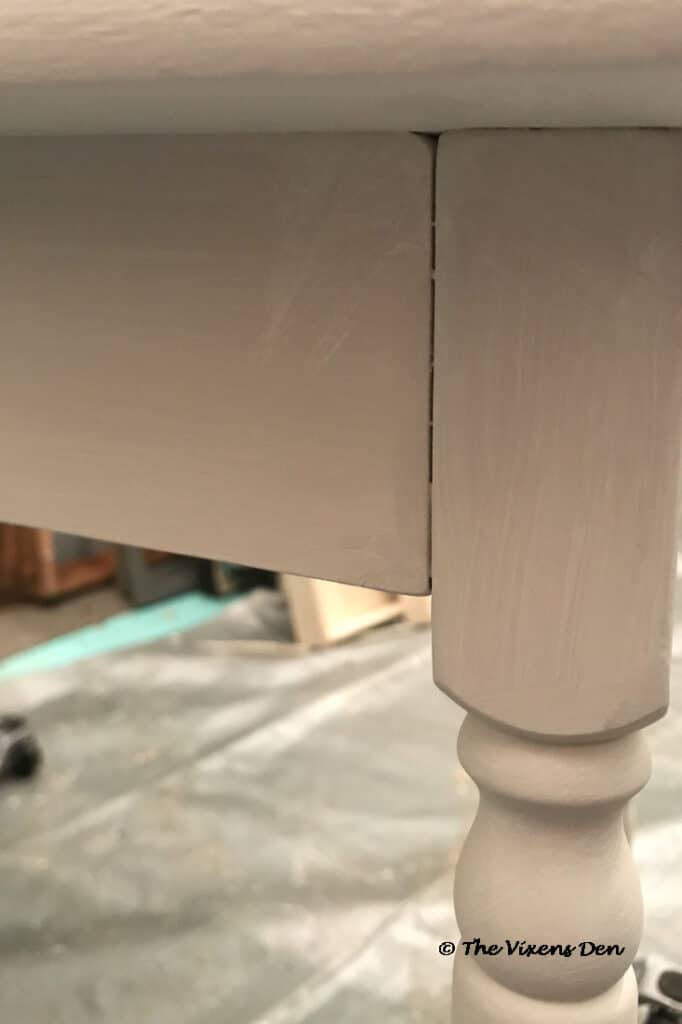 Of course, that's why it's called chalk paint and that's also why it works so well for blending. The Silk All In One Mineral Chalk Paint has the sealer built-in, so it's described as being much smoother to the touch.
Remember, regular chalk paint has to be sealed when your project is complete. Whether you're waxing or clear coating. This brings us to the next set of products.
Sealers
Dixie Belle offers a series of topcoats, including:
Waxes
Yes, my friends, clear wax is an option for you buffers out there. It just doesn't happen to be in my toolbox. I am eyeing the Easy Peasy Spray Wax, but that is for an entirely different reason that we'll go into in another post.
Clear Coats
The clear coat options include:
I tend to kid-proof (and Becky-proof) everything as much as possible, so I used Gator Hide clear coat sealer to top off the Alice in Wonderland end table, just in case a nice cold glass is accidentally set on it without a coaster.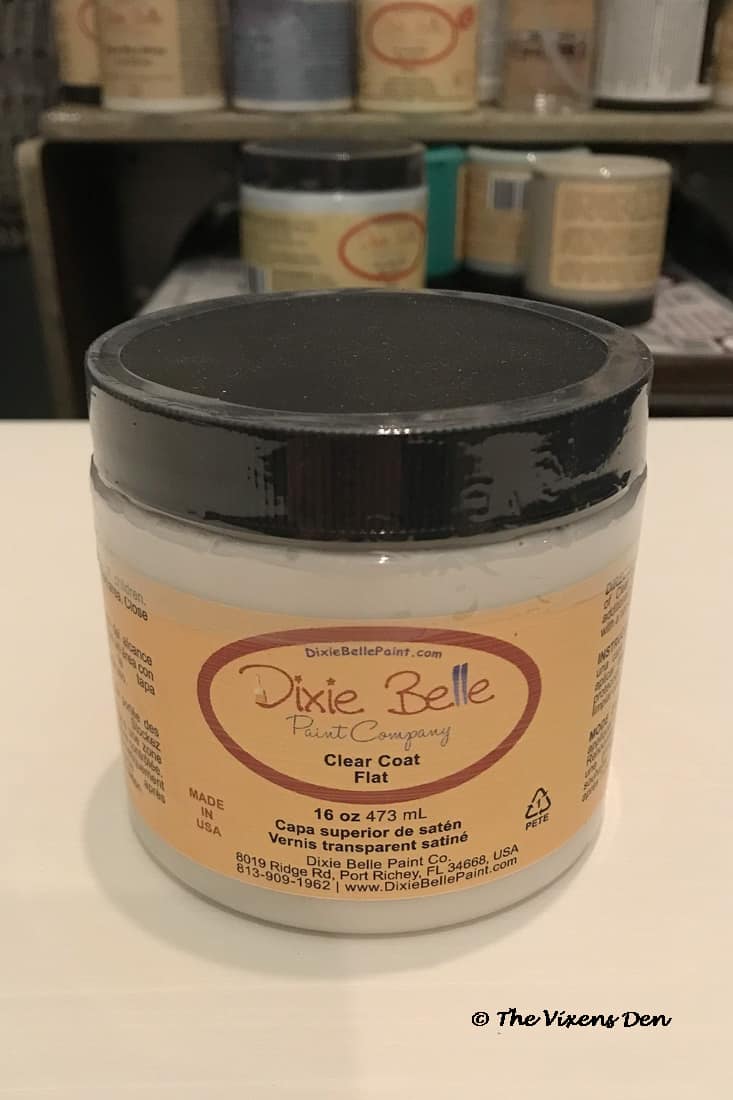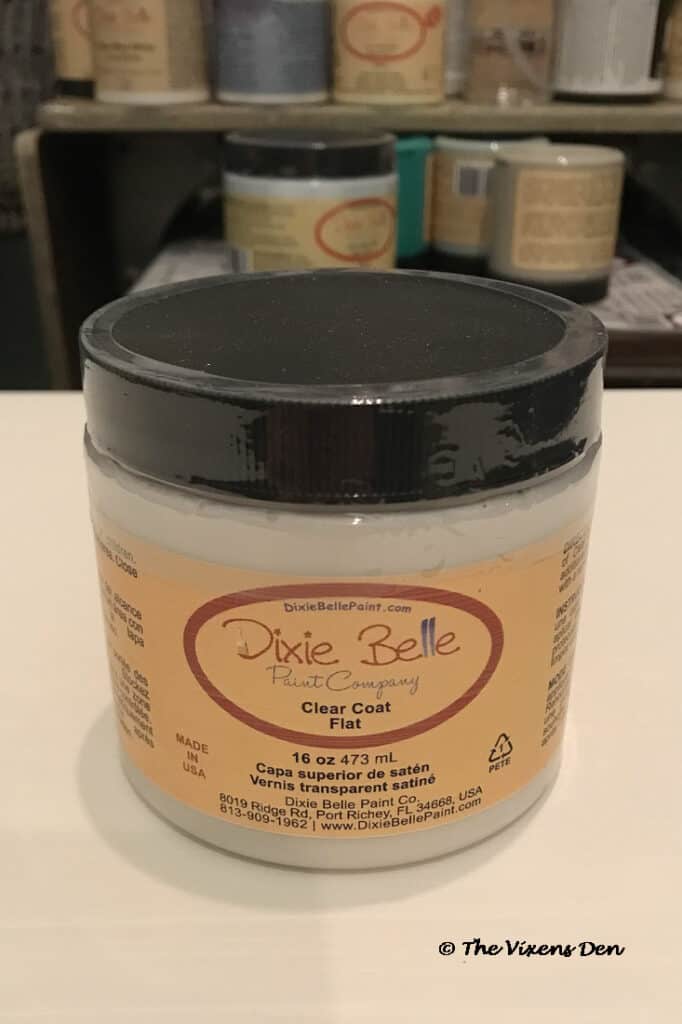 I do wish I'd used the special blue applicator instead of a paintbrush. The conditions in my studio didn't allow the sealer to level out before it dried, so I ended up with paintbrush marks. These can be sanded out, but I prefer to avoid them instead.
Since the clear coats are also water-based, it's a good idea to spritz the bristles of your paintbrush before applying, so that the product moves smoothly onto the surface of your project. Once I've added an applicator to my toolbox, I'll follow up and let you know if it helps to spritz the surface of that as well.
There were no noticeable fumes when applying the clear coat, just a light smell similar to the paint. The tally so far for clear coats is:
Easy to apply (with some learning curve)
No fumes
Fast drying time
Dixie Belle clear coats are a win!
Final Thoughts
DIxie Belle Paint Products
So what is my overall impression of Dixie Belle prep, paint, and sealer products so far?
Easy to use
No noticeable fumes
Fast dry times
Great color options
Color recipes available in the Color Lab
Color matching available
Easy to blend
Good variety of product options (we haven't even talked about stains and other fun things!)
I think I've found my painting soulmate! Seriously, this paint applies beautifully and covers well. But what really pushes me over the edge, is the ability to blend colors. My painting style is a mixture of stain, paint, and blended color tones, all sealed up with a durable clear coat. For me, I've found that ability with Dixie Belle chalk paints.
The Dixie Belle Experience
I have many more products left to try, but so far I have been impressed with both the products and the company. They seem invested in making certain that their customers have all the necessary tools to be successful with their products.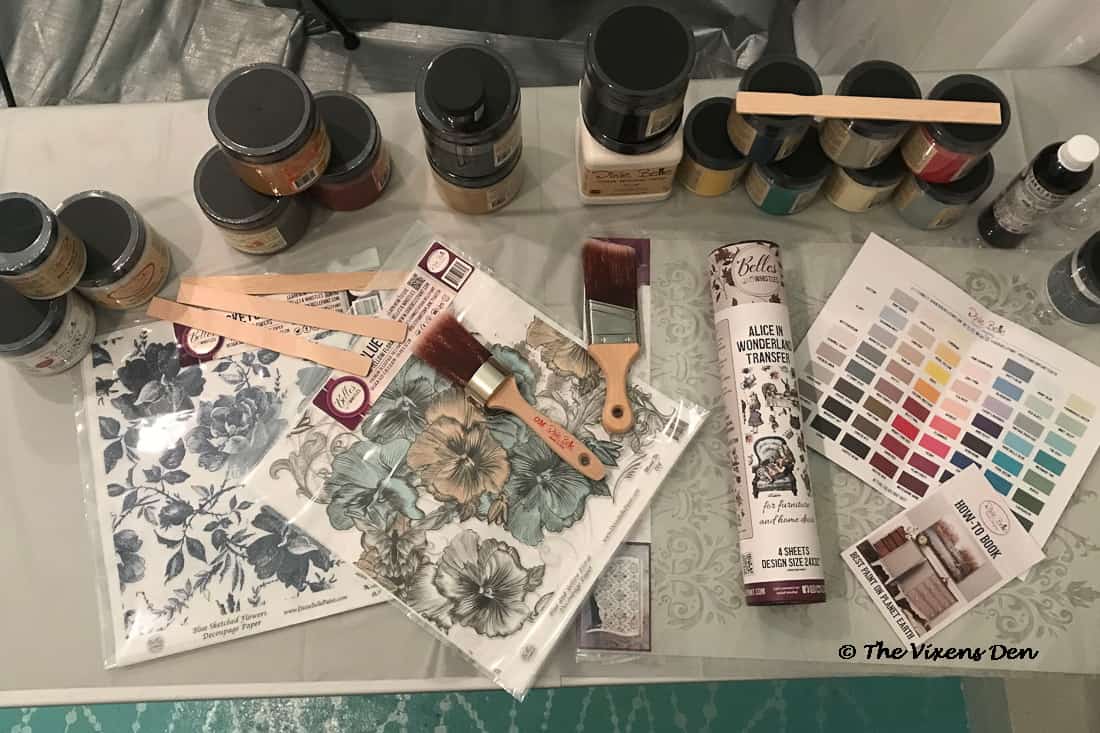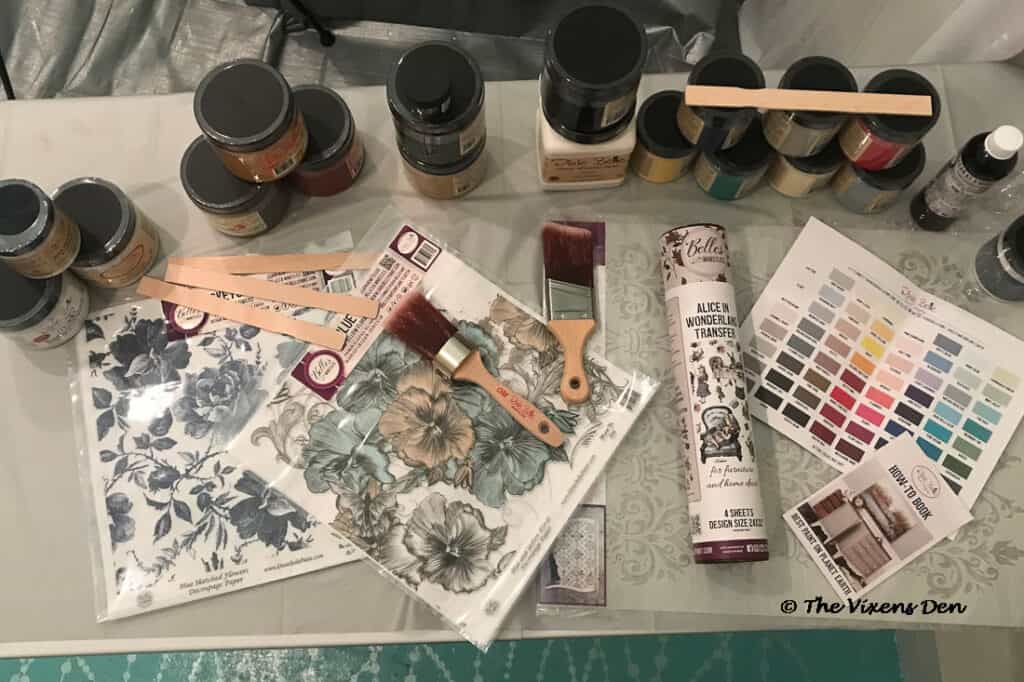 There are tons of tutorials available on the Dixie Belle YouTube and Instagram channels, with live painting classes held regularly. They also promote customer projects to help inspire new artists and weekend DIYers. The weekend DIYers especially don't want to have to invest in paint sprayers and other equipment just so they can paint a few pieces for their homes.
I appreciated the extra touches of paint stirs and color palettes that were included with each order to help me select the paint for my next project. Finally, I love supporting a small business that is working hard to create good quality products. So far, it's an all-around win!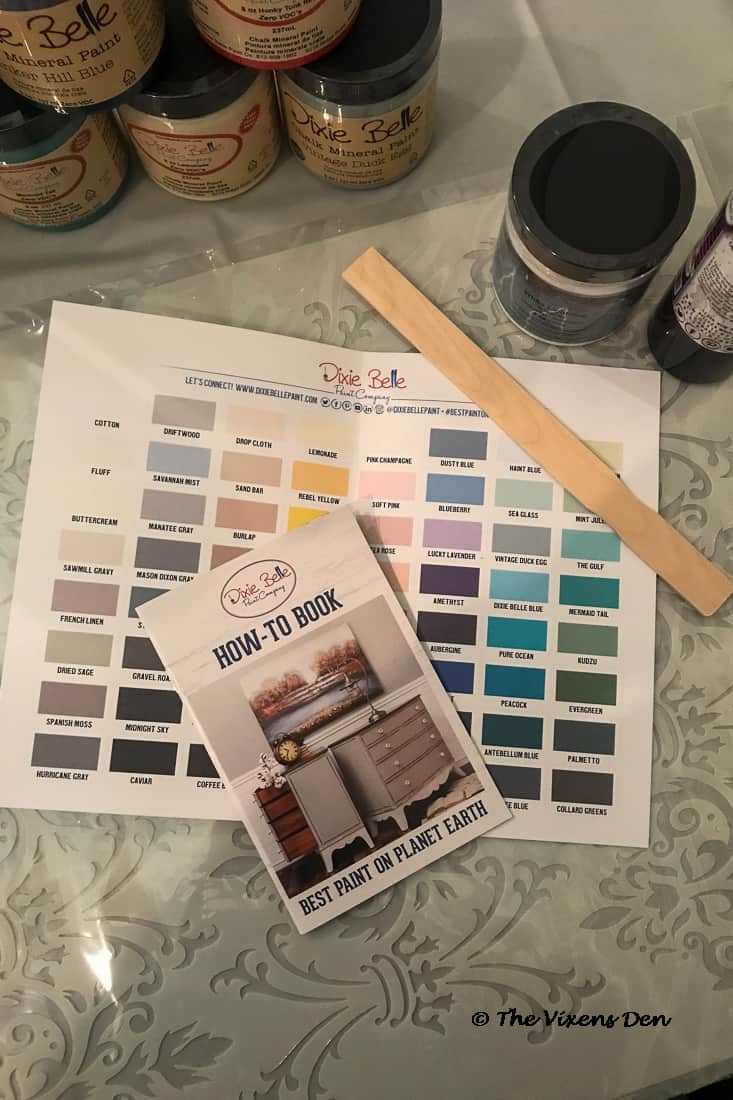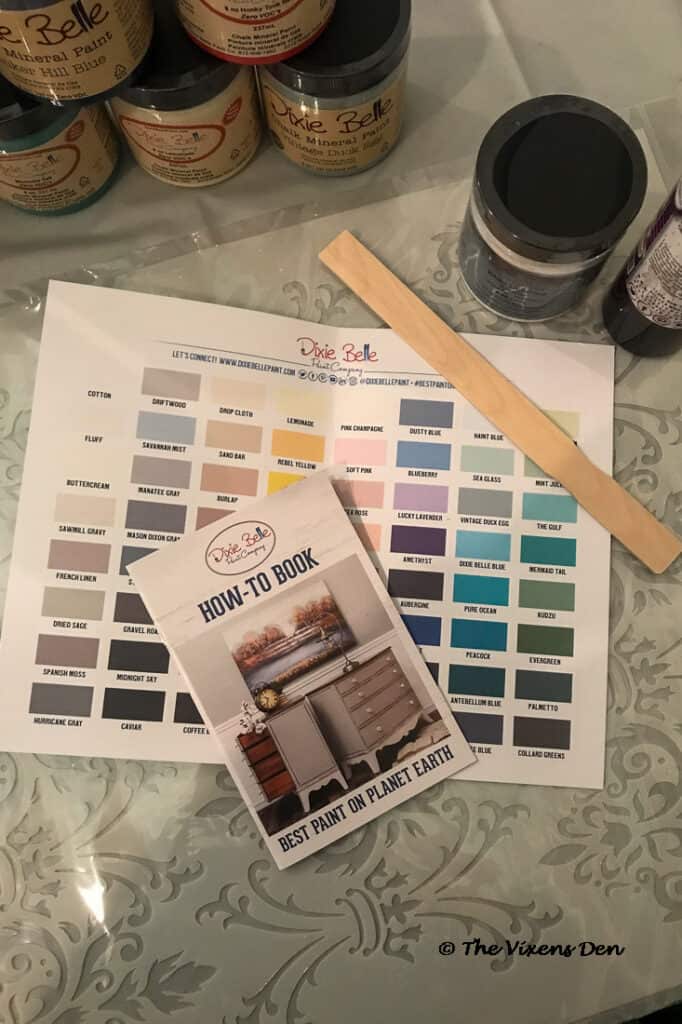 I hope you found this Dixie Belle Chalk Paint review helpful, or at the least, entertaining. You can expect many more chalk-painted projects in the future. Maybe that poor paint cabinet will finally have its doors repainted into what I had envisioned from the start. Wish me luck, and be sure to sign up below to receive a notification so that you can see its transformation!