How to Create a Raised Stencil
Do you have a simple piece that is maybe a little too simple? Have you wished you could add some unique details to make it extra special? Keep reading to see how we created a raised stencil from a simple stencil and some Dixie Belle mud, taking these simple planters from "ho-hum" to "wow!"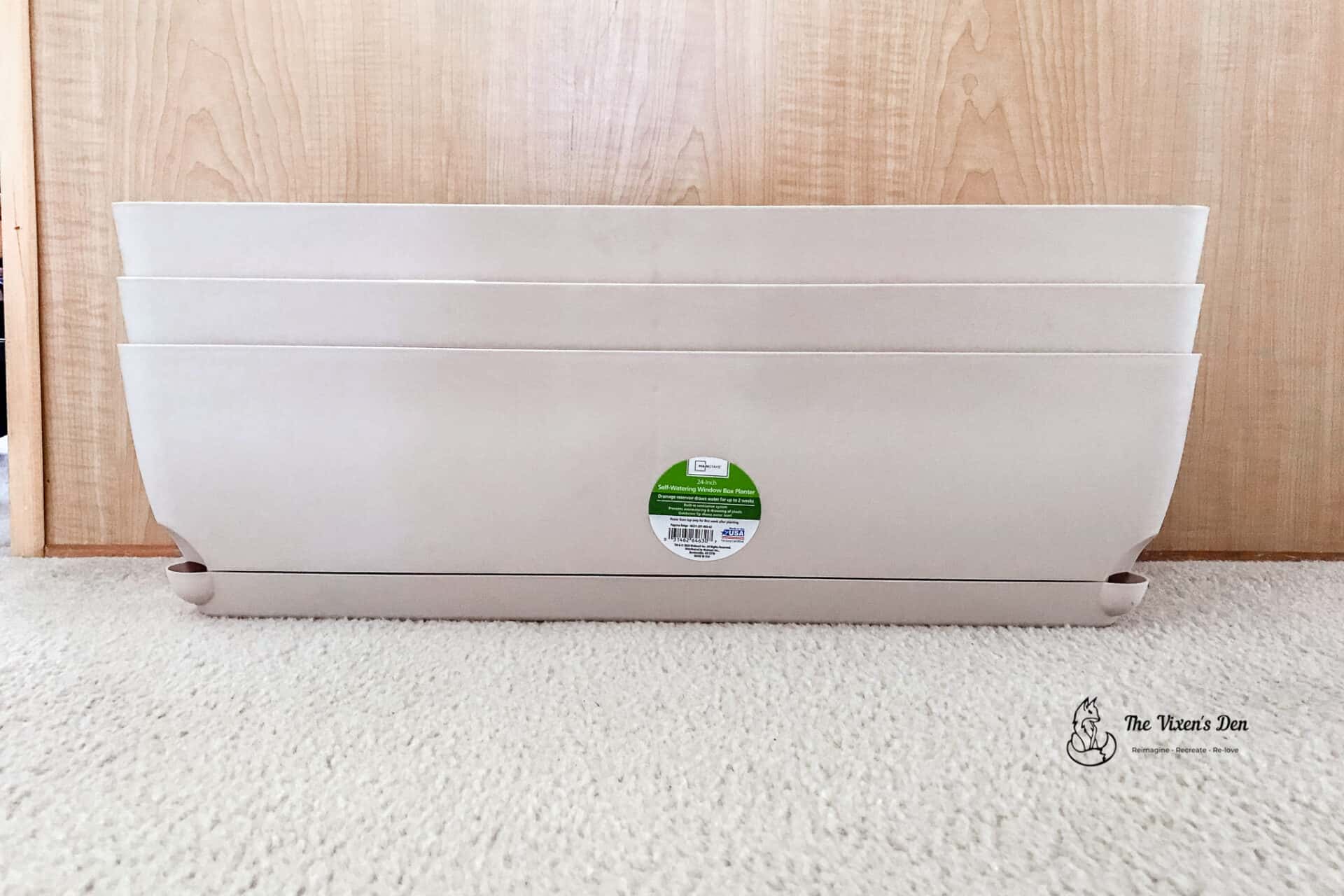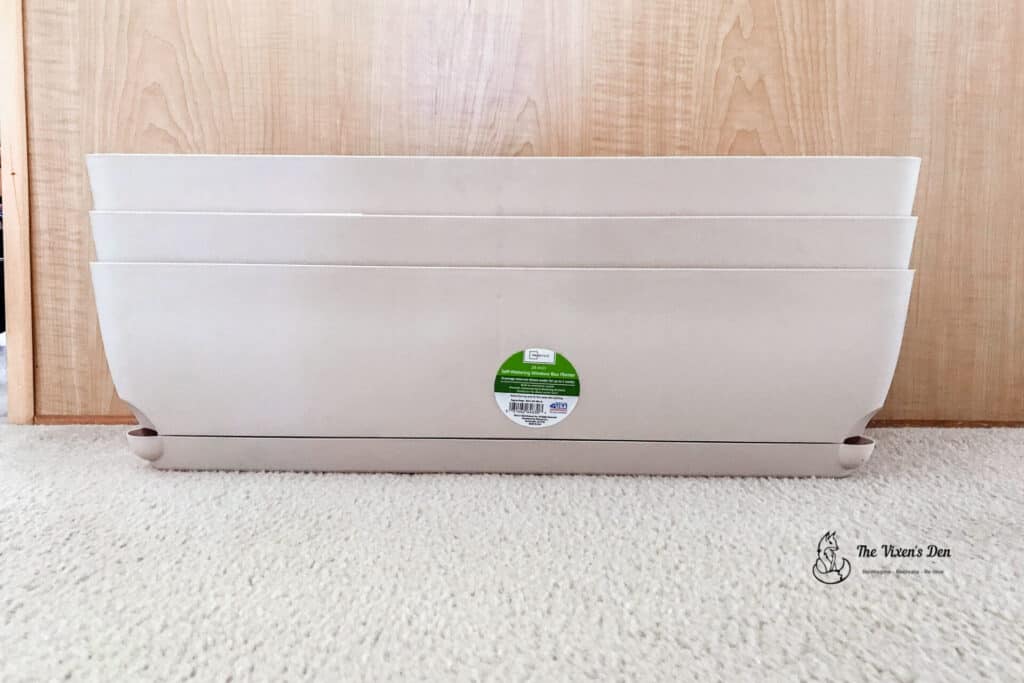 My daughter wanted some special planters to decorate the reception room for her wedding. The theme is "outdoor garden simplicity." While these simple Walmart planters were lovely, I felt they could use a little something extra to celebrate the occasion. I just so happened to have this basket weave stencil from Dixie Belle, which set the creative ideas flowing. Many thanks to Dixie Belle for sponsoring this post!
Let's jump into all of the steps to transform these planters into some extra special decor.
THIS POST CONTAINS AFFILIATE LINKS TO PRODUCTS. I ONLY RECOMMEND PRODUCTS THAT I HAVE OR WOULD USE.
AS AN AMAZON ASSOCIATE I EARN FROM QUALIFYING PURCHASES AT NO COST TO YOU. YOU CAN SEE MY FULL DISCLOSURE HERE.
Tools and Materials
Tools
Container for water
Materials
Planter – we used this one
Dixie Belle Gator Hide
Optional: DIY Monogram Transfer
Cleaning and Prepping
Before I could clean the planters, I had to remove all of the stickers. These weren't too bad, because they were plasticky stickers. Each planter also had a stick on the inside that was holding the planter supports in place. After I removed them, I put the supports in a plastic zipper bag to keep them all together until the project is complete.
Once the stickers were removed, I washed the planters by scrubbing them with a mixture of White Lightning. This cleaner is great for cleaning off residue and dirt. Even though these planters are new, they've still been sitting on shelves collecting dust and they've probably been handled by a lot of hands.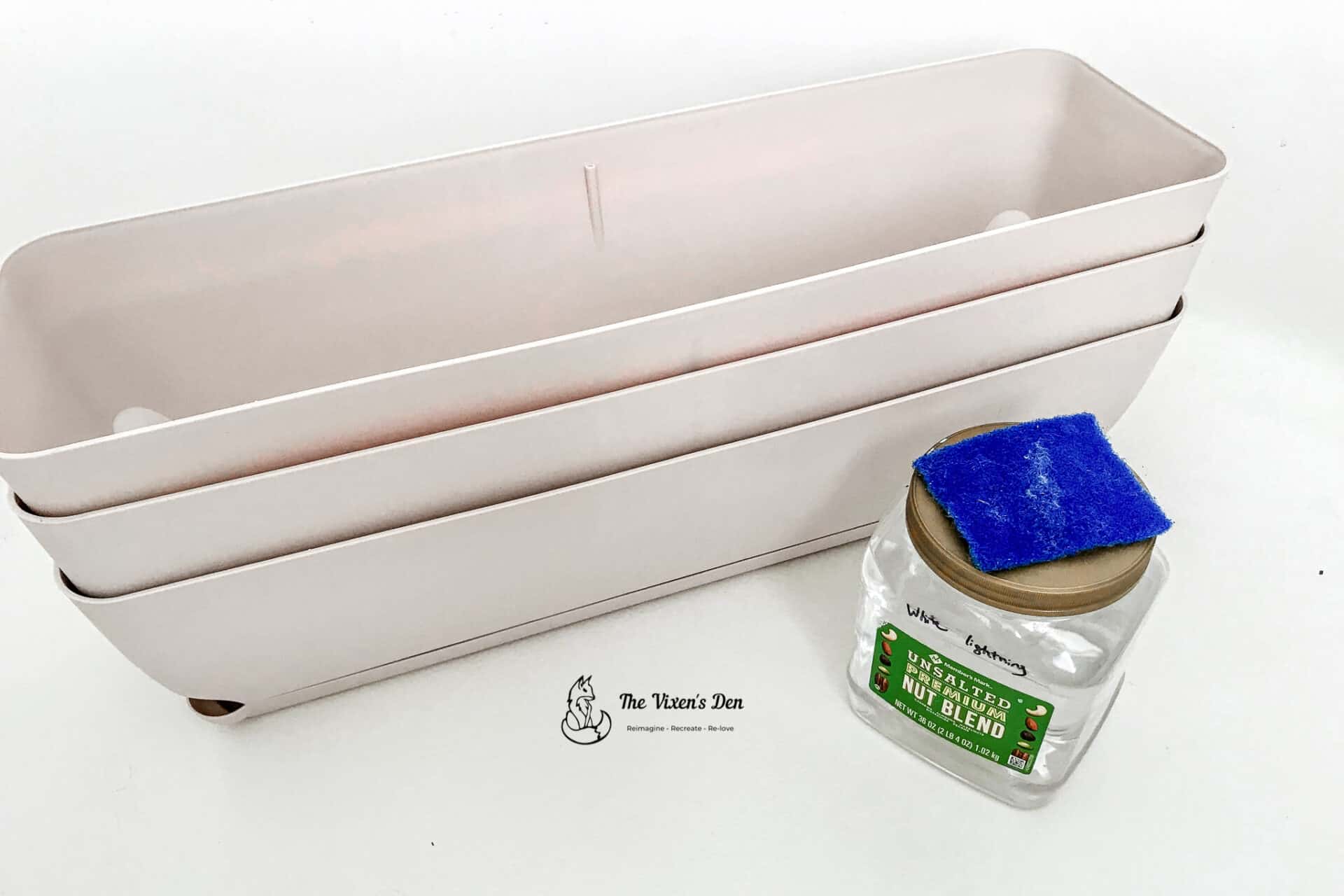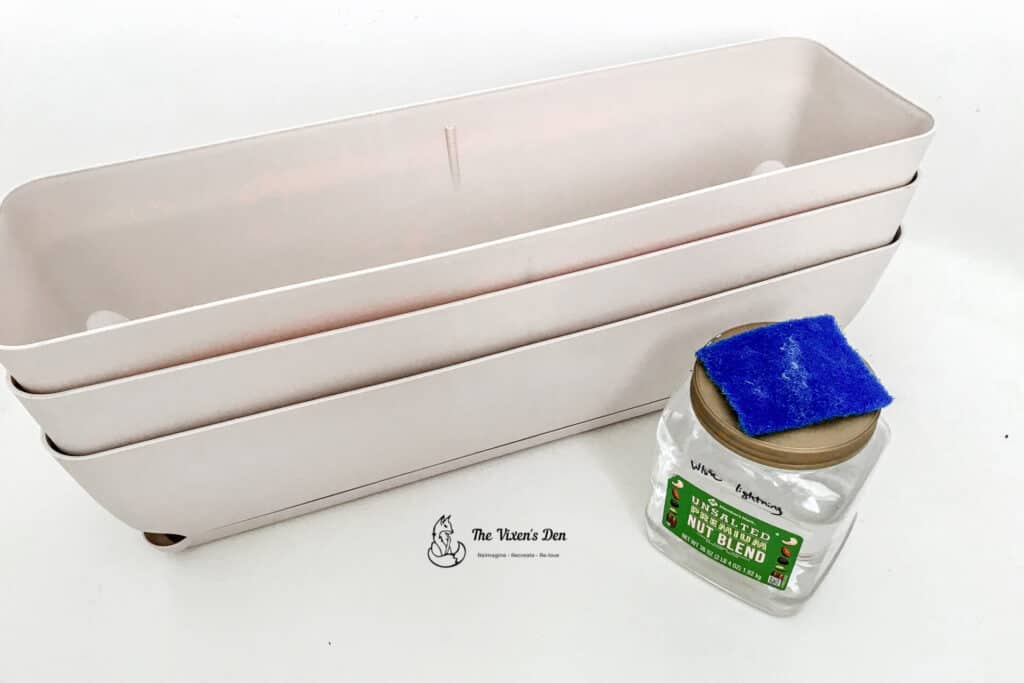 Pro tip: Always clean your projects first.
Adding a Raised Stencil
Placing the Stencil
Once the planters were dry, I hopped straight into adding the raised stencil detail. These planters are not very square, so it seemed reasonable to tape them down with painter's tape. This worked well on the flatter front and back pieces, but I struggled with the corners and sides due to the rounded and tapered shapes.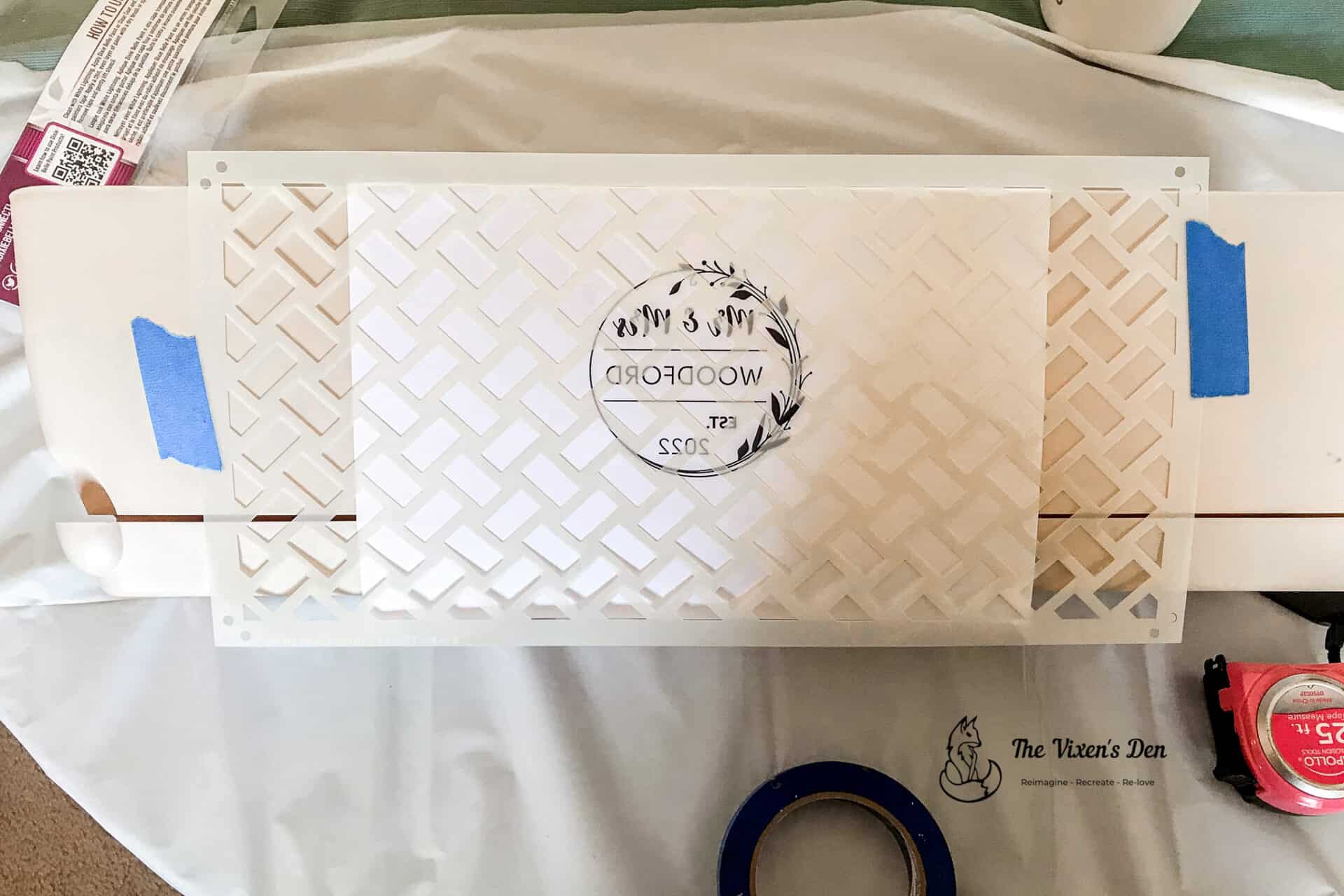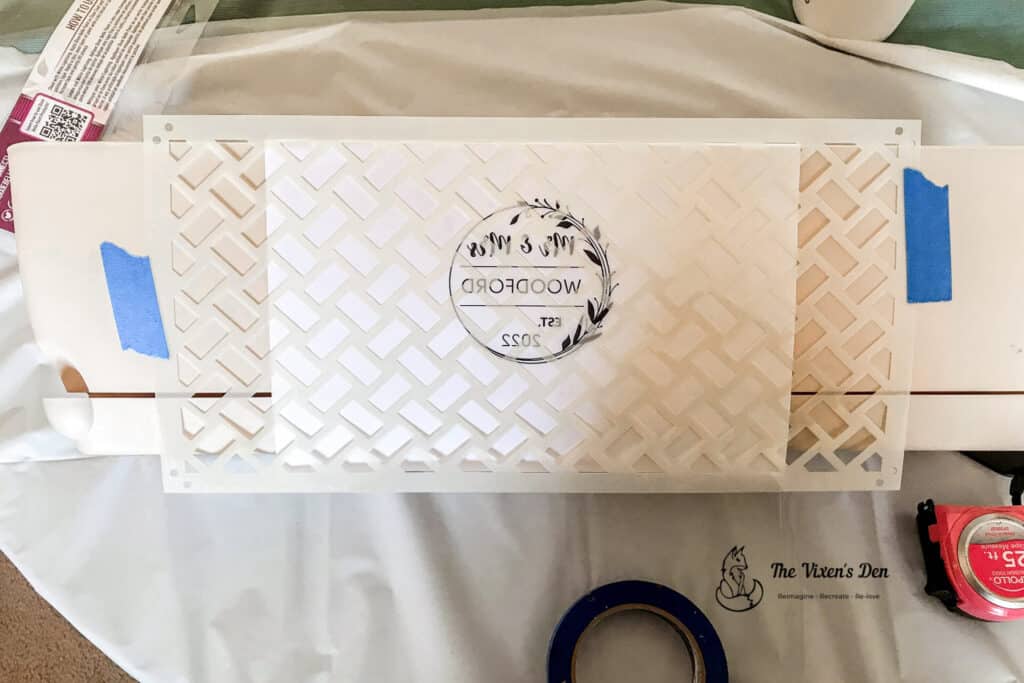 After a few trial and error runs, I discovered that it was actually easier to hold the stencil in place and just dab the Dixie Mud into the stencil cutouts. Once the mud was in place, it held the stencil enough that I could move to the step of smoothing it out.
Applying the Dixie Mud
Applying the Dixie Mud is super easy. You literally scoop some mud out of the container and onto your spatula, then spread it over the surface of the stencil, while applying slight pressure. If you apply too much pressure, you can actually scrape all of the mud out of the stencil. However, if you don't apply enough pressure, then you end up with a very textured surface and a lot of wasted mud on the surface of the stencil.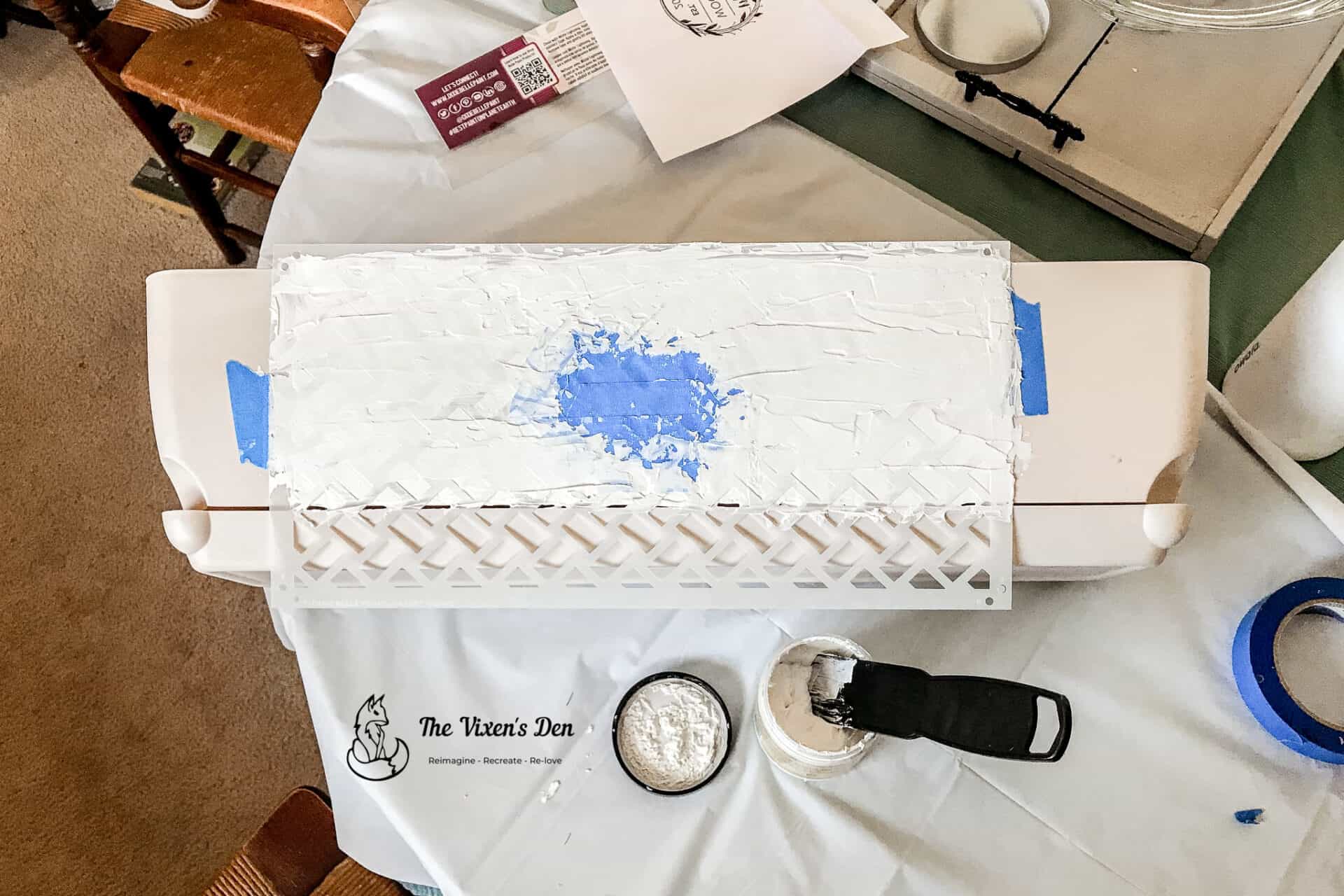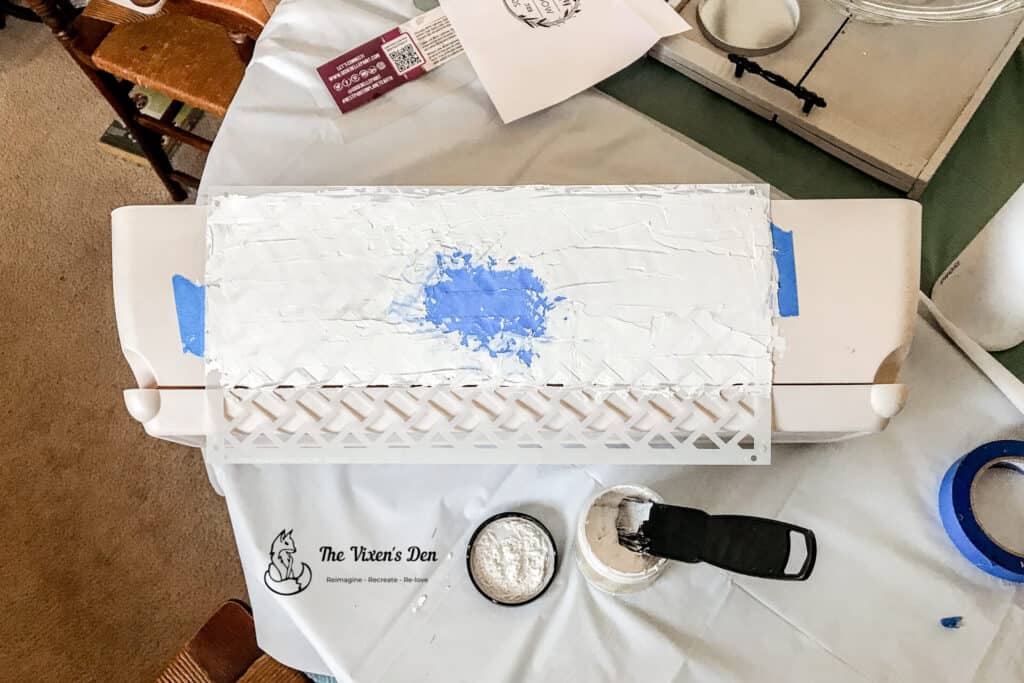 It's a balancing act, so just play with it until you find the right amount of pressure and texture for the effect you're trying to create.
Smoothing out the Dixie Mud
Before smoothing out the Dixie Mud, you have to decide on how much effect you want. This will determine at what angle to hold the spatula.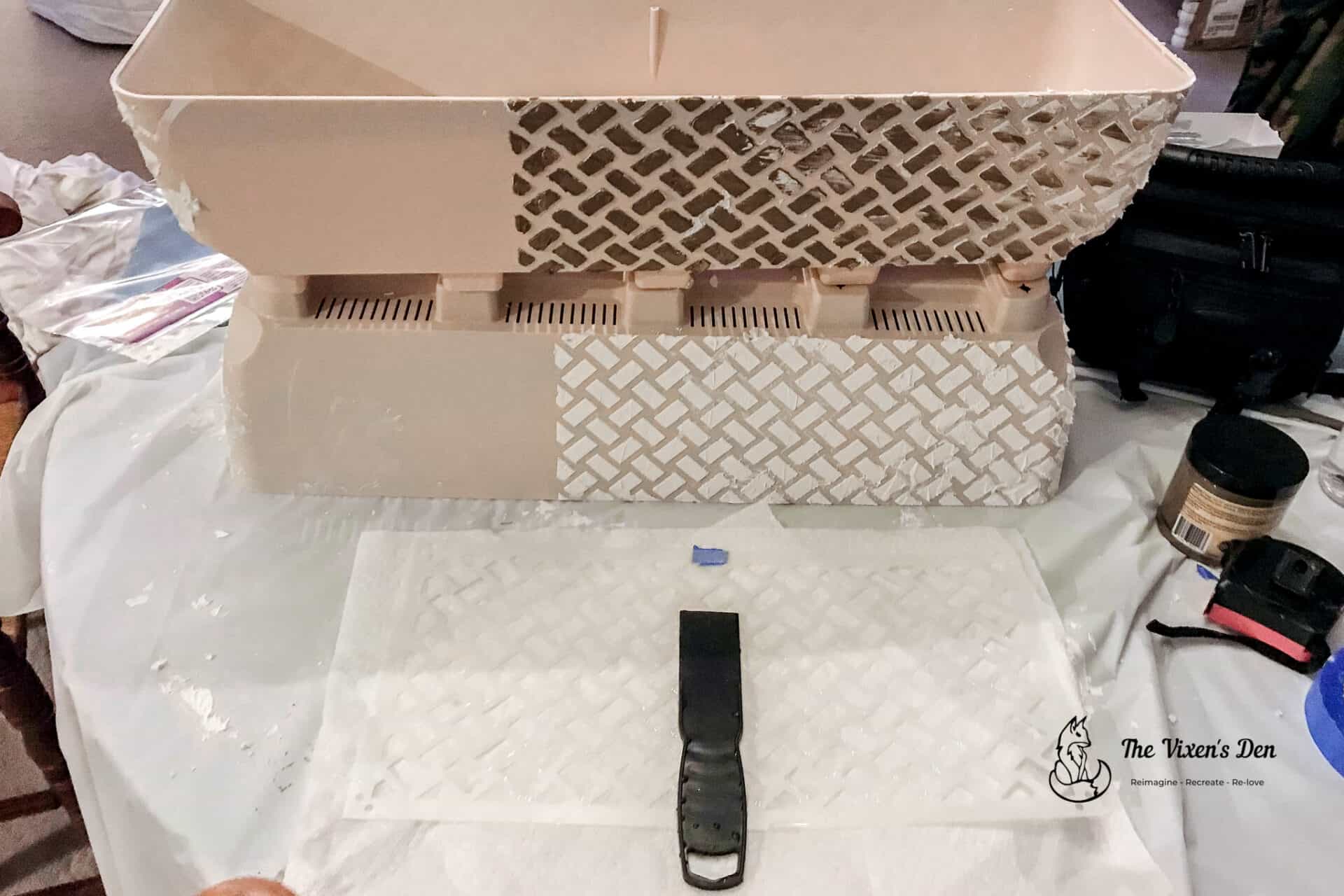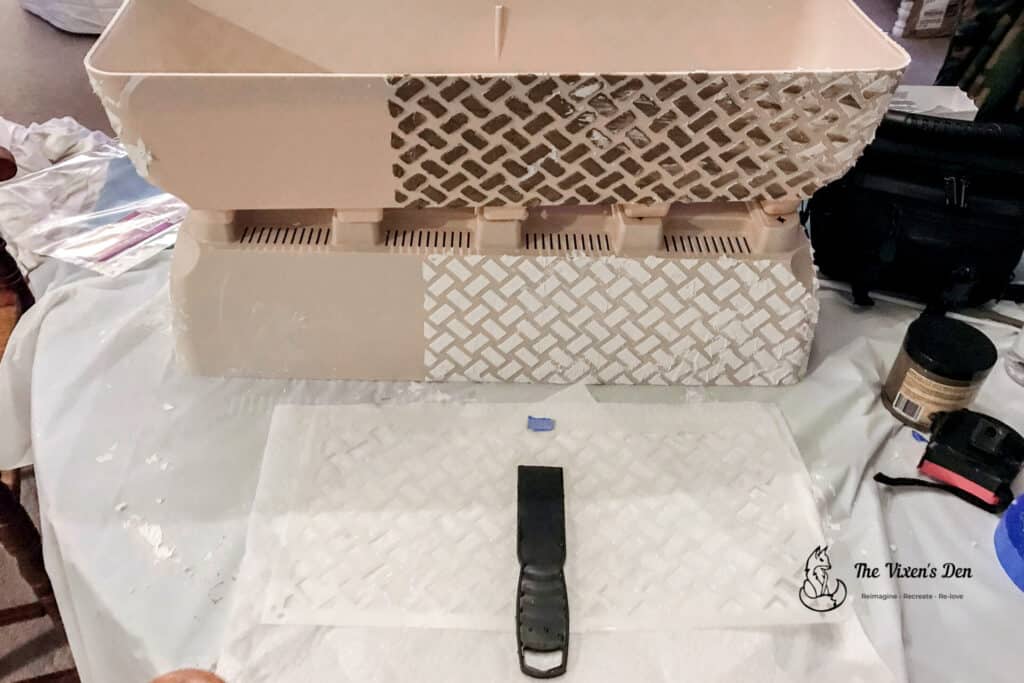 If you want a crisp but shallow detailed effect, then hold the spatula more perpendicular to the stencil and gently scrape off the excess.
Or, if you prefer a prominent, softer effect then spread the mud as if you were frosting a cake, rather flat against the stencil and just smoothing out the Dixie Mud, spreading it into the crevices.
If you want a really textured effect, then hold the spatula flat and just slap the Dixie Mud into the stencil. This is pretty much what I ended up doing along the curved edges.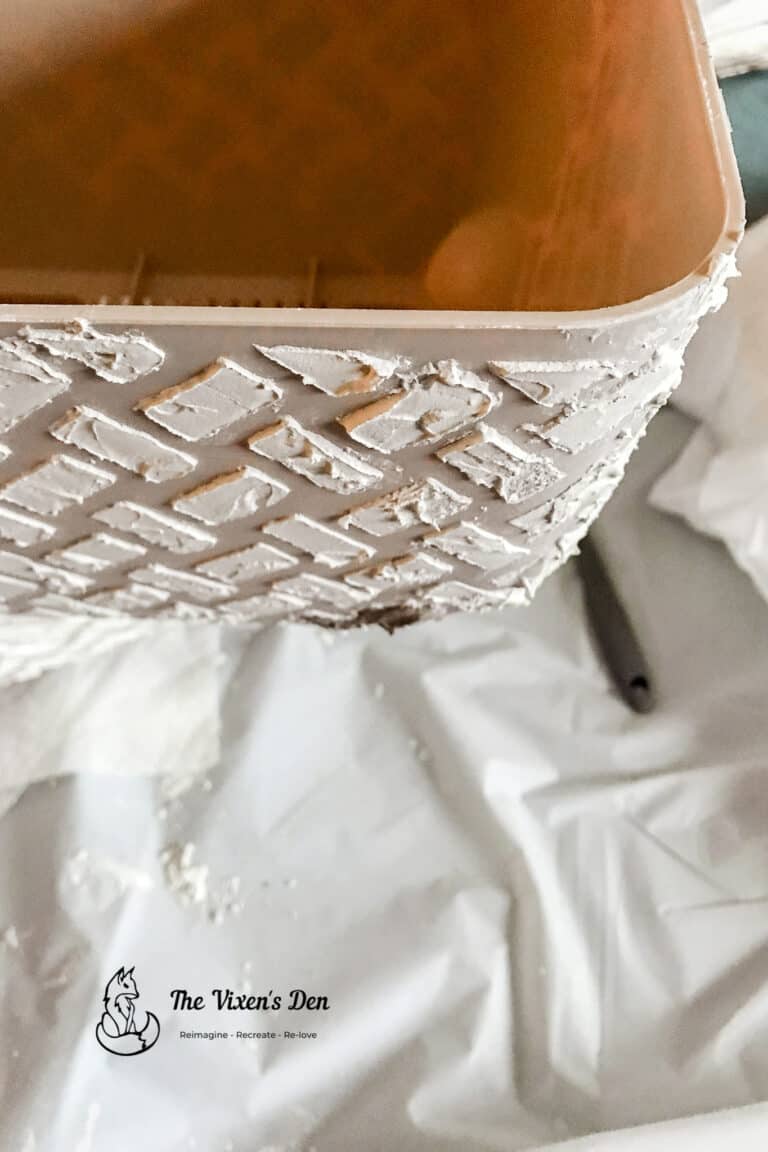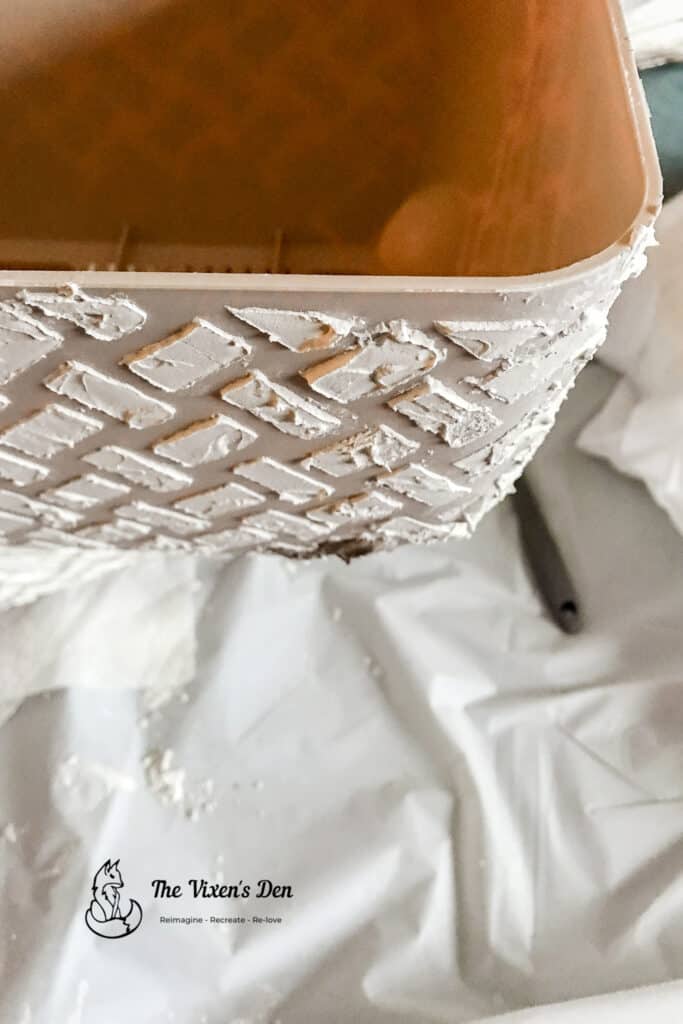 Don't be overly concerned about the stencil being too rough. It's more important to fill all of the crevices to pick up the stencil details. The next step is where you smooth everything out and make it get it ready for painting.
Stenciling in Stages
The instructions for the Dixie Mud recommend waiting 5 minutes before removing the stencil and moving on to the next stage. I may… or may not… have followed those instructions during this process. However, I was using a mylar stencil, which wasn't terribly deep, so I don't think I lost too much of the detail in my impatience.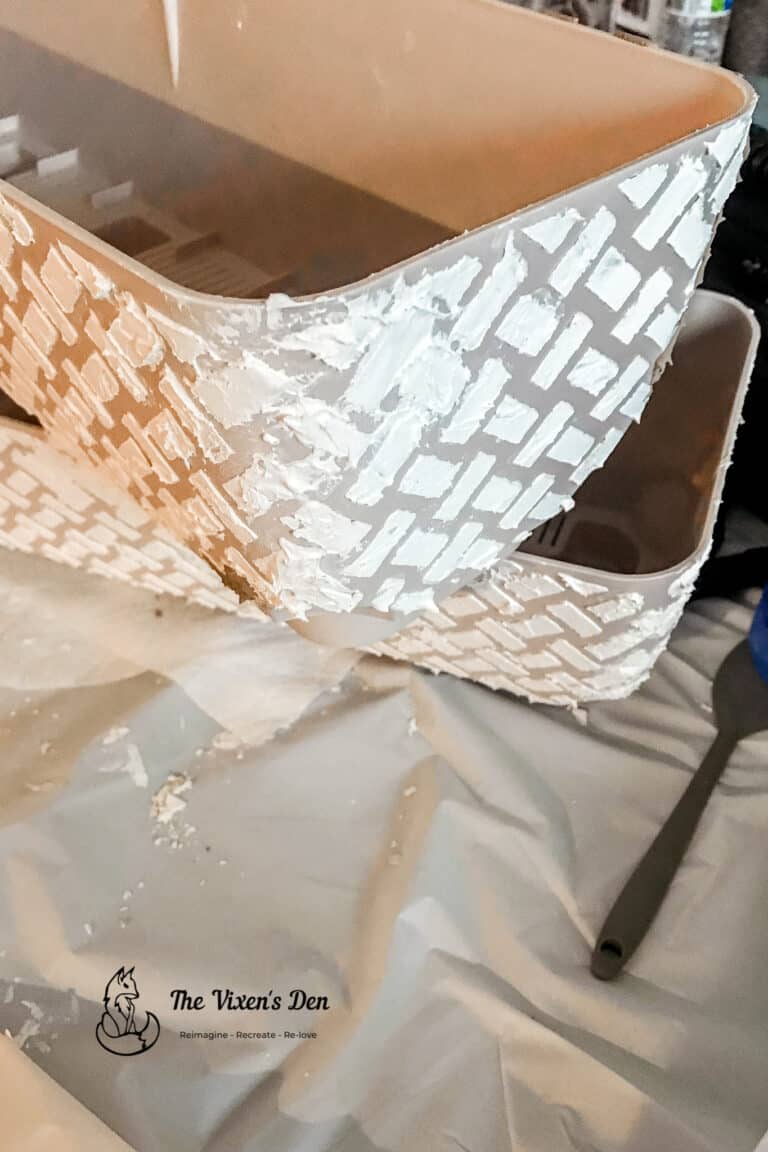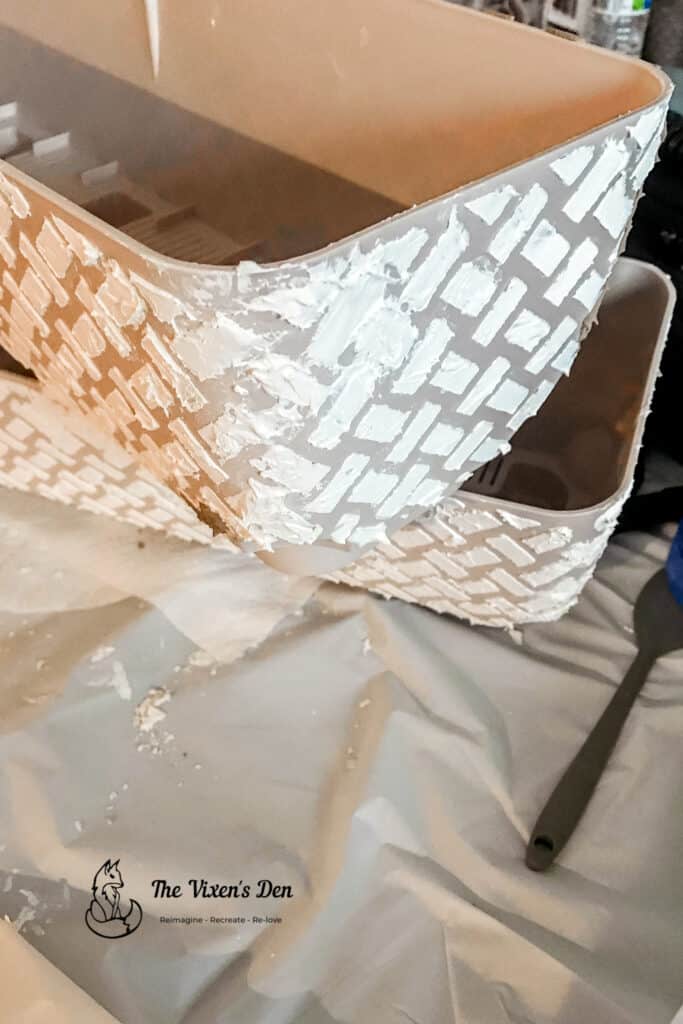 I did have to allow plenty of drying time between stencil stages. Dixie Mud needs overnight or several hours (at a minimum) to dry before you can safely start the next stage of stenciling. In the picture below, you can see where I ran out of white Dixie Mud. Luckily, I had a fresh batch of brown Dixie Mud on hand. (I can't help but think of vanilla and chocolate frosting when I see it. Mmmmm….frosting!)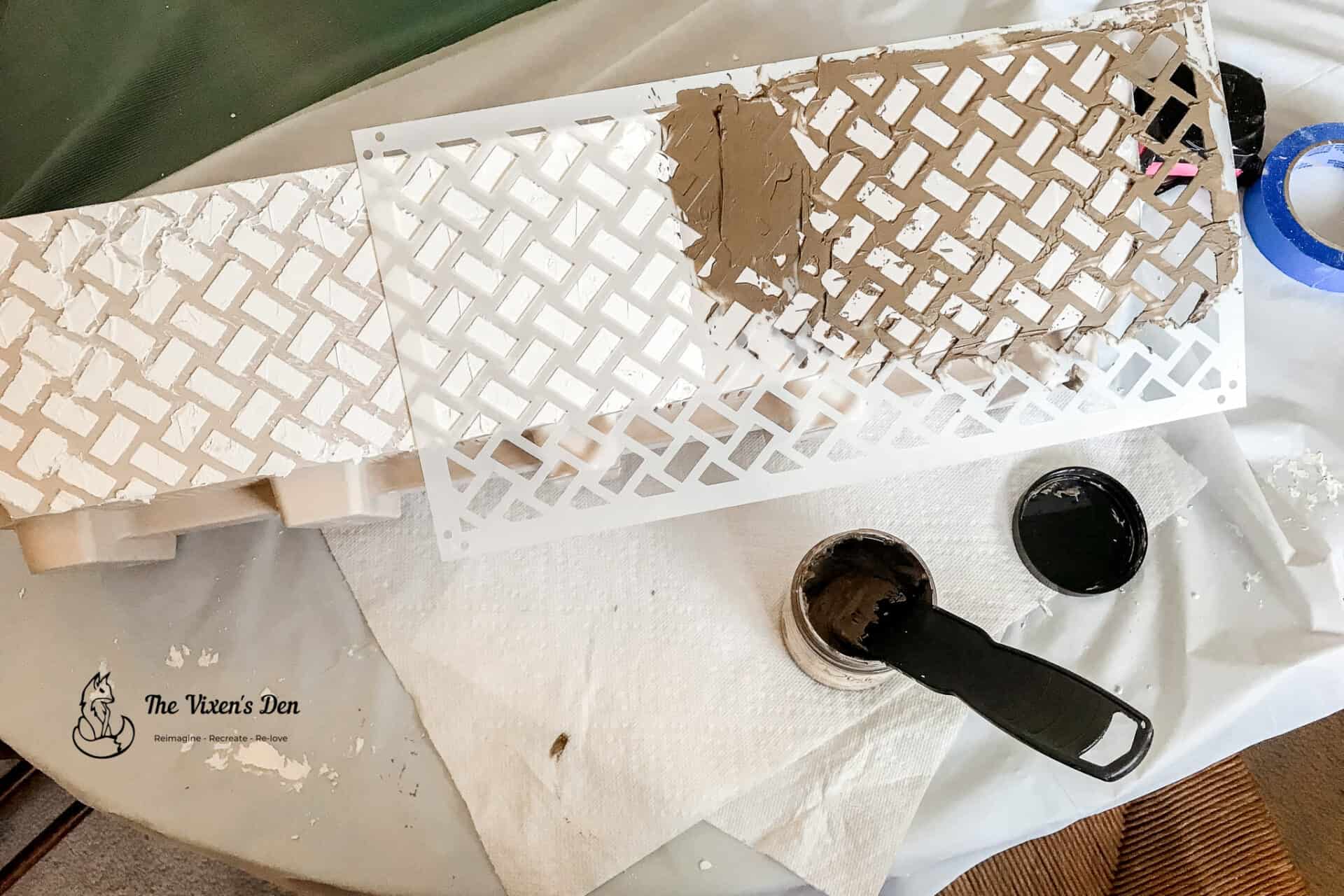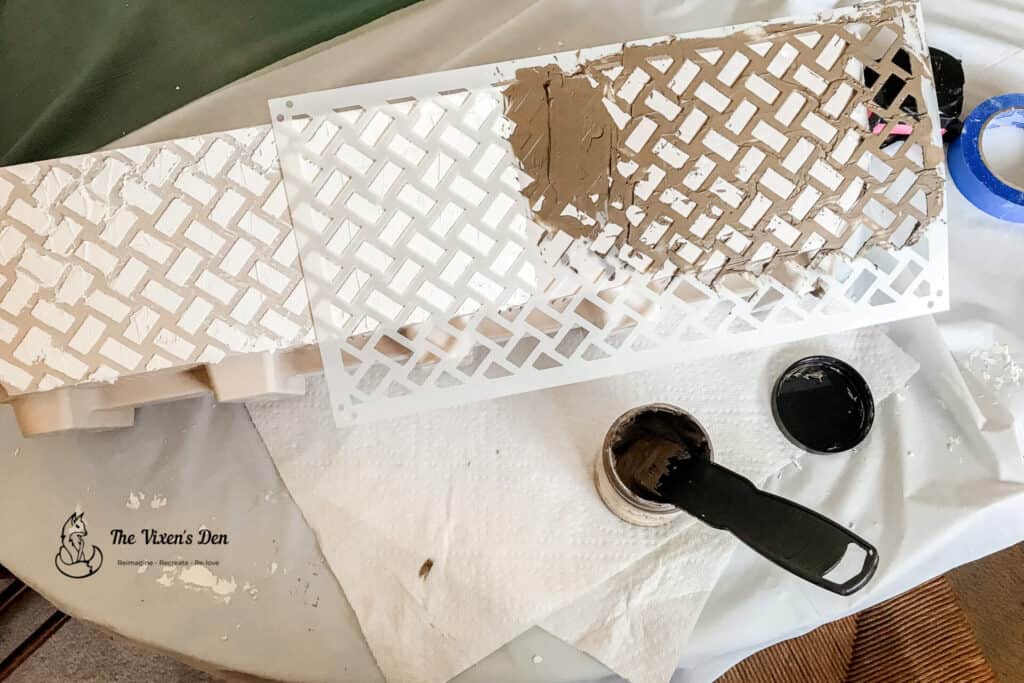 Hindsight is 20/20: One trick that I learned (far later than I care to admit) was that it was much easier to add to the stencil if I simply overlapped the first few rows of stencil bricks over the dried section. This kept the stencil aligned much better, but only really worked if the dried section was properly aligned. I found that worked best along the front and back, but not as well on the sides, due to the tapers.
Refining the Raised Stencil
The objective at this stage is just to clean up the edges, smooth out any errors, and redefine the stencil lines so that the effect is recognizable.
Here is where the container and rag really come into play. I filled a container with water, dabbed a rag in it until it was damp, and began cleaning up the rough patches on the raised stencil. And boy were there a lot of rough patches!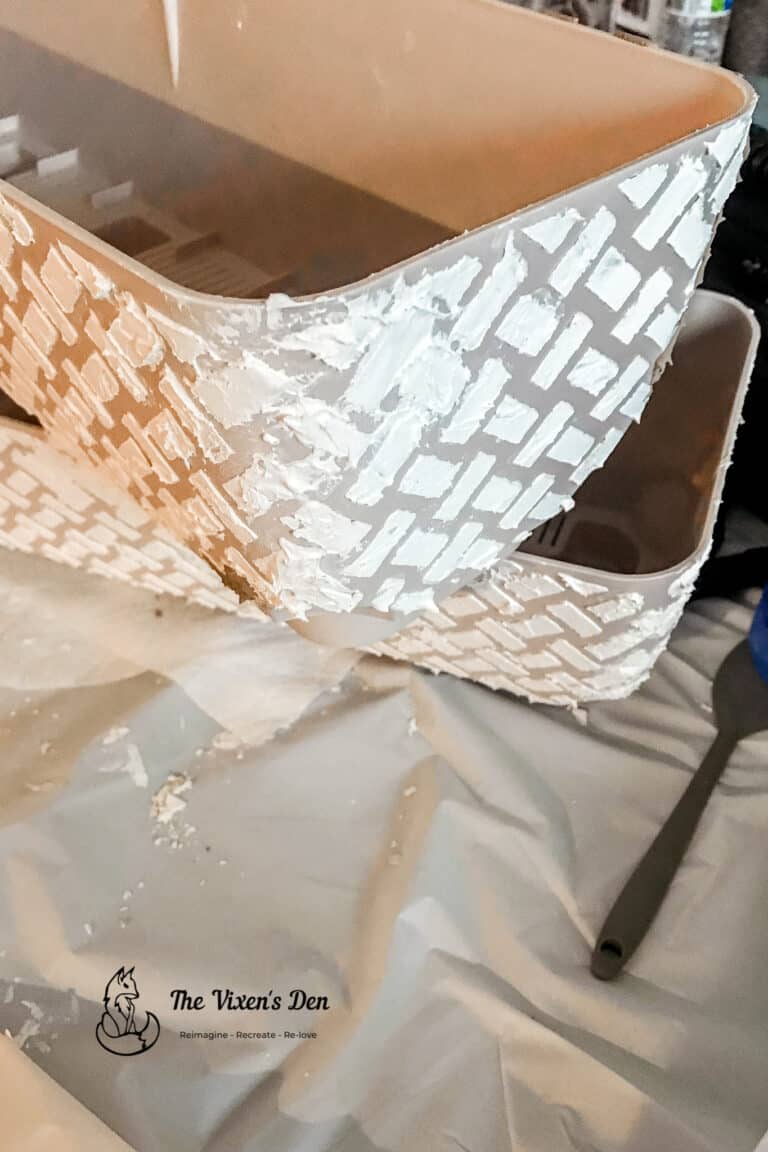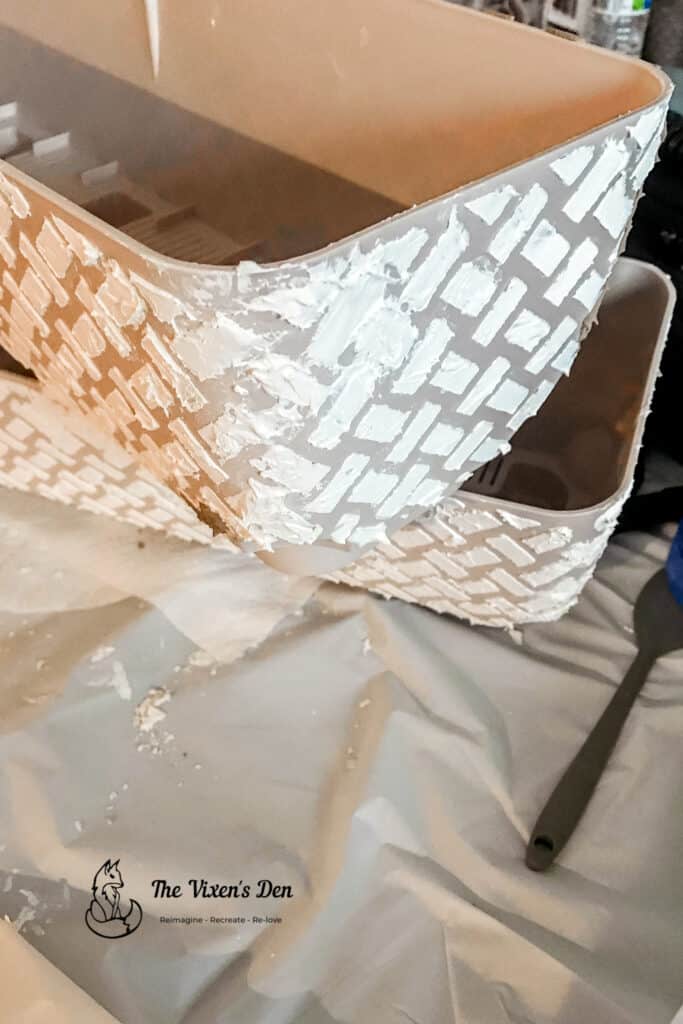 But the beauty of Dixie Mud is that it can be completely altered until you paint it. So I kept dipping my rag and gently wiping away until I had smoothed out any globs and the stencil pattern was clear. In some areas, the pattern was so muddled, that I had to use my fingernail to scrape away at the material and redefine the edges of the stencil.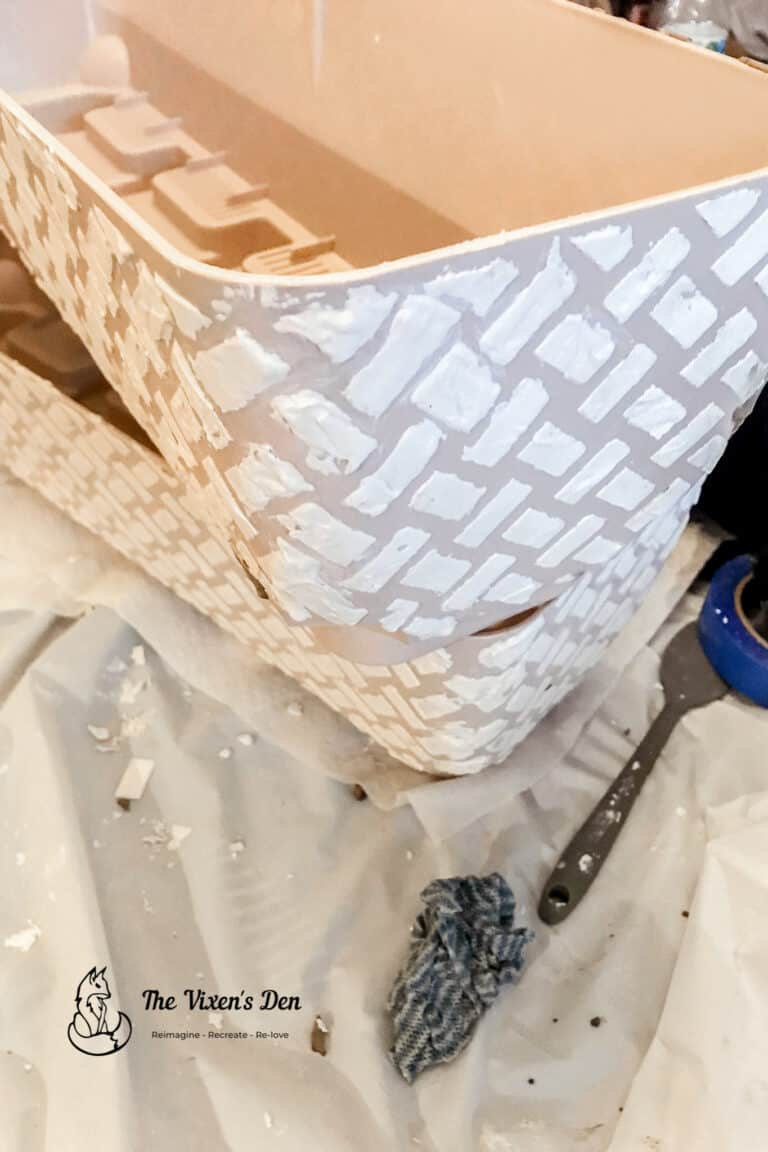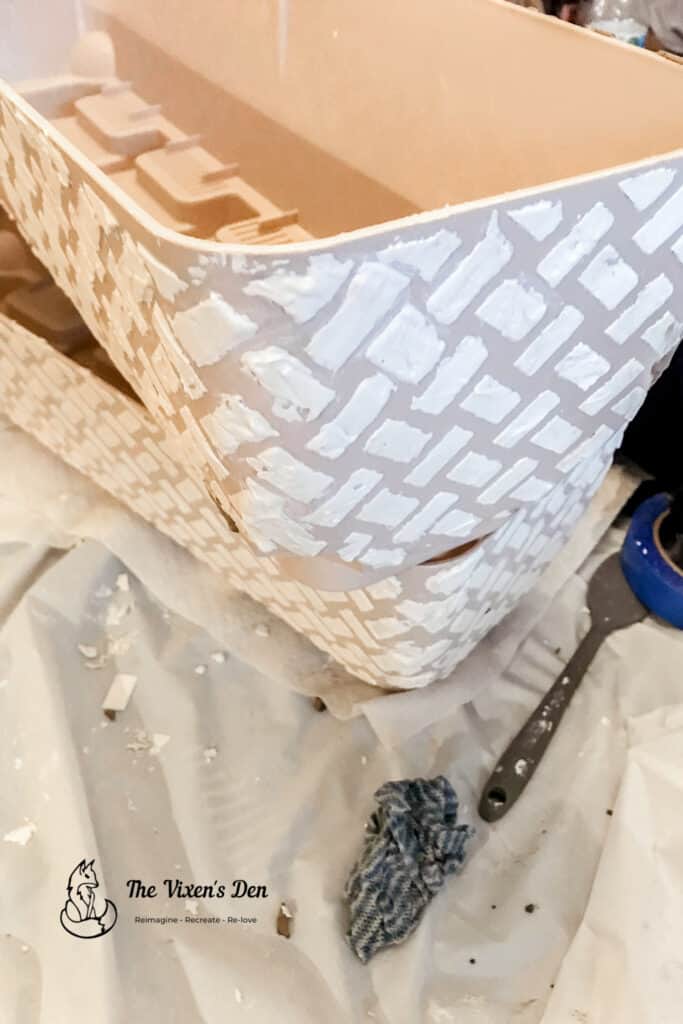 Pro tip: if a rag and fingers are too large for your stencil, you could also try a cotton swab or a small artists brush.
Interestingly enough, for this project, the stencil didn't come across as basketweave. To our eyes, it looked more like a brick wall, which made it a little easier to create distinct "mortar lines" between the "bricks." Thankfully, the bride-to-be liked it!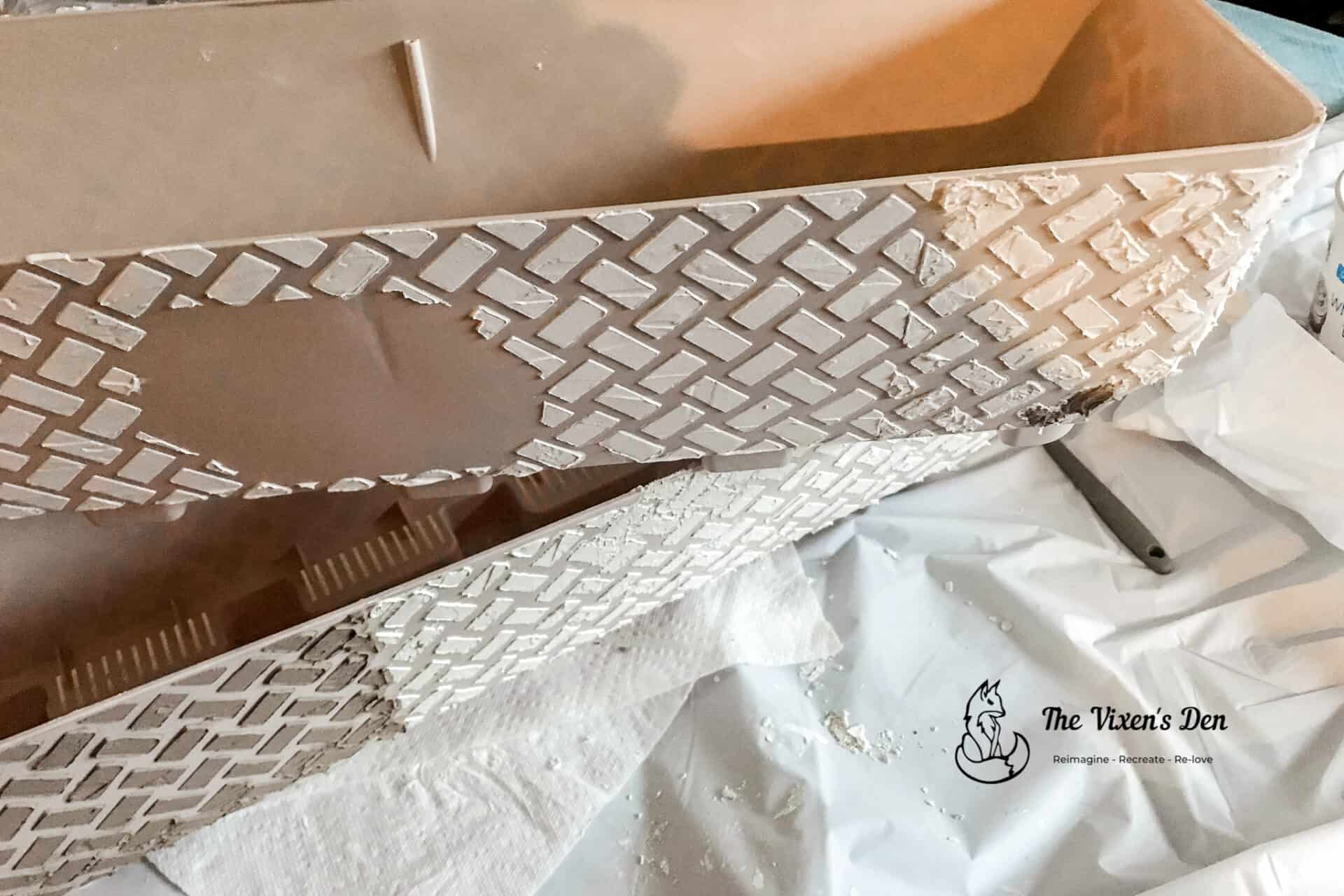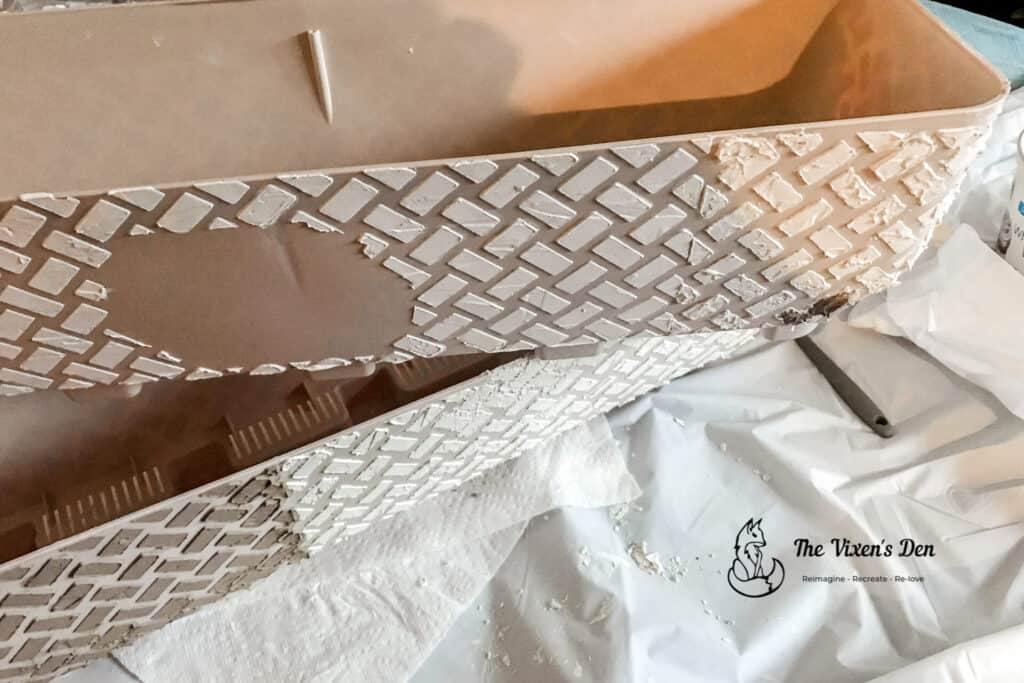 Once all of the rough edges were smoothed out and the "bricks" were clearly defined, it was time for the next step.
Painting the Raised Stencil
Before I started painting the planter, I wanted to make certain that I was giving the project the best foundation possible. This (hopefully) will increase the durability of the stencil and paint. Eventually, this planter will probably live outside, and I want it to be something special that they can enjoy for a while.
With that in mind, I used the Mini Angle Brush to apply two coats of Slick Stick over the planter and stencil and then allowed it to dry overnight.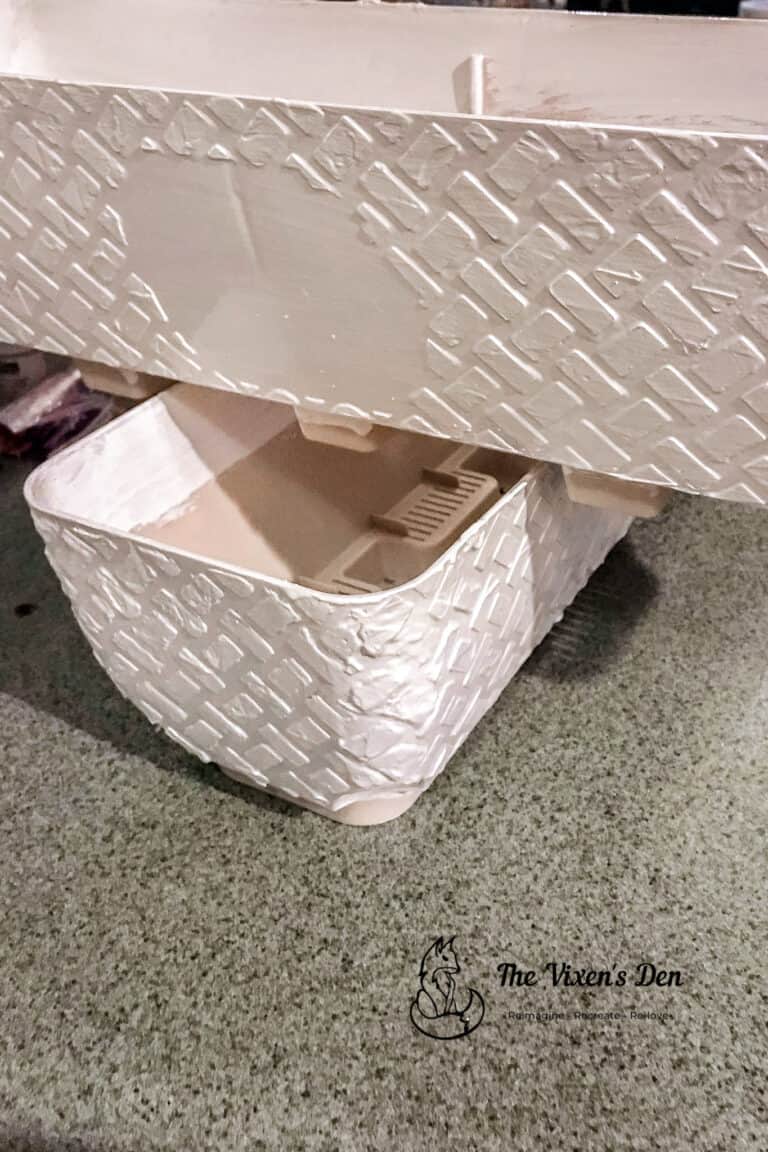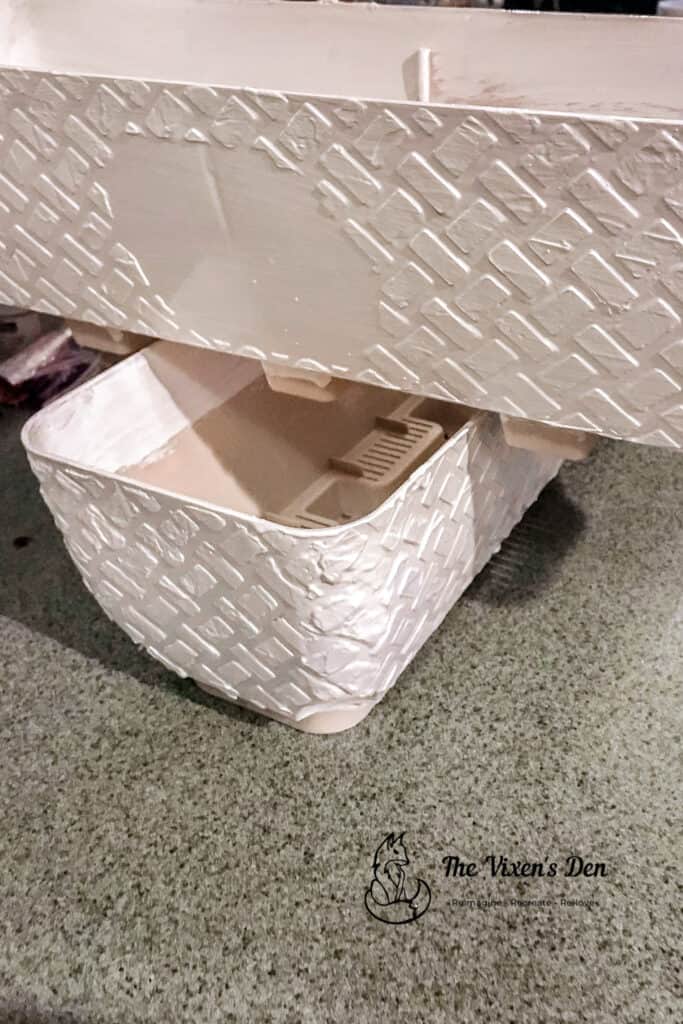 Hindsight is 20/20: As I applied Slick Stick, some of the stenciled bricks actually began popping off of the planter. In the future, I plan to apply Slick Stick first and then apply the raised stencil.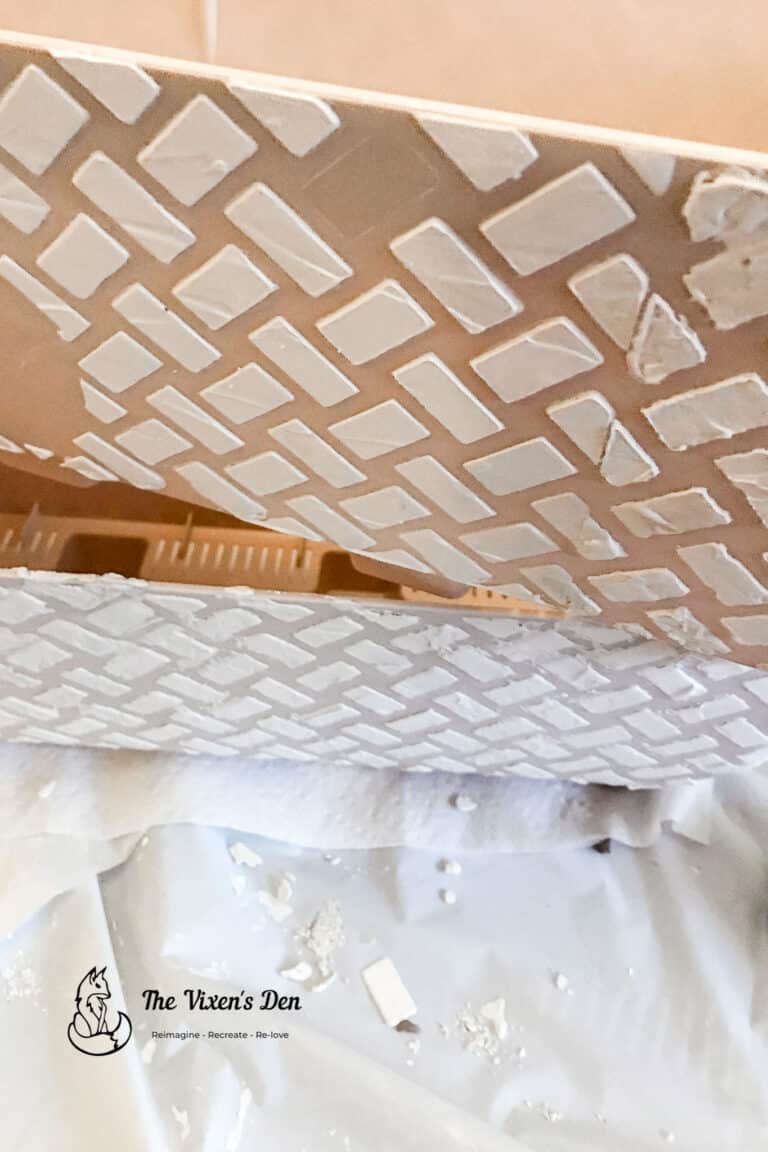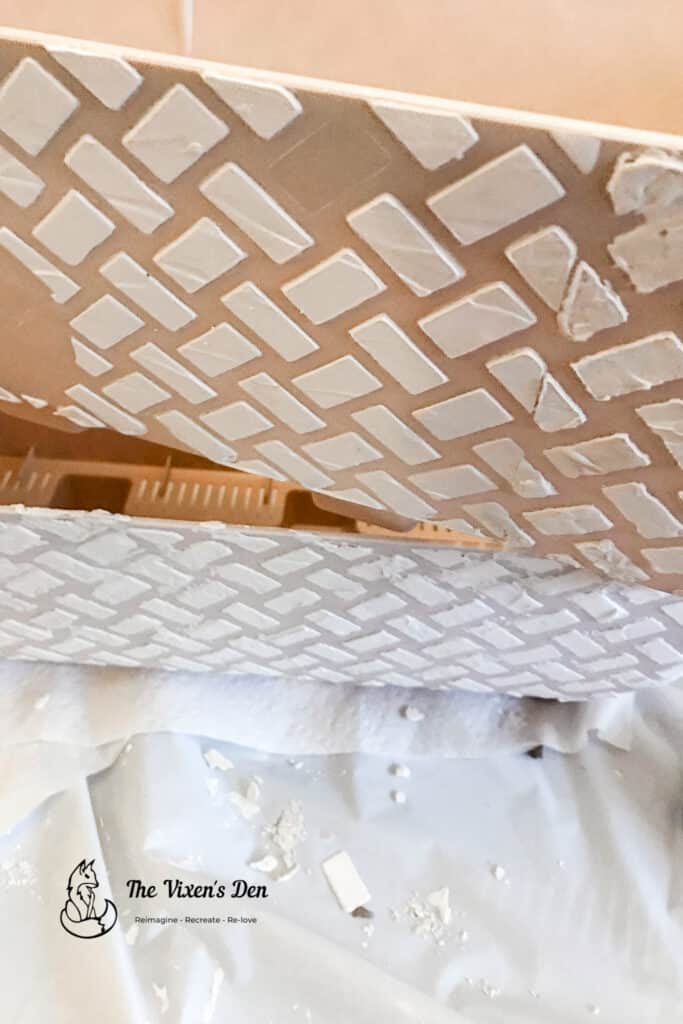 The next day, I applied two coats of Dixie Belle Fluff and allowed it to dry.
Adding a DIY Transfer
To make this project extra special, I thought it would be nice to add a DIY transfer, celebrating their union. I went to Design Bundles, which is one of my favorite sources for customizable graphics, and downloaded this monogram.
If you would like more detailed information about creating a customized transfer, this post walks you through the steps.
Before applying the transfer, I applied a coat of Clear Coat in Satin. There were two reasons for this. First, it protects the paint from the process of applying the transfer. Second, it creates a nice base for the next step of the process.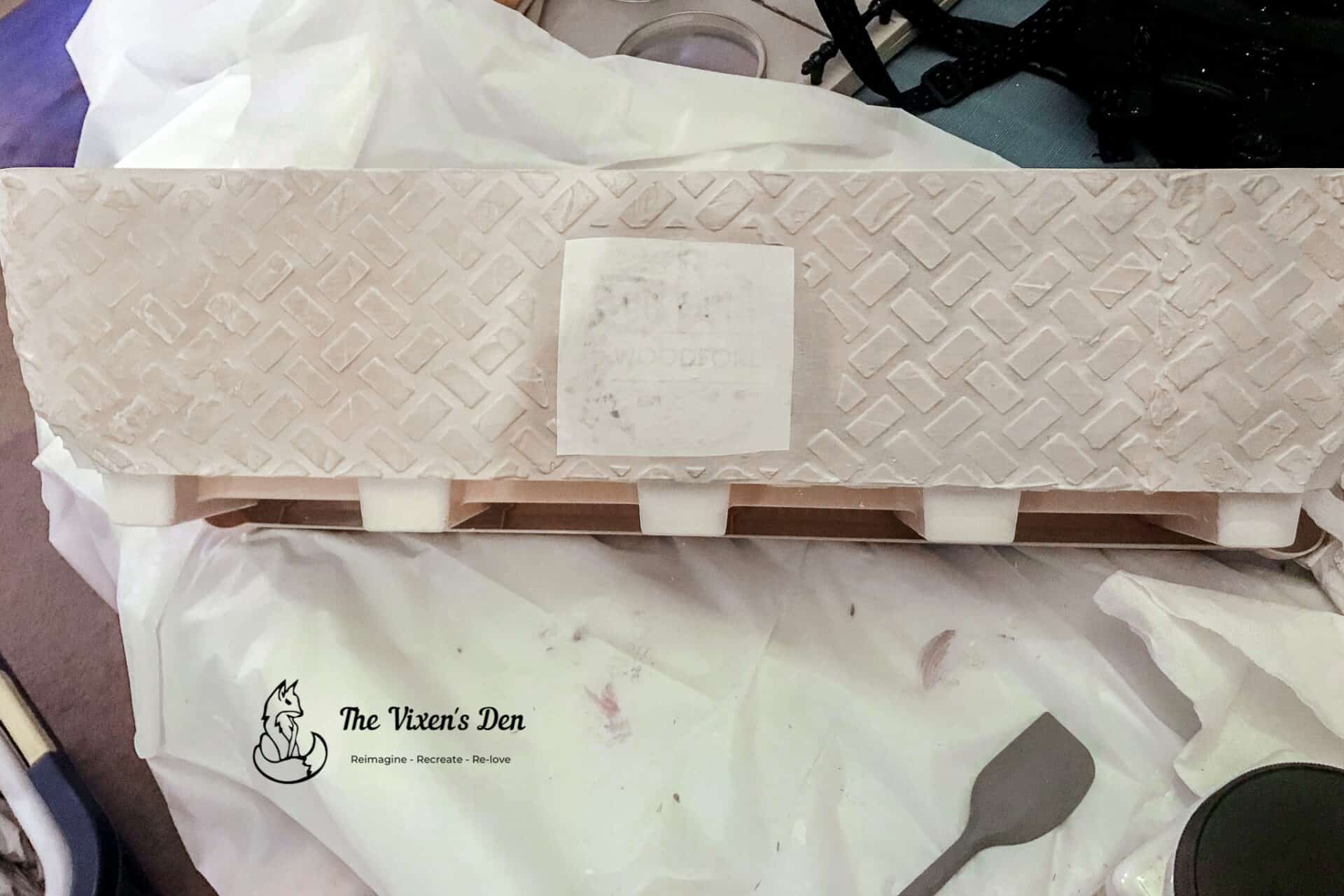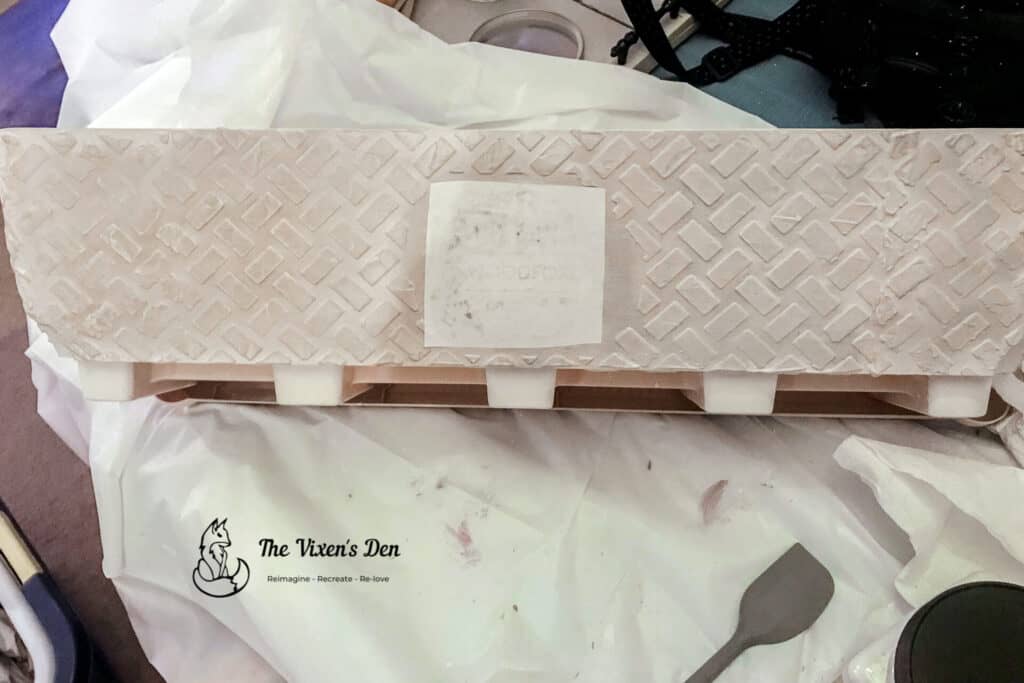 After applying the transfer, I waited several hours and then removed the paper. Then I sealed the transfer with another coat of Clear Coat in Satin.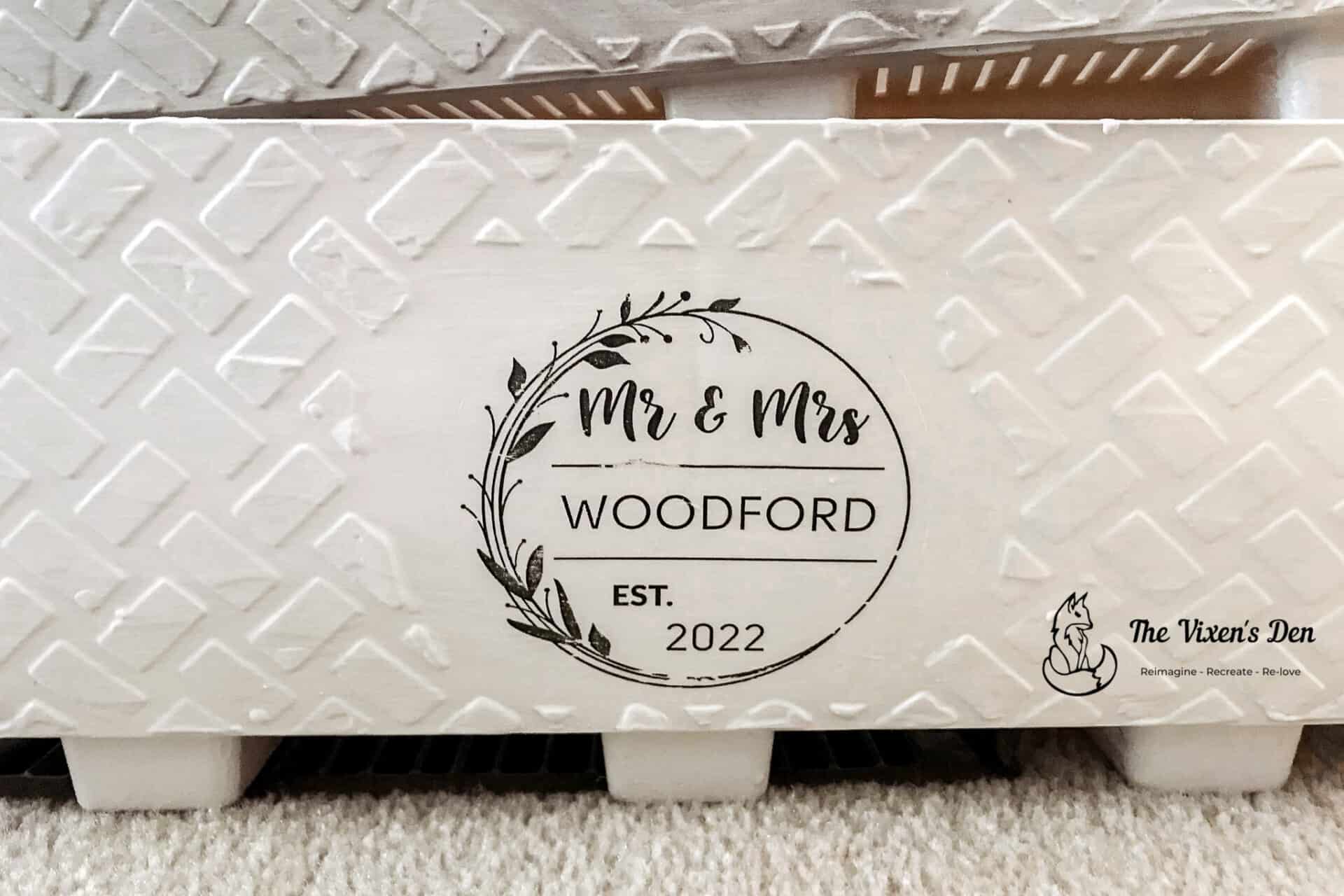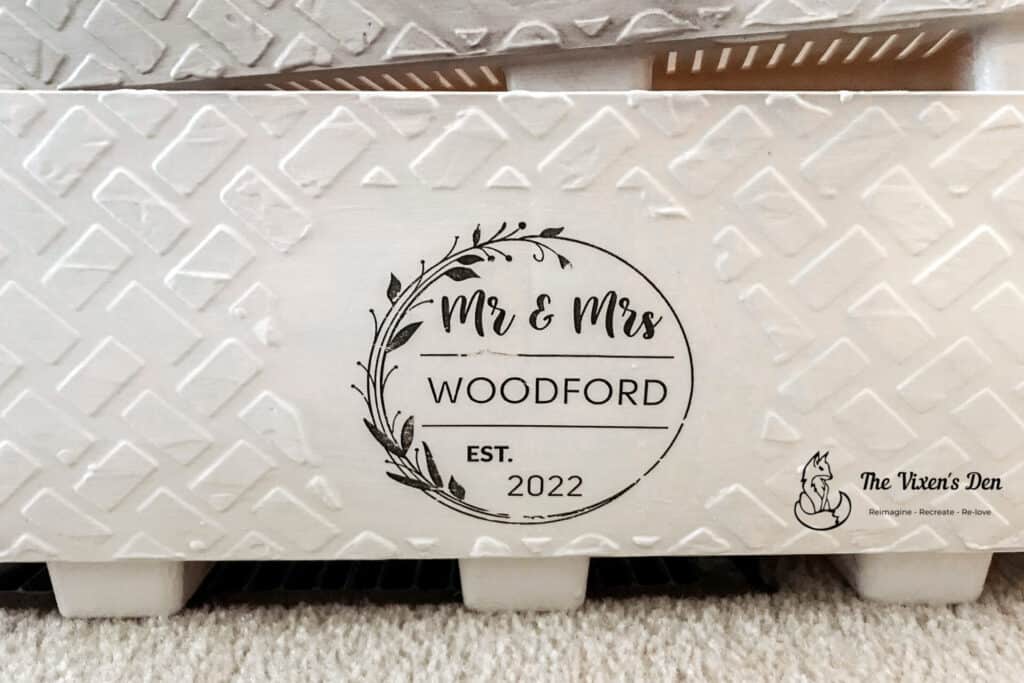 Pro Tip: I always like to keep a dual-tipped permanent pen on hand, just to tidy up any transfers.
Hindsight is 20/20: Allow the transfer to dry overnight and you will have fewer errors to clean up with the permanent pen.
Adding Waxed Details to the Raised Stencil
Although the white painted planter was pretty, especially with the custom monogram transfer, we felt it needed a little something. One great way to bring out the details of the raised stencil is by waxing them. We chose Dixie Belle Wax in Grunge Gray.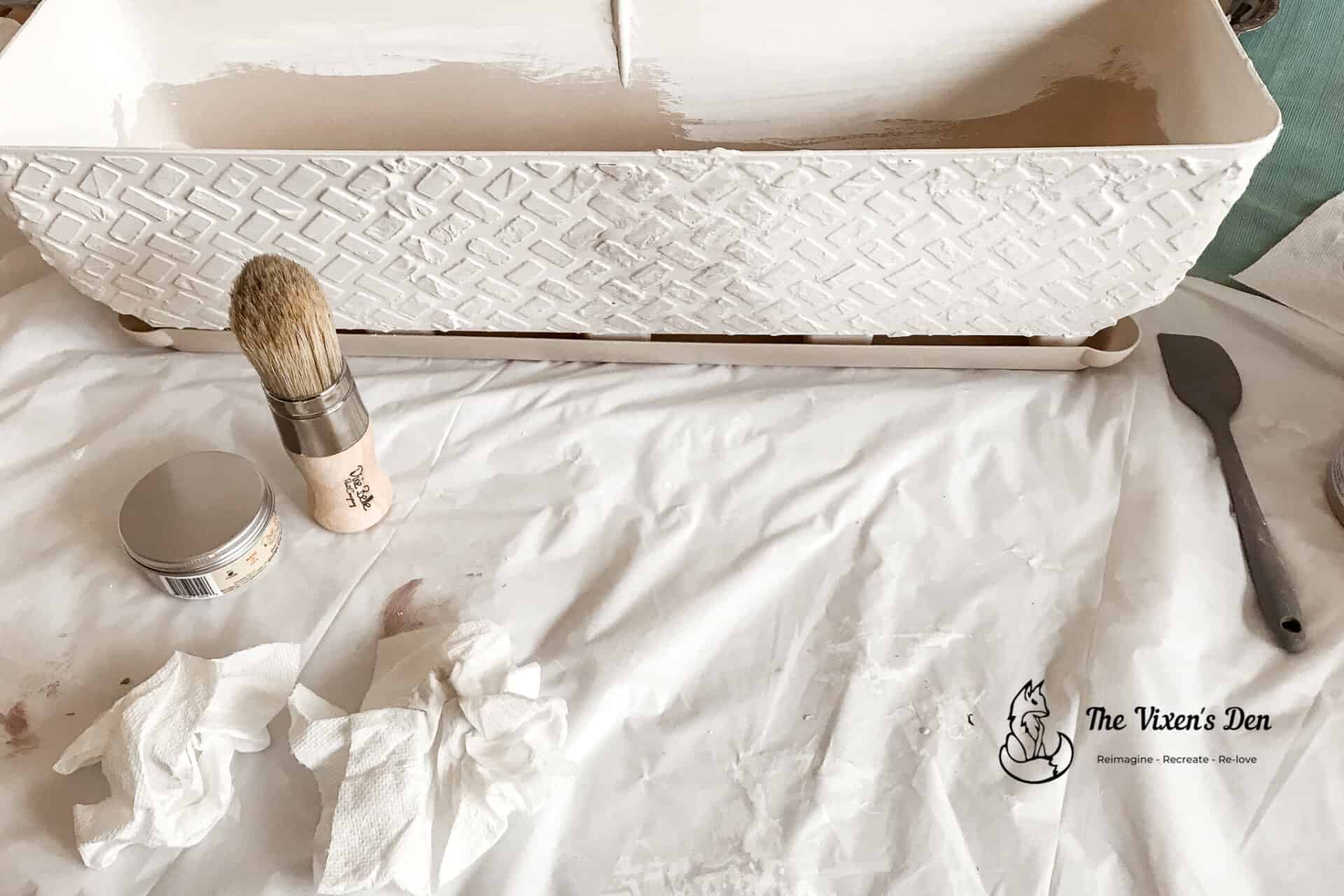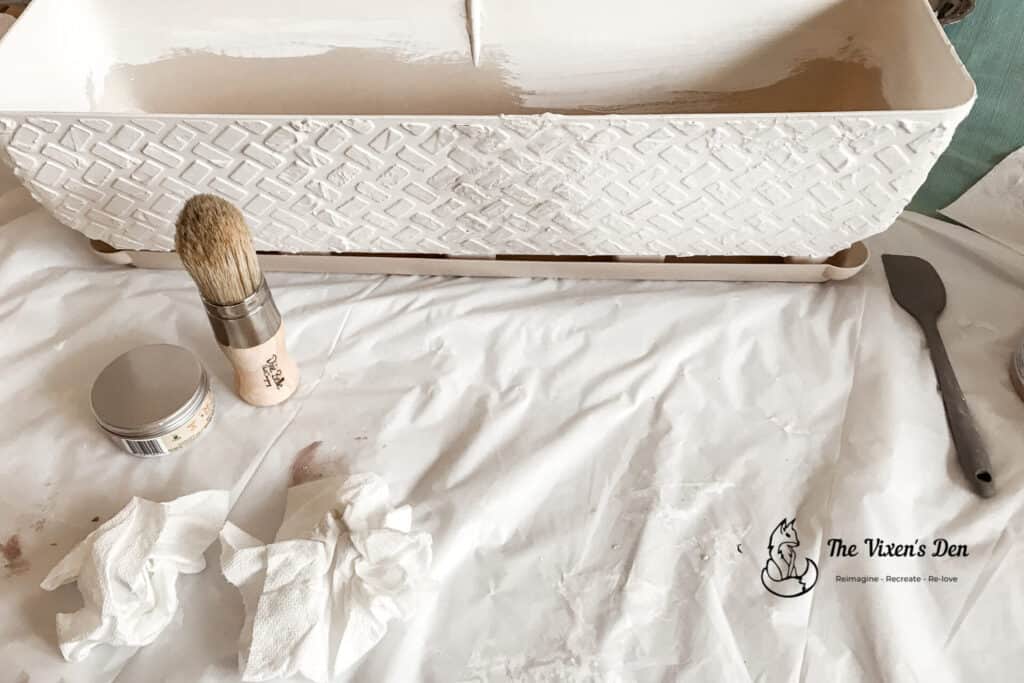 The Petite Brush is perfect to apply wax into all of the little crevices. Just dip the tip into the pot of wax, then dab some wax onto the piece and blend it in using circular motions followed by left to right or up and down brushing strokes. Excess wax can be removed with a dry paper towel, or a wet paper towel if you want to start over.
We went through a few tests before we settled on the final design. The wax has a tendency to pick up the edges of the transfer, even after the paper is brushed away.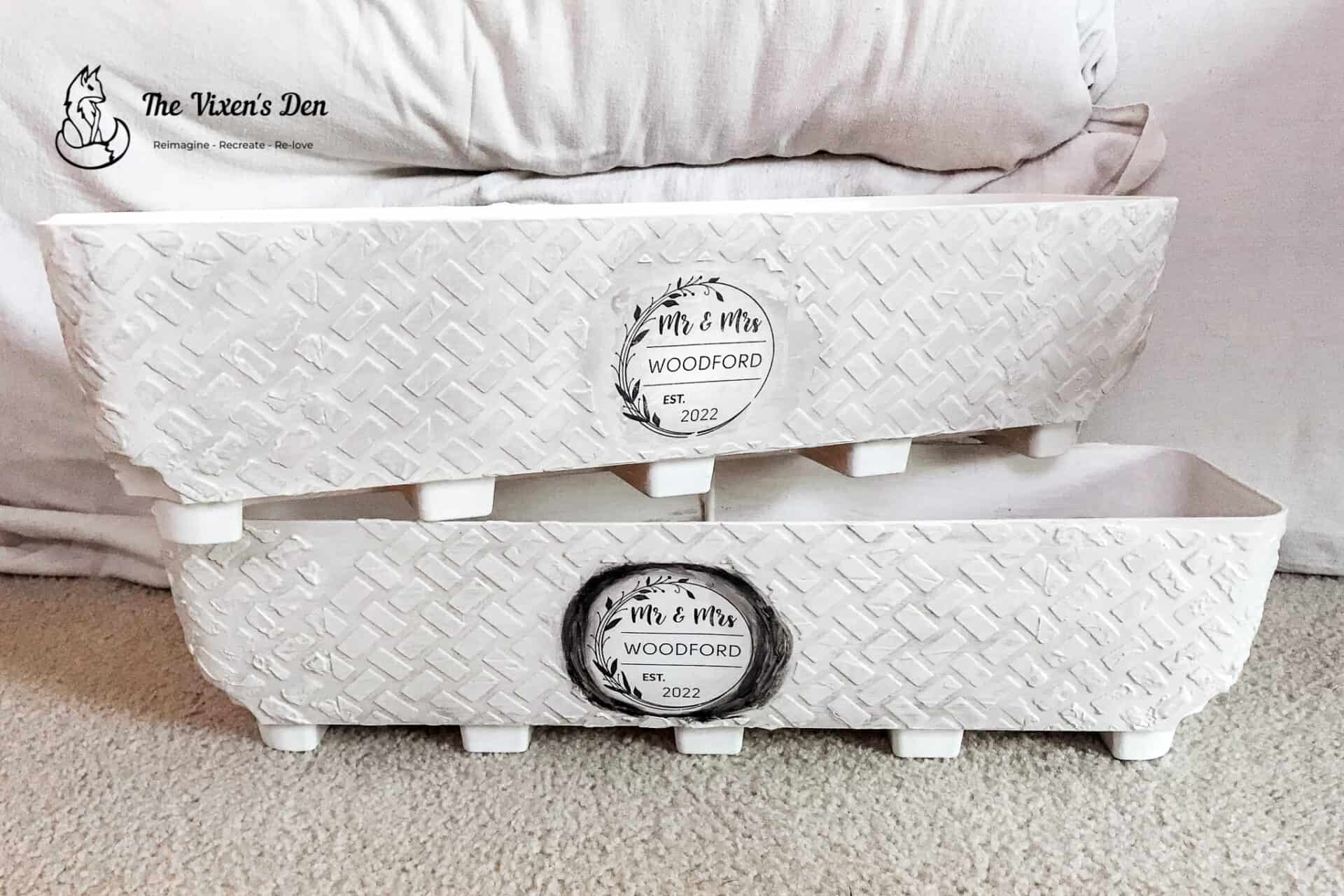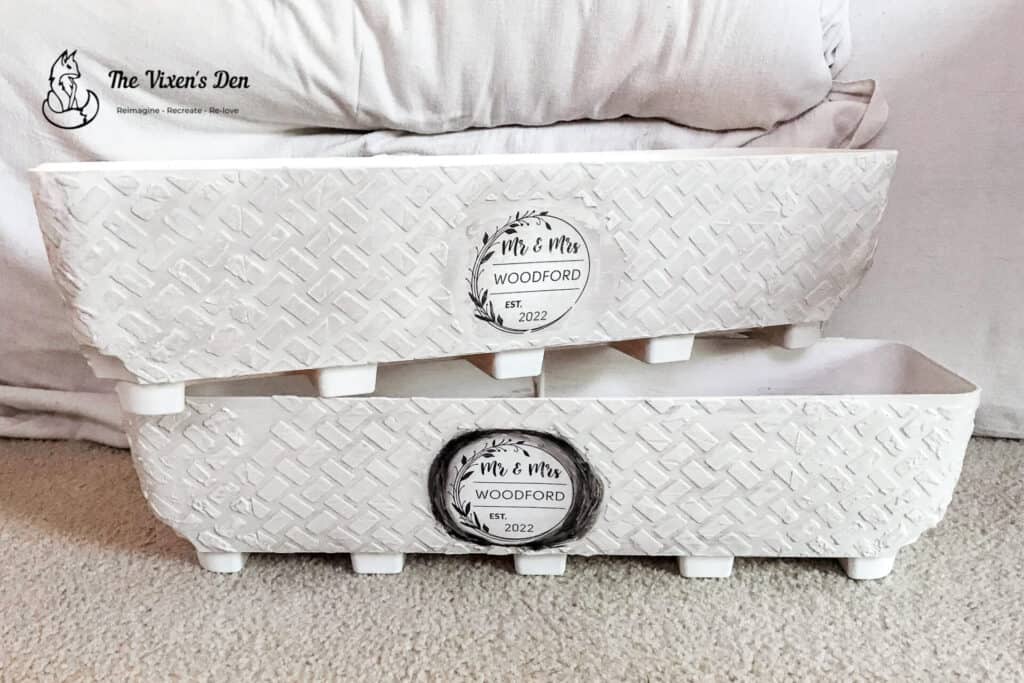 I think a bit of sanding and filling in with the clear coat will help, but it still kept showing upon me for this project. I'd love to hear any suggestions to help overcome this. Please drop them in the comments below!
Sealing the Raised Stencil
Since this planter will probably live outdoors, I chose Gator Hide as the final clear coat. However, if this is an indoor project, then you could easily use any of the Dixie Belle Clear Coats in Gloss, Satin, or Flat. At this stage, the stencil itself was protected behind layers of Slick Stick, Chalk Paint, and Clear Coat, so this last layer is just to protect the details of the transfer and the wax.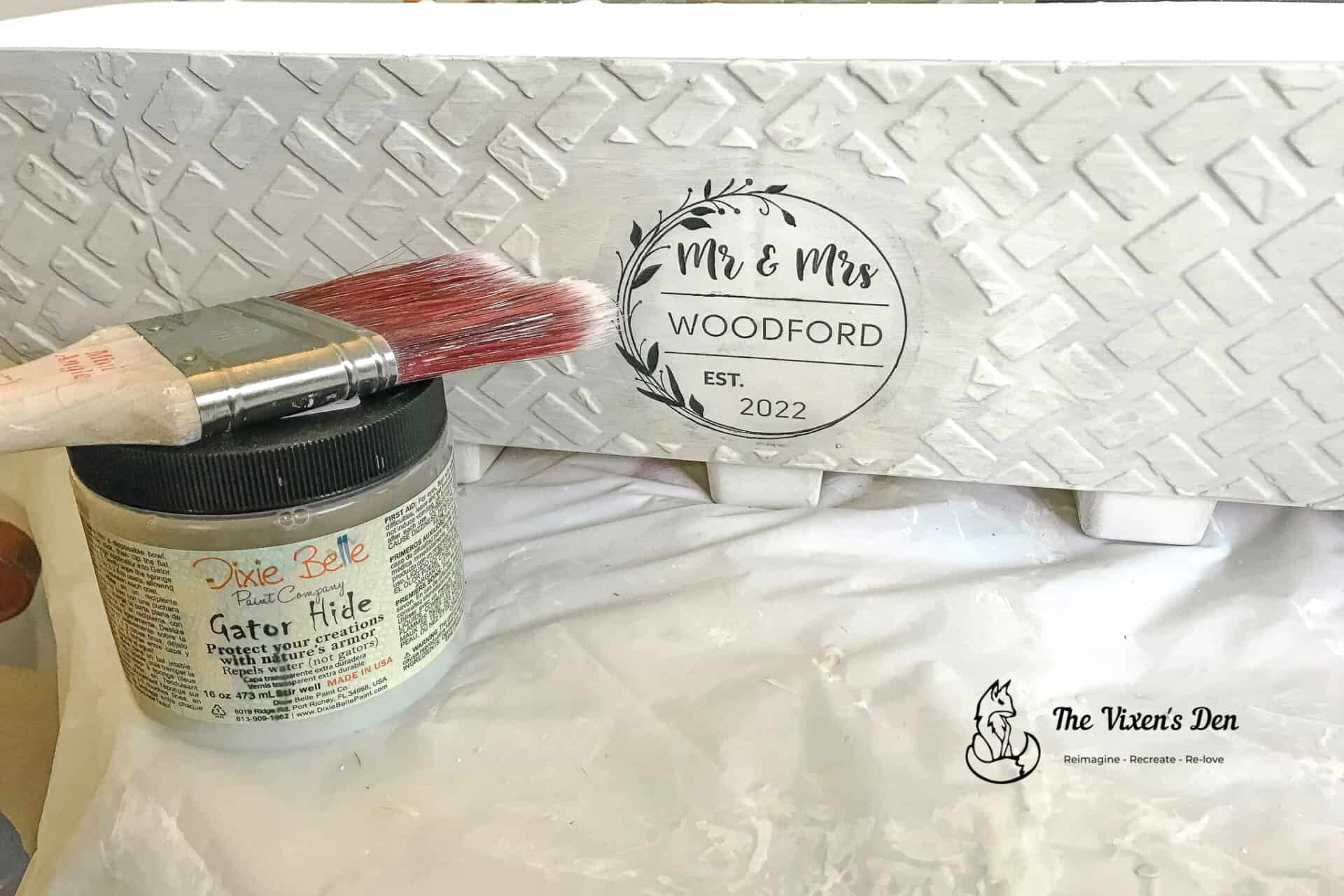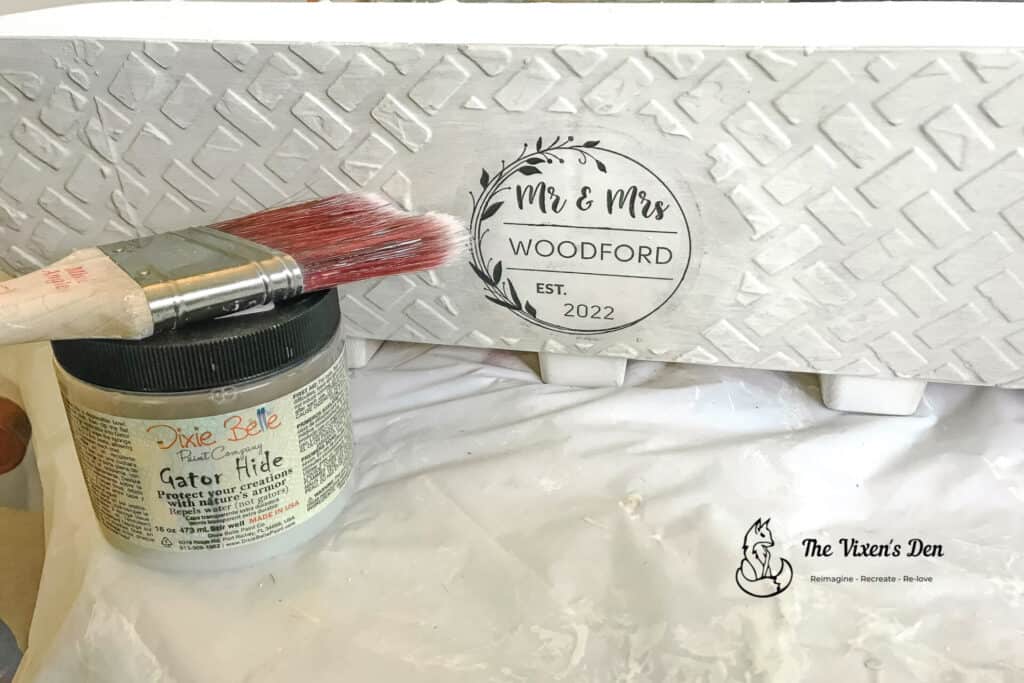 I did some test bends and twists of the planter sides to see if the raised stencil bricks would pop off. I didn't hear any cracking or popping, so I think they are thoroughly sealed in!
Raised Stencil Planters Reveal and Takeaway
Here's a before and after of the raised stencil planters. What a transformation! They now have a very unique old-world style feel to them that is perfect for a garden wedding. The custom transfer also helps to make them extra special.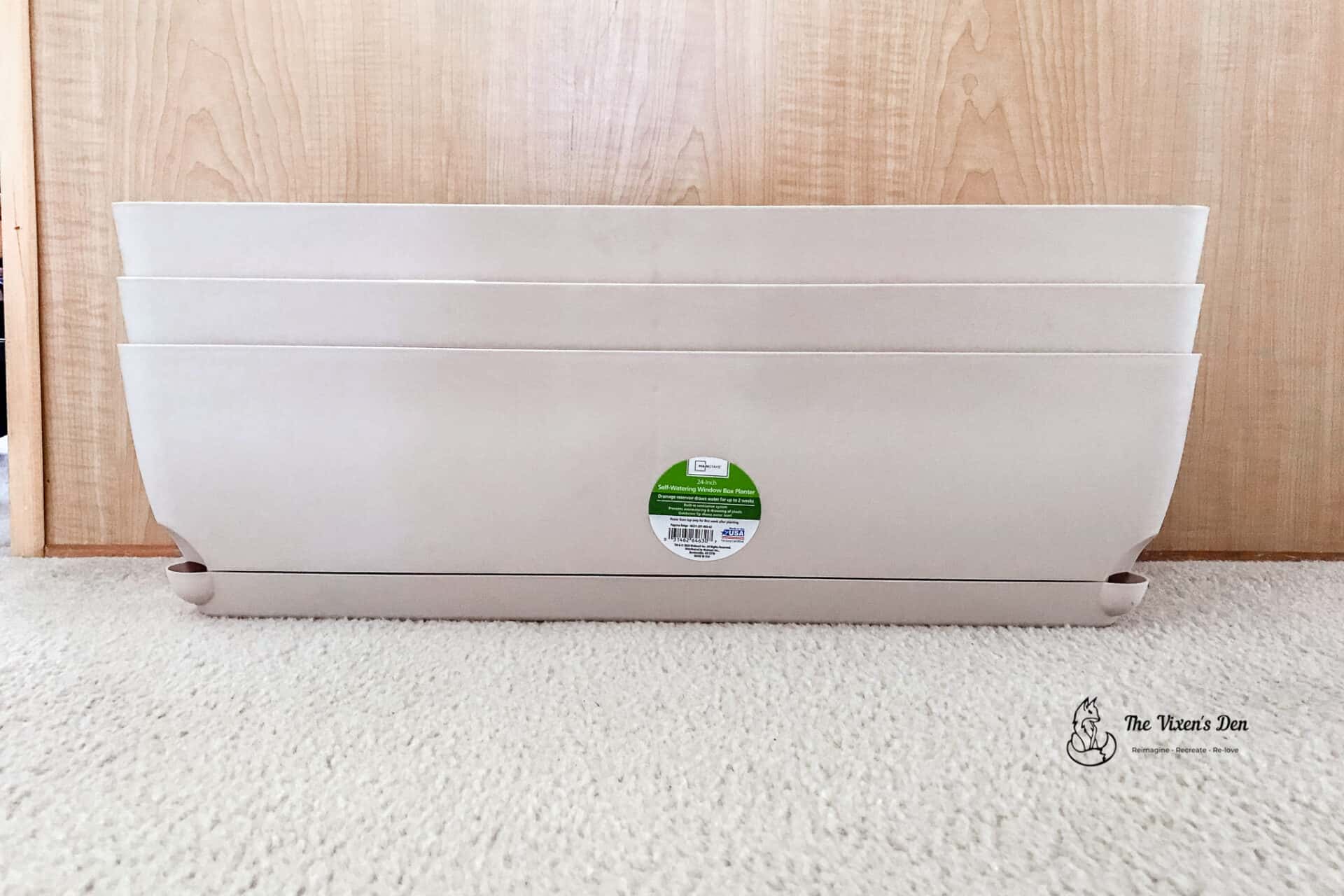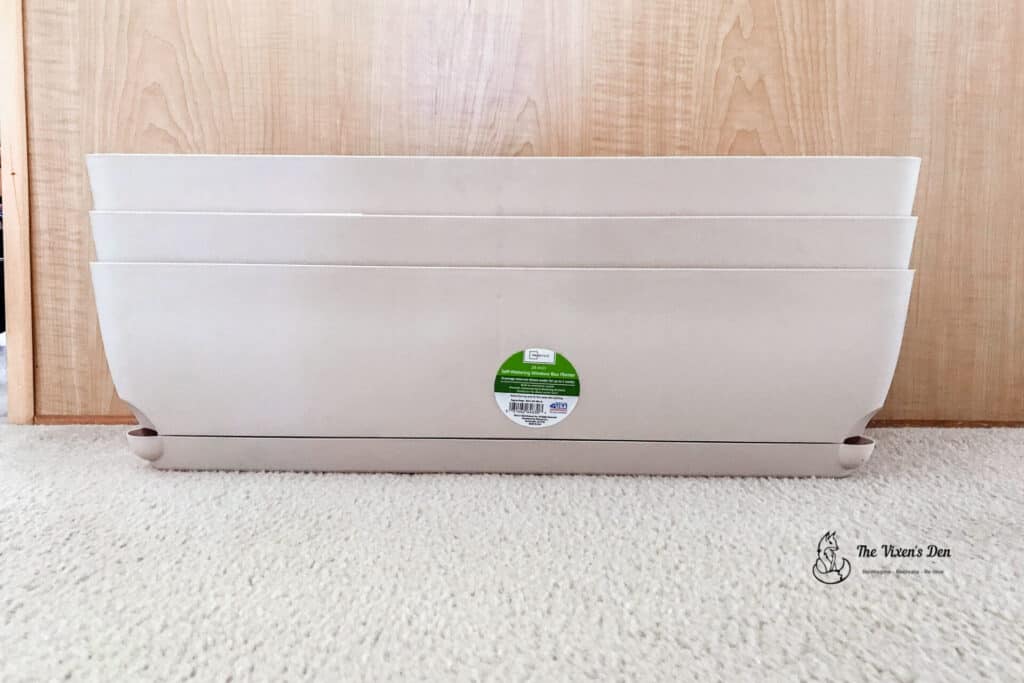 I love the fact that the raised stencil effect is still very flexible under the layers of paint and clear coat. I also love that this is an easy project that anyone can do! The hardest part was waiting for the drying time in between stages. (Miss impatience again.)
Wouldn't these planters make a lovely Mother's Day or birthday gift? You could tuck a cozy blanket in with a candle, candy, and some seed packets of sweet-smelling flowers or herbs.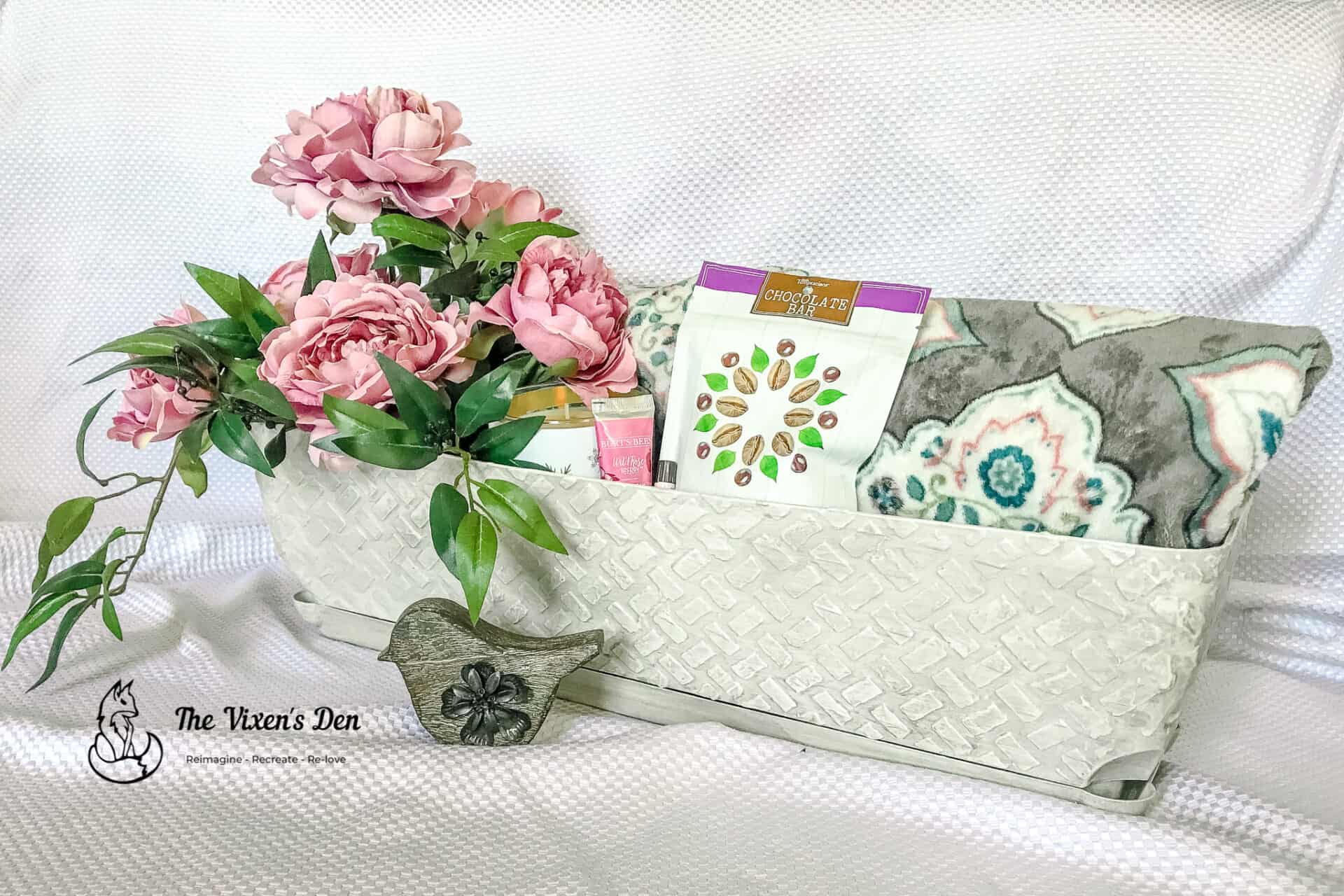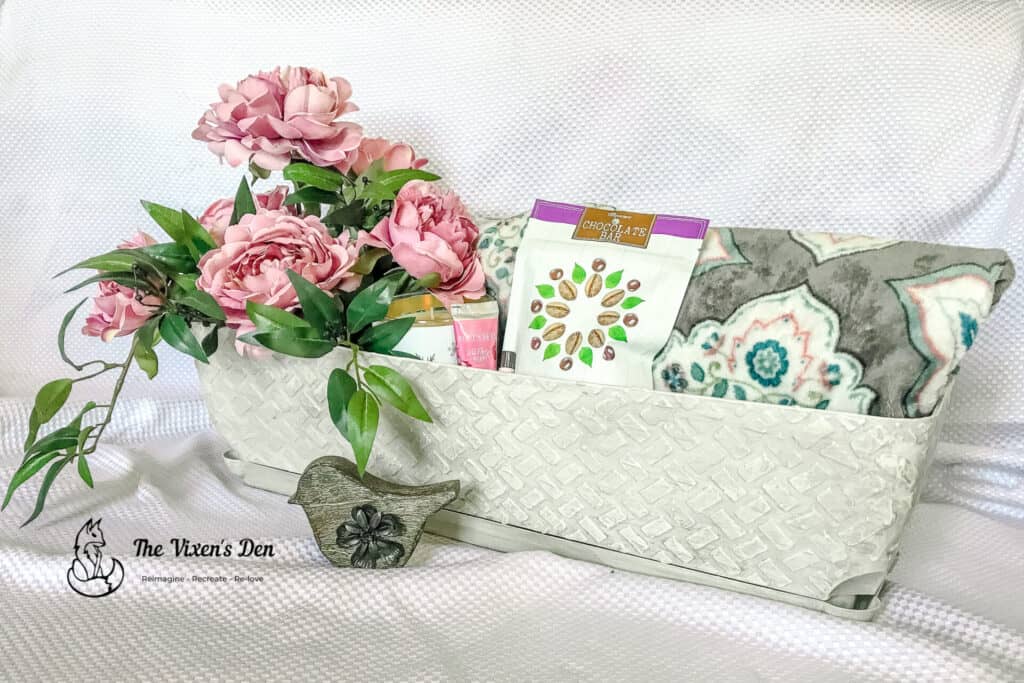 Or, you could plant them full of beautiful spring flowers!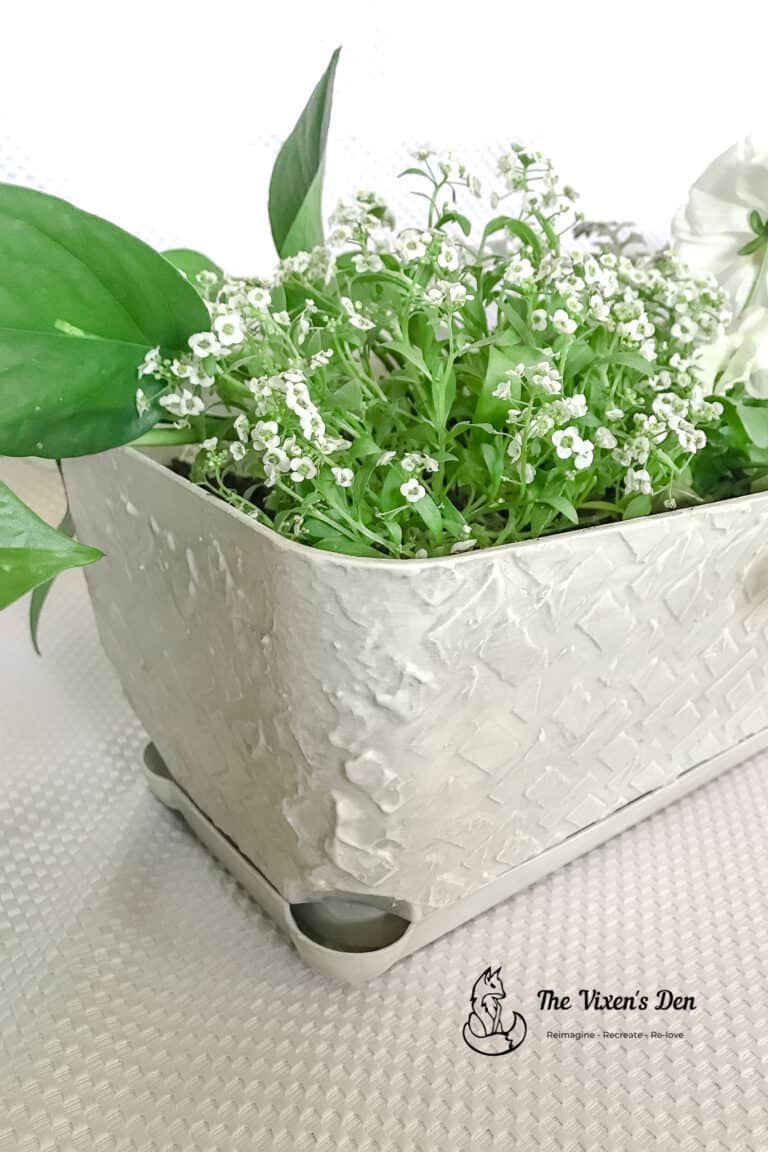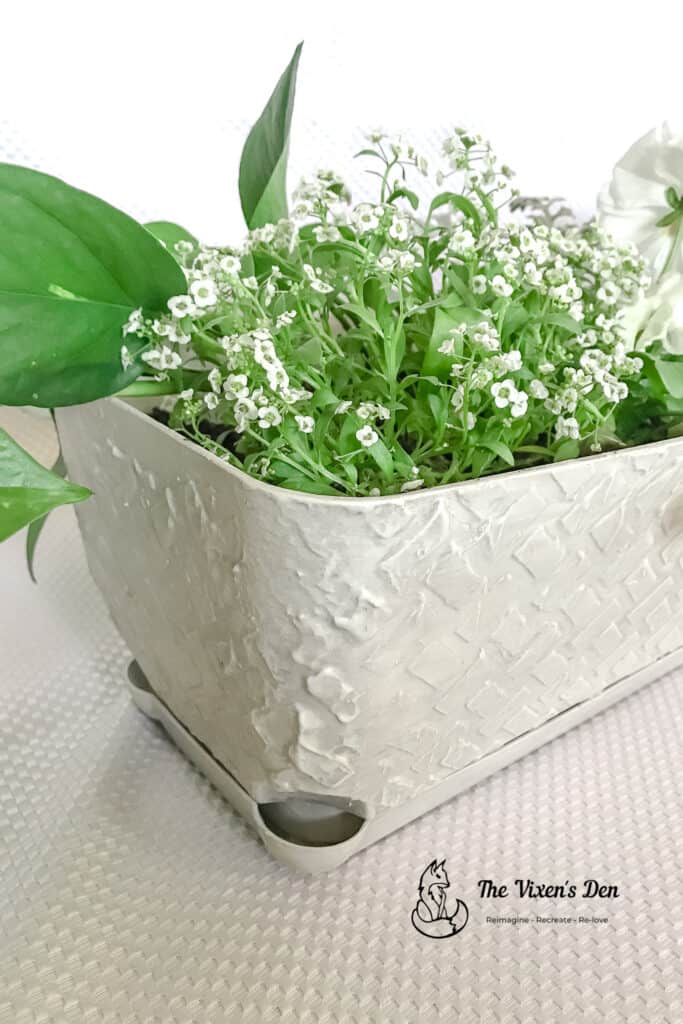 What would you plant in this lovely custom flower pot? Let me know in the comments below. Then sign up to receive an email when the newest misadventures are posted. Until then, you may also enjoy this post about adding a raised stencil to a magazine rack. It has so many possibilities for its future!
Have a beautiful and blessed day!


I am so excited to be a Dixie Belle affiliate! Whenever you make a purchase through my affiliate link, I receive a commission at no additional cost to you. My Disclosure page has more information if you're curious. Thank you for supporting The Vixen's Den!