Dresser to Buffet Makeover
Do you have an empty spot in your dining room that is just begging for a beautiful buffet? But you've seen the prices and just can't justify spending that much money on a piece of furniture? What if I told you that the solution to your problem is in the next room? Let's look at how this makeover transformed a dated 80's dresser into a beautiful farmhouse buffet.
THIS POST CONTAINS AFFILIATE LINKS TO PRODUCTS. I ONLY RECOMMEND PRODUCTS THAT I HAVE OR WOULD USE.
AS AN AMAZON ASSOCIATE I EARN FROM QUALIFYING PURCHASES AT NO COST TO YOU. YOU CAN SEE MY FULL DISCLOSURE HERE.
It was during a party about two years ago that I discovered we truly needed something in front of the double windows of our eat-in kitchen/dining area. I'd popped up a folding table for drinks and desserts and immediately understood why the buffet was first added to the dining room.
And so, my search for a buffet of our own began. My dear husband has very high standards when it comes to furniture; solid wood only, please! I stumbled across this piece on Facebook Marketplace. The glowing ad promised exactly that. Yes, I know. It's a dresser. But this is an upcycling project, and a dresser is just one room away from becoming a buffet.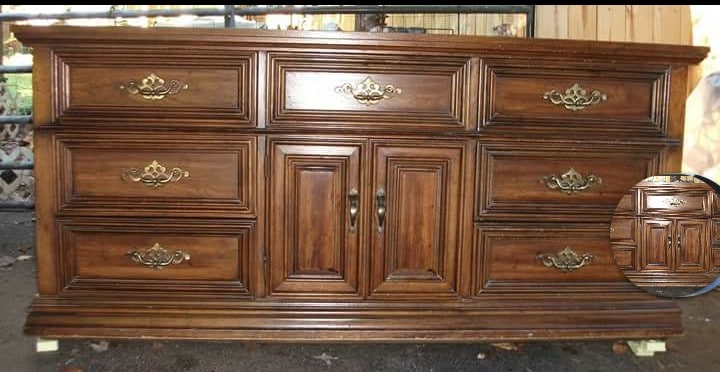 This piece had a solid poplar frame covered with a layer of oak veneer. The drawers, however, were another story. The sides were dove-tailed MDF with veneered facade fronts. MDF, also known as pressboard furniture, is very challenging to upcycle. Since it is pretty much just compressed woodchips with a thin plastic or wood veneer glued over it, the refinishing options are limited. With not much bite for the screws and nails, once the woodchip material loosens, the veneer peels off and the furniture begins to come apart.
But, I was optimistic. The price seemed reasonable and I was ready for a project….ummm, perhaps I should clarify another project. Did I mention that my husband is a saint? He gave the okay, and let me haul the dresser home to hang out in the garage. After about six months, she finally spoke to me. Luckily, I didn't start talking back…with anyone else around. Because that would have been weird.
The first step was for that orangey 80's stain to go!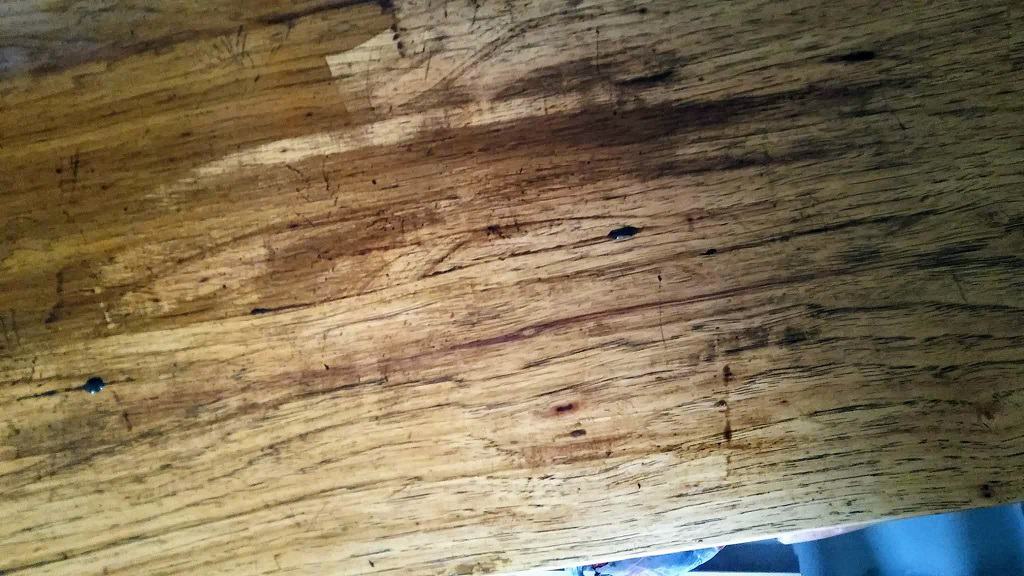 I absolutely despise am not a fan of sanding, so this process was courtesy of Citristrip. This isn't a sponsored post, I just genuinely appreciate how quickly it removes the finish and stain without stinking up the garage and causing my airways to cake with sawdust. Lots of scraping with a plastic scraper and rubbing with steel wool, and I could finally see the wood with all of its beautiful character.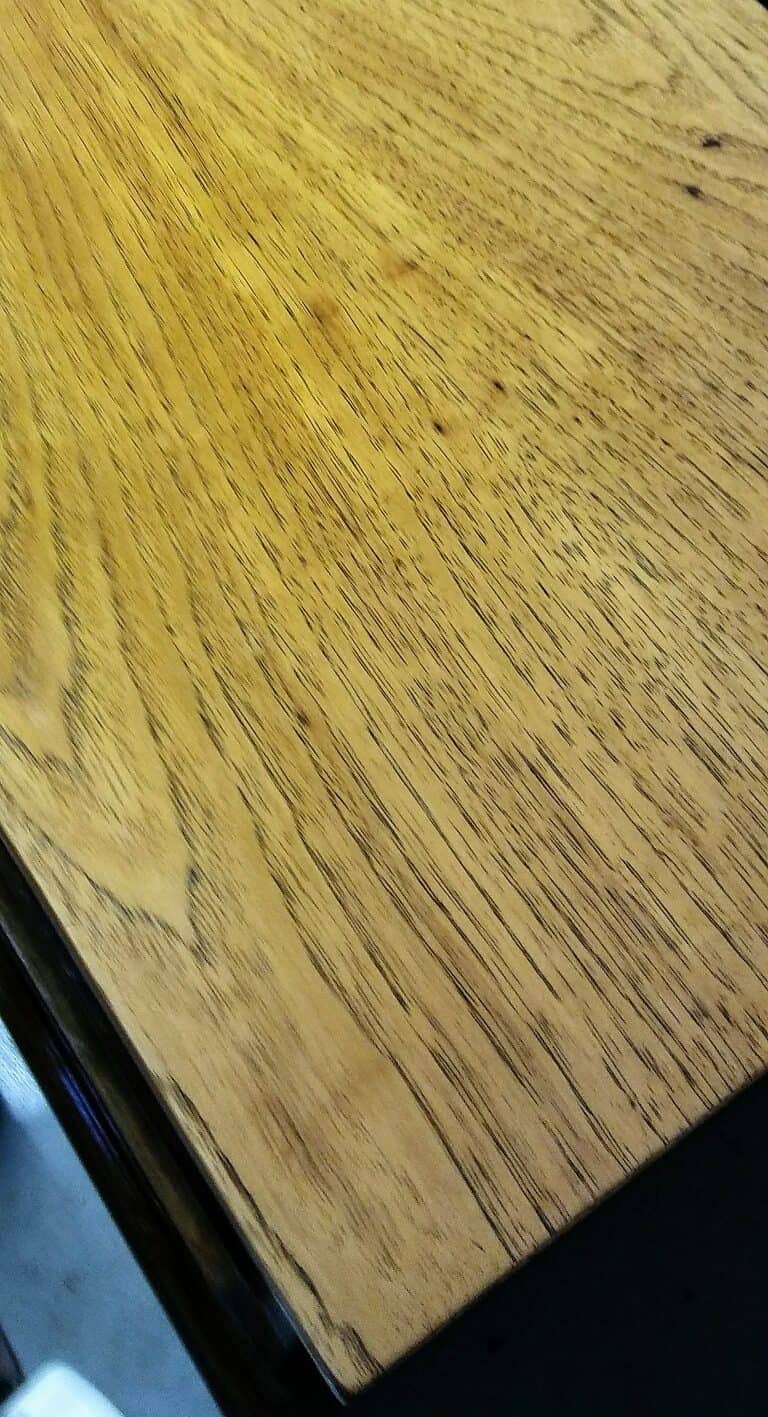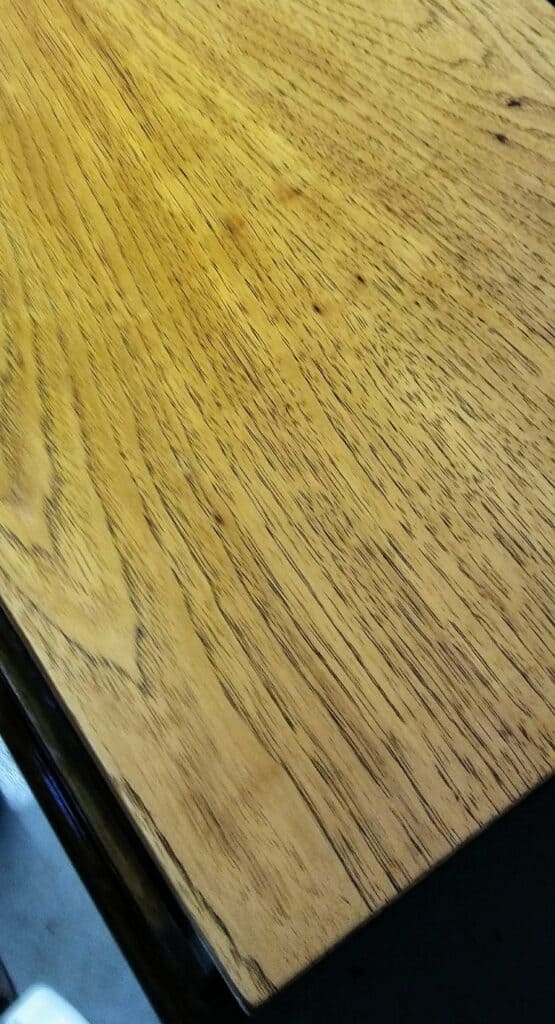 She (the dresser) was still looking a little too golden and shiny for my tastes, so I talked it over with her and we agreed that a little graceful aging might be just the ticket. (I did mention that I talk to my projects, especially when we are spending hours together bonding over binges of Gilmore Girls.) So, I whipped out the Minwax Weathered Oak stain and started to soften her glow. It took a careful layering of weathered oak, gray and pickling but eventually, it began to come together.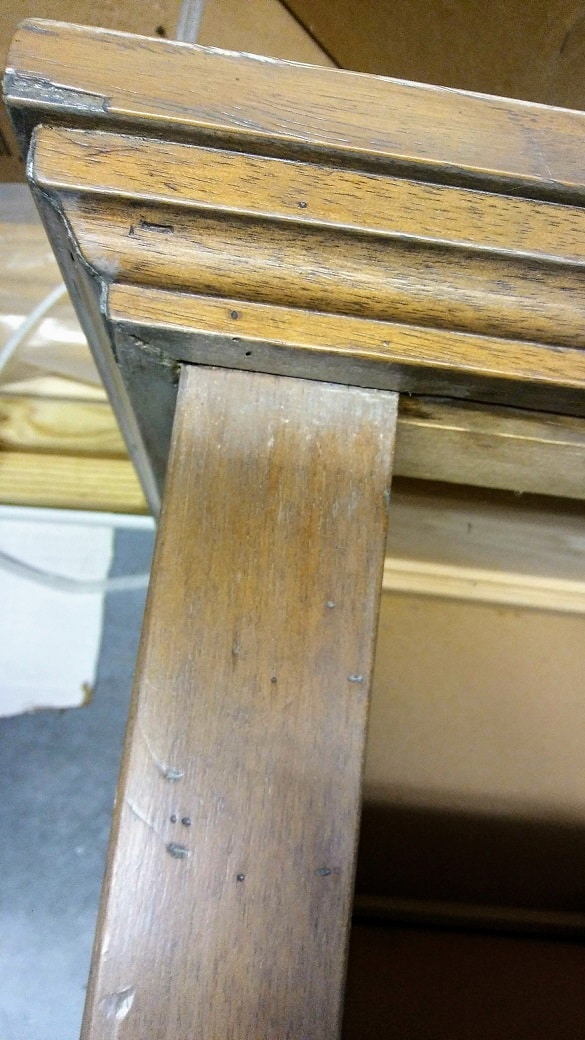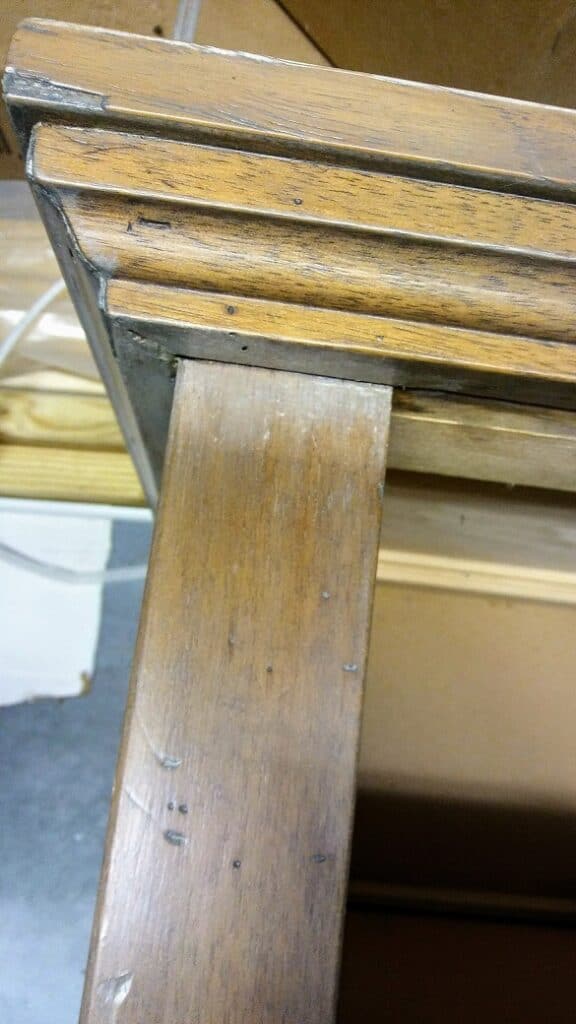 Once the tones were right, I sealed her with 4 coats of General Finish Flat. I love that finish, not too shiny and super sturdy. There was a little bit of yellowing, but I decided it added to the aged look so I rolled with it. With a light sanding in between coats, the dresser was beautiful and ready to shine in her starring role as our new buffet.
But wait! The drawers weren't ready! I wanted them to have a little more flair, but subtly. So, I dug through my paint and stencil stash and came up with this: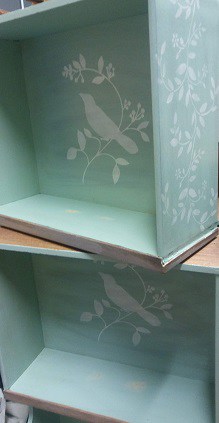 It's a fun little surprise with a pop of "wow" that transforms her from ordinary to extraordinary. For the drawer fronts, I wanted an even more aged paint look. It took several trial-and-error layers of watered-down white paint and stain.
Believe it or not, painting and staining can be combined, if done properly.
I then filled in the original hardware holes and created a cardboard template for the new handles.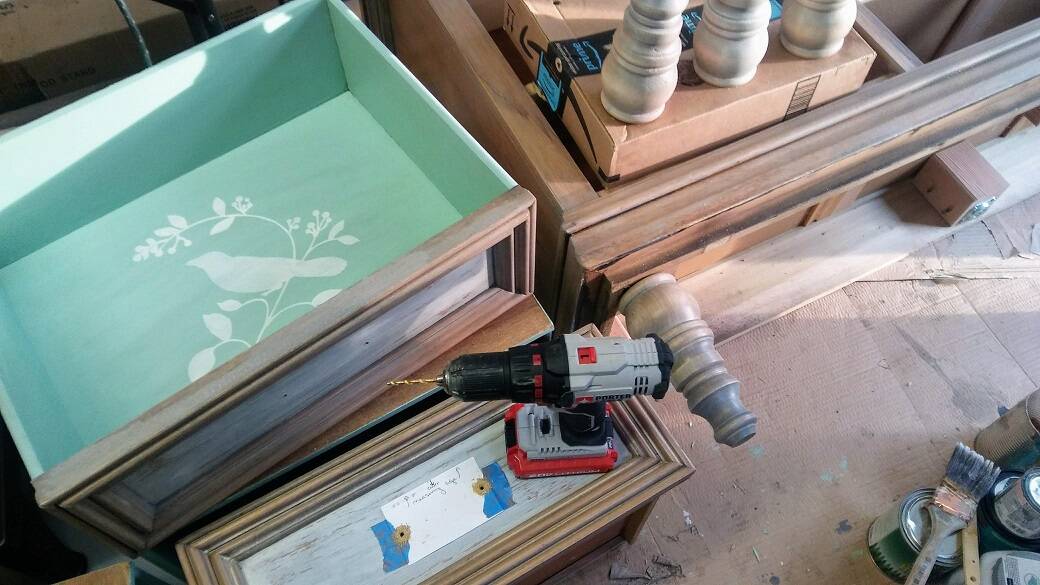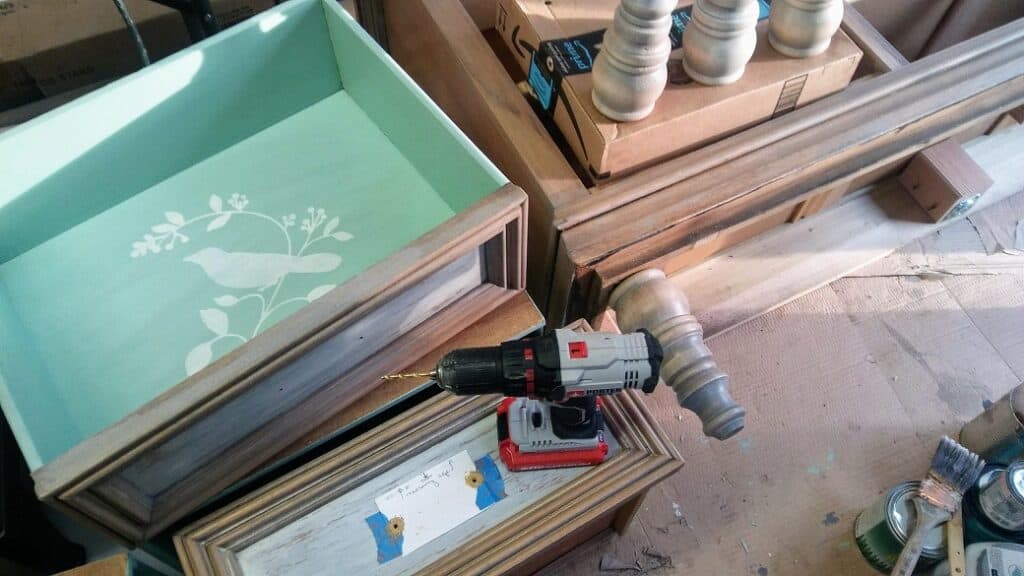 With the addition of some new jewelry and bun feet to give her a little lift, we were ready to introduce Emily to her new home in the dining room. (She seemed to deserve a name, considering how much time we spent talking to one another.)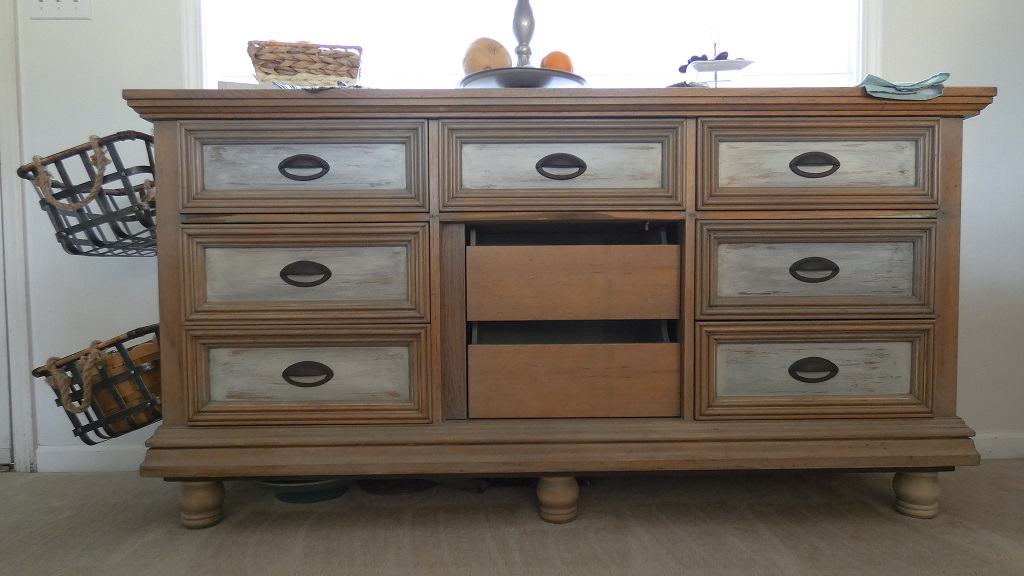 I found the hardware (or her "jewelry") at Hobby Lobby, but they don't seem to have it any longer. Here's a similar style and finish from Hickory Hardware.
I originally intended to re-install the door, which is now two doors…
…but I think I prefer how easy it is to use those two drawers without the hassle of opening doors to get to them. I'm still considering adding additional hardware, but for now, we're living with it. Since the front of those drawers is cut lower than the side, it's easy enough to reach in and grab the edge of the drawer front to pull it open.
So, all that's left is adding the little decorative piece along the front, under the top set of drawers. I'm going to go add this to my "To Finish" list right now…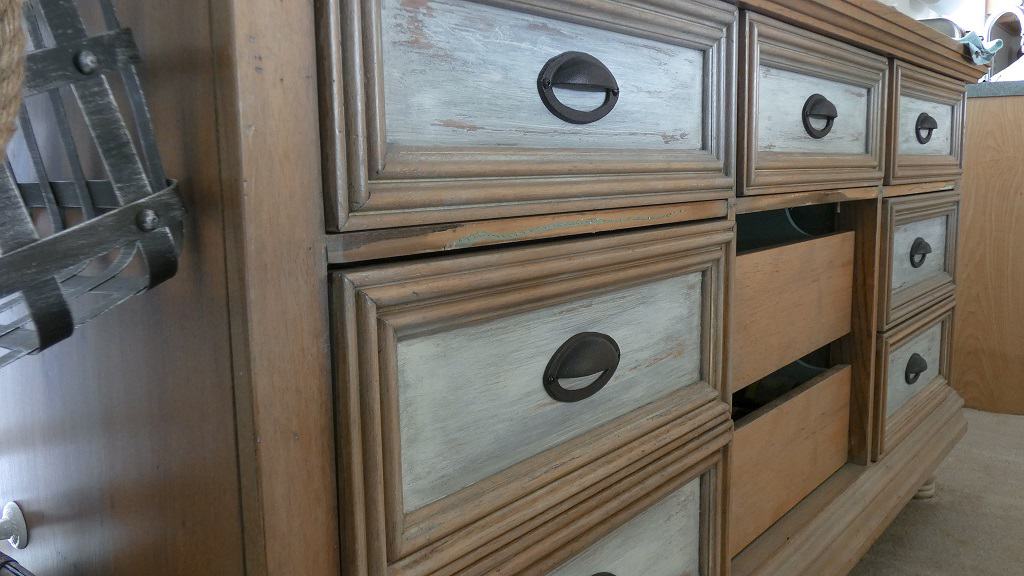 How about some wrap-up pics of Emily in all her transformed "dresser to buffet" glory?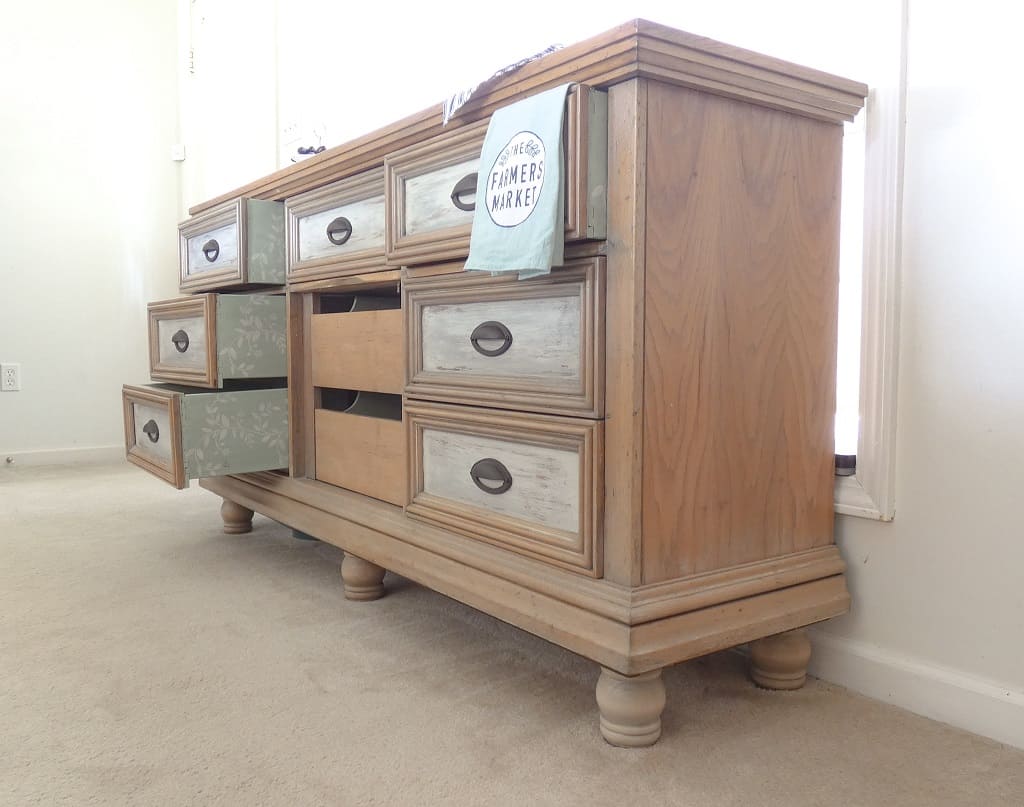 This natural wood finish is so much better than that 80's orange, right? It's much easier to appreciate the beautiful wood grain and drawer details now, and I just adore those cute bun feet!
I am counting this dresser to buffet makeover as a success! So, would you upcycle a dresser into a buffet for your dining room? And, I'm not the only one who talks to inanimate objects…right?
If you enjoy these kinds of transformations then subscribe to my email list so you can be notified when I post new fun makeovers. Until then, check out this post where I transform a gun cabinet into a linen cabinet. Enjoy!