Chalk Painted Floral Breast Cancer Pumpkin
This project started off with a shabby little thrift store pumpkin. It was trapped in the typical dull black and orange of mass-produced Halloween decor. But I knew it had the potential to be so much more.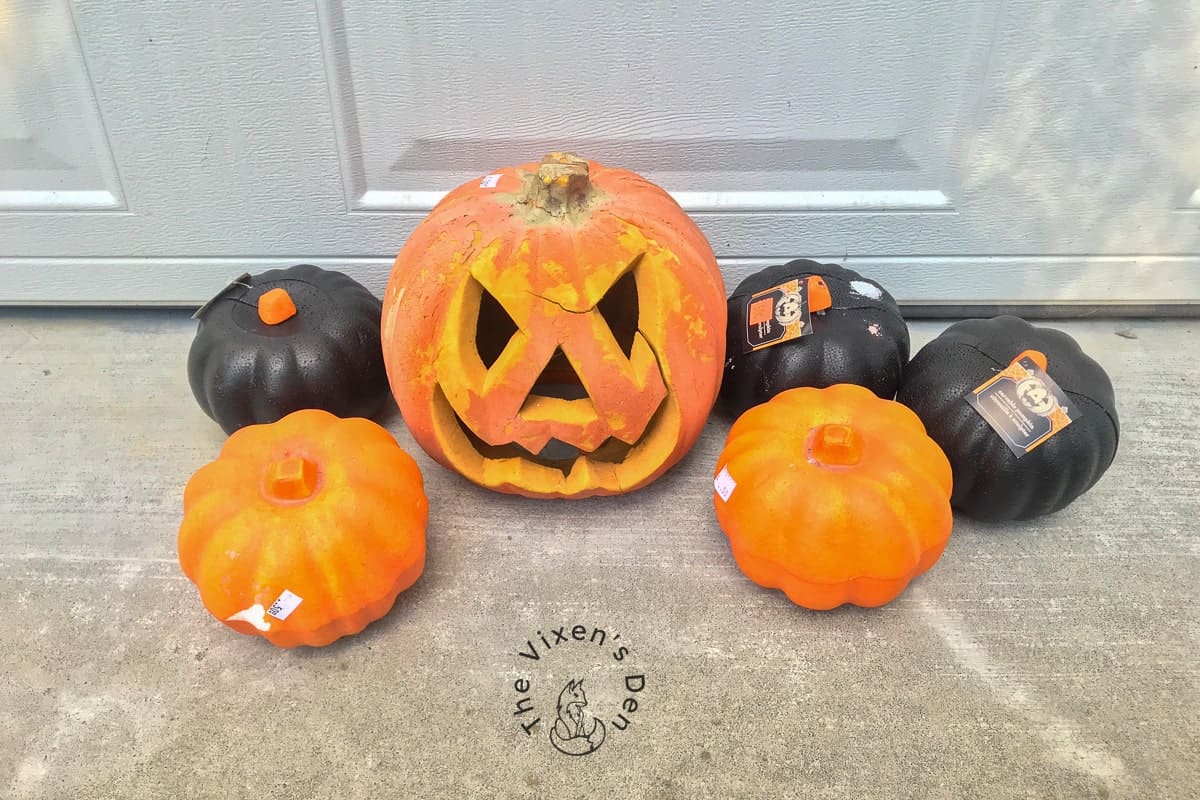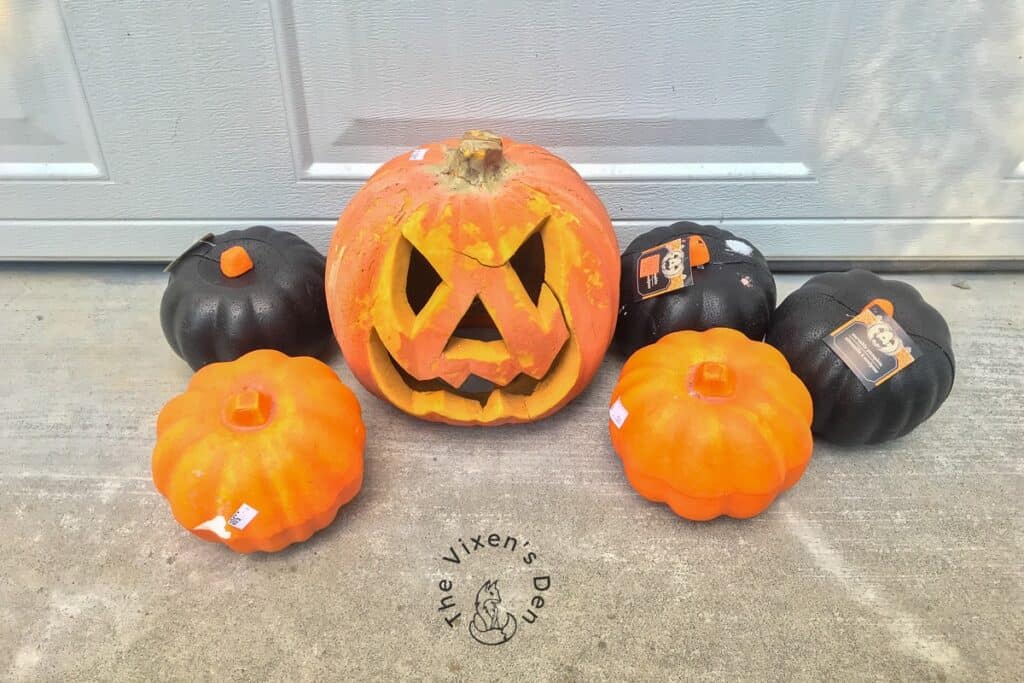 With a little imagination and some beautiful Dixie Belle paint products, this pumpkin is now a reminder of hope for those whose lives are touched by breast cancer.
This post is sponsored by Dixie Belle Paint Company. While they provided some of the products for this project, all of the opinions are my own. Follow this affiliate link to see all of their amazing products!
AS AN AMAZON ASSOCIATE I EARN FROM QUALIFYING PURCHASES AT NO COST TO YOU. YOU CAN SEE MY FULL DISCLOSURE HERE.
Tools and Materials
Cleaning & Prepping
This pumpkin had been through a lot before it made its way to me. To be certain that I was starting with the best foundation possible, I gently scrubbed it with White Lightning and a blue scrubber. I rinsed thoroughly under warm running water.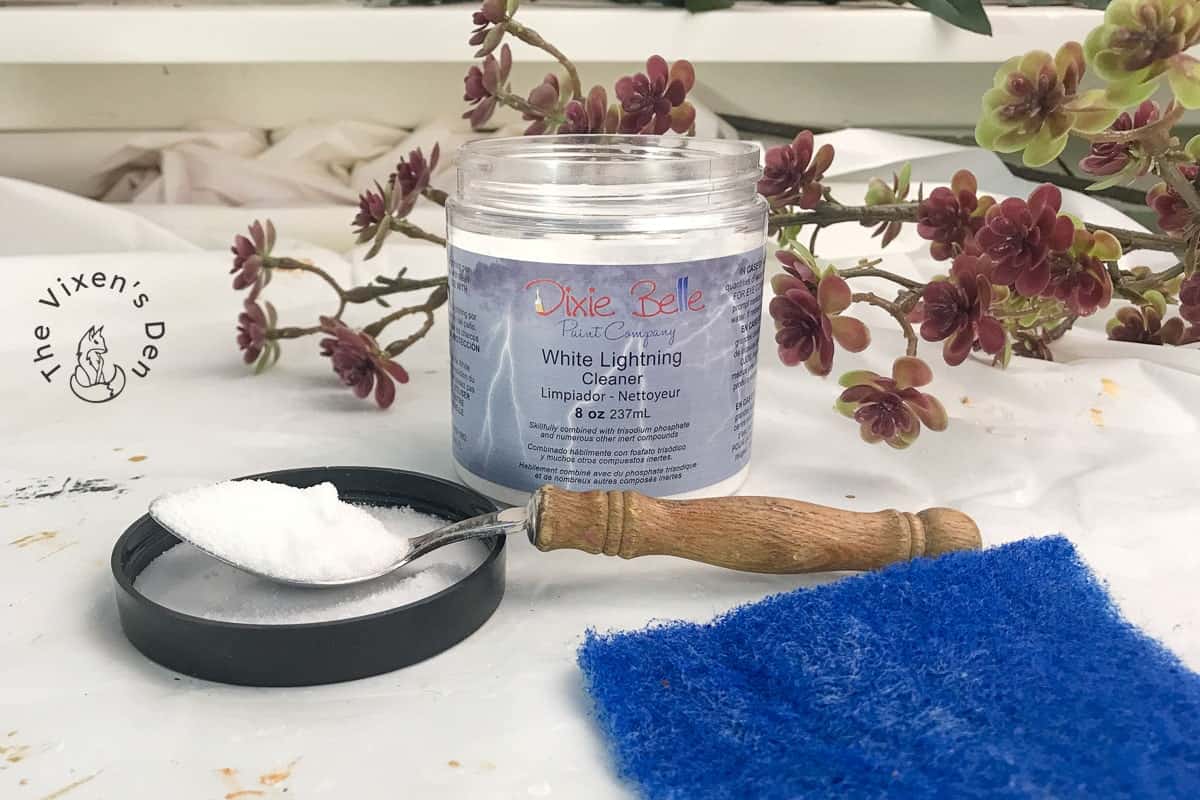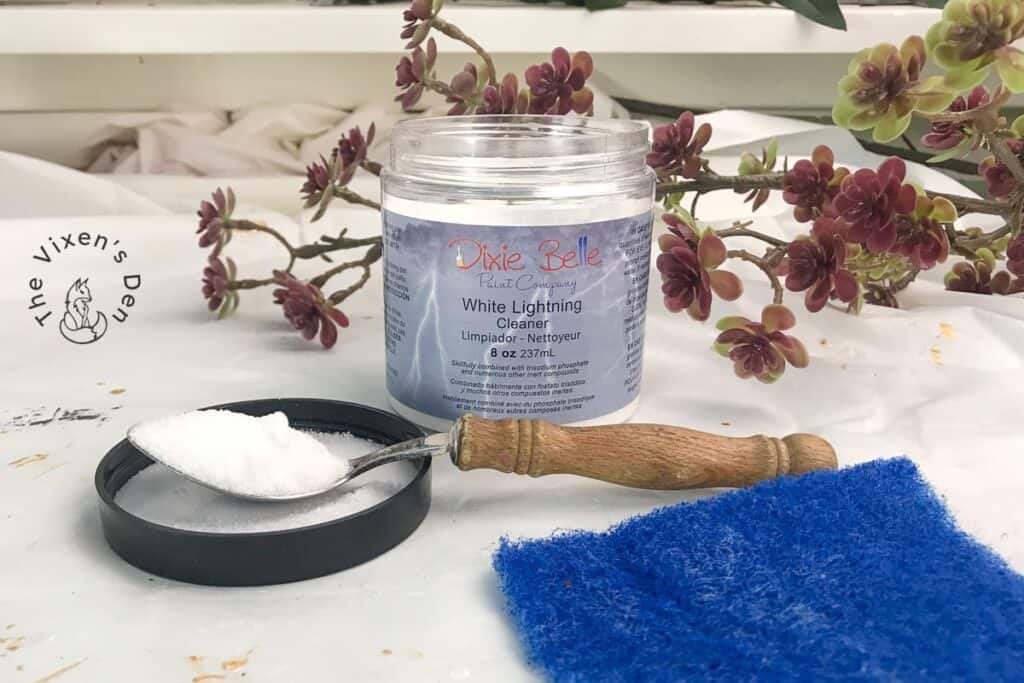 The pumpkin was made from styrofoam, so I wanted to make absolutely certain that all of the cleaner was rinsed out of the small pores. I let it dry overnight to make certain that there wasn't any water left in those crevices either.
Priming the Styrofoam Pumpkin
I wasn't sure if the factory paint might bleed through, so I sealed it in by applying two coats of Boss.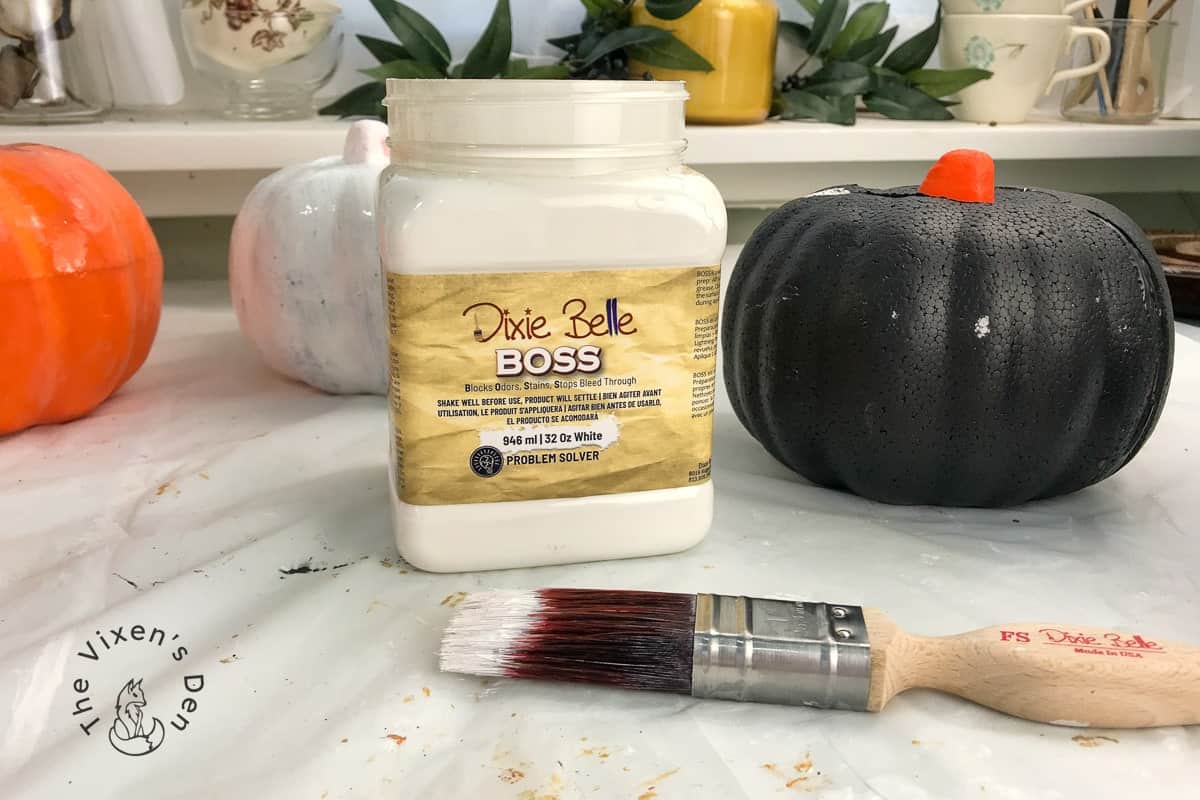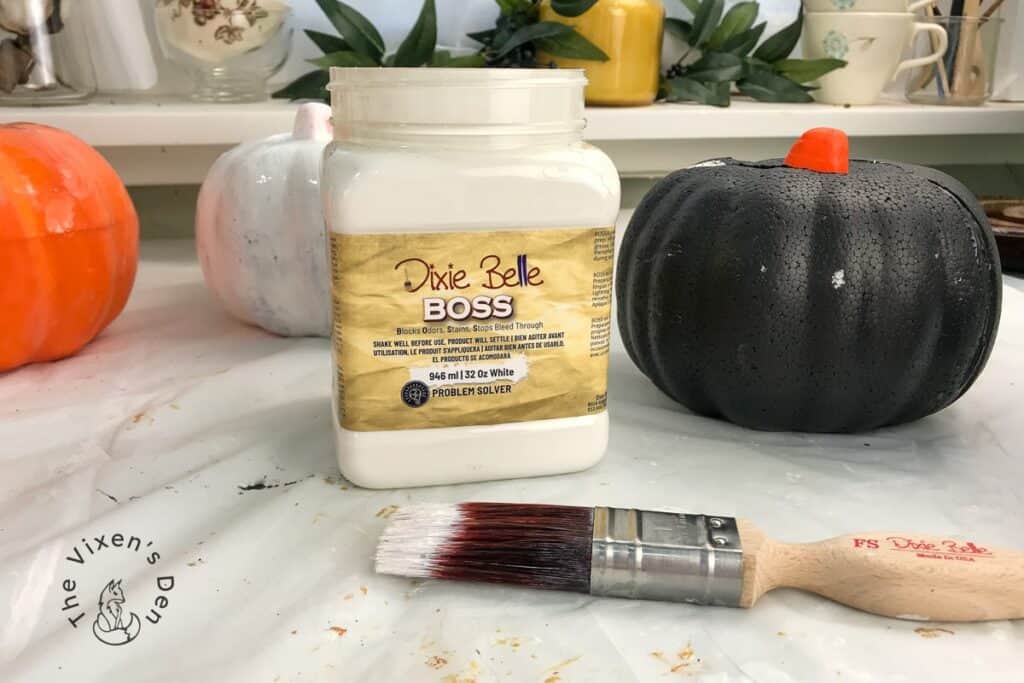 During the priming stage, I discovered that the stem for this particular pumpkin was actually a separate piece held in place with a toothpick. This seemed like an opportunity, so I removed the stem and primed the spot underneath it. I let the primer dry overnight and then moved on to painting.
Painting the Styrofoam Pumpkin
Terra Clay Paint is excellent for creating custom paint colors. I combined one part Bougainvillea with one part Praire Dawn and one part Desert Tan. The result was this gorgeous shade of pink.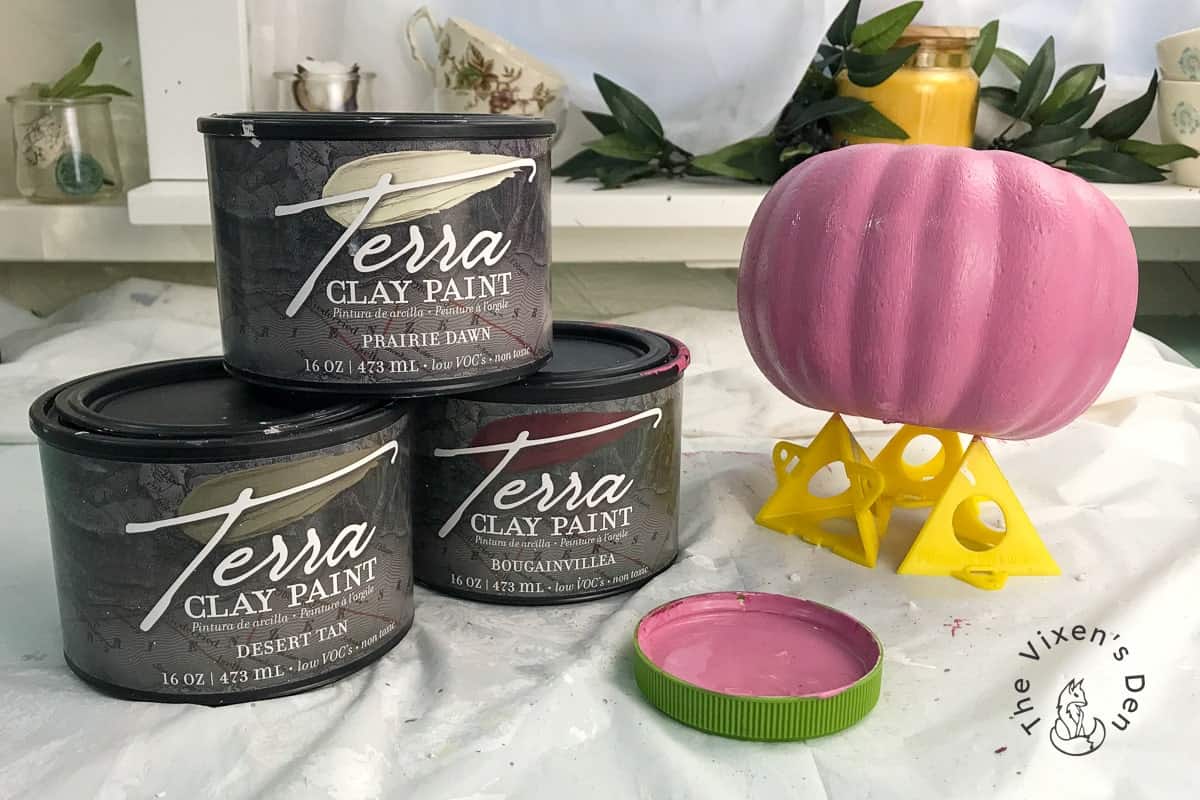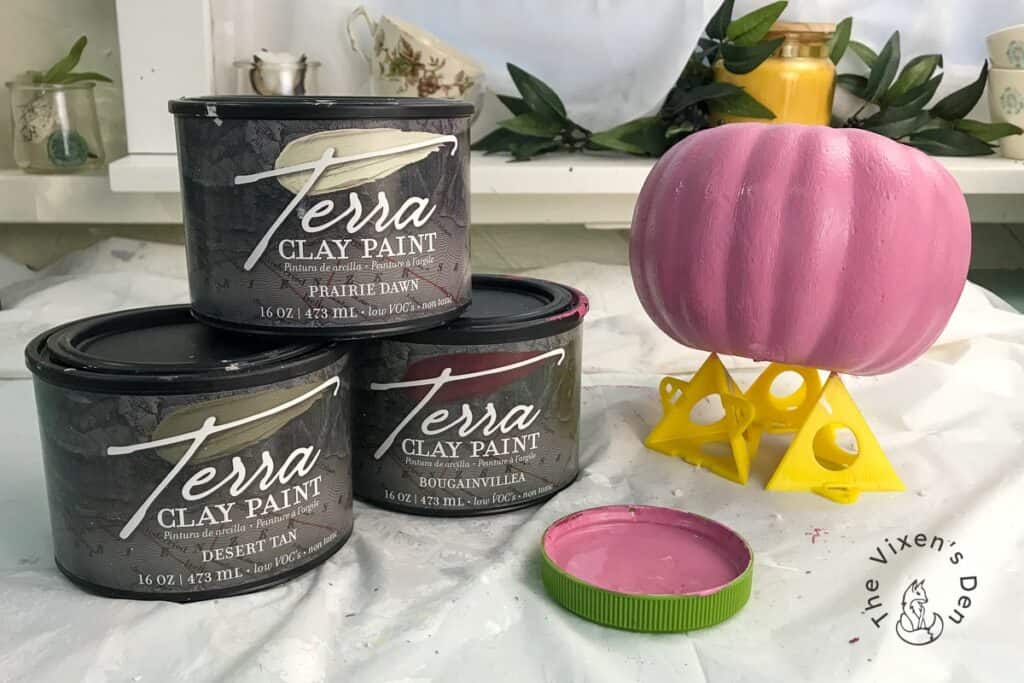 Clay paint is even "drier" than chalk paint. This is great because the paint dries quickly allowing you to move on to the next step without a lot of downtime. However, it also means that sometimes it needs a little help to move the paint onto the surface of the project.
That help can be found in the Continuous Spray Mister. This misting bottle is amazing! It sprays a consistent light mist of water that makes it so much easier to apply dry paints like chalk and clay paint.
Personalizing with the Breast Cancer Seal
Personalizing this painted pumpkin was easy, and no Cricuts were needed! I chose a font from my collection and printed it out in four different sizes. Then I held the sheet up to the pumpkin and chose the size that worked best for this piece.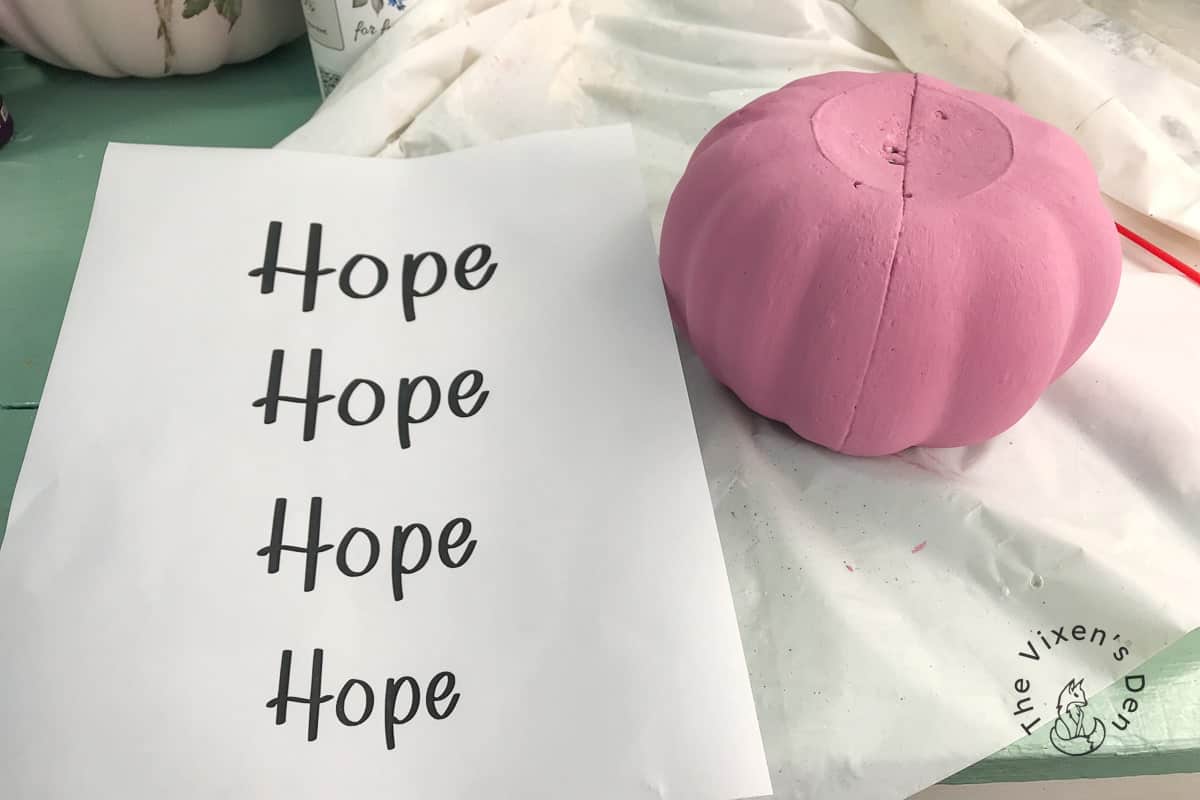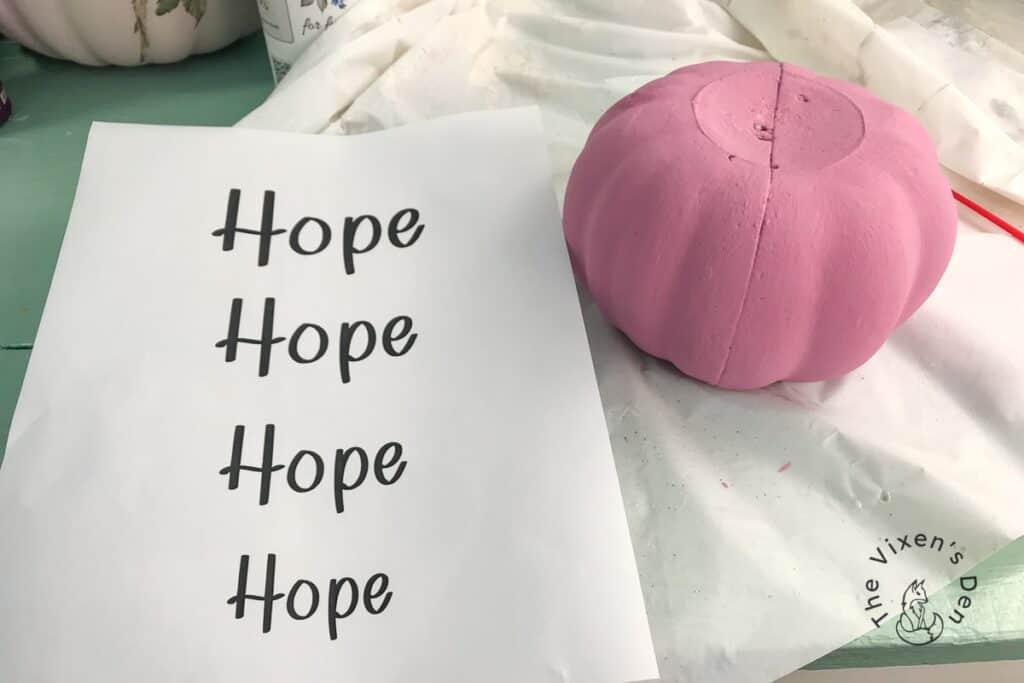 After cutting out the font that I wanted, I held the paper against the pumpkin and traced the outer edges of the font. This worked especially well since the pumpkin was made of foam.
With the font embossed on the side of the pumpkin, I filled in the words with Terra Clay Paint in Onyx and the breast cancer symbol with Bougainvillea. The Dixie Belle Artist Brush was perfect for this step!
Applying the Transfer
Dixie Belle has a beautiful line of transfers that are so easy to use. This Bohemian Wedding transfer had the perfect touch of soft florals for this piece.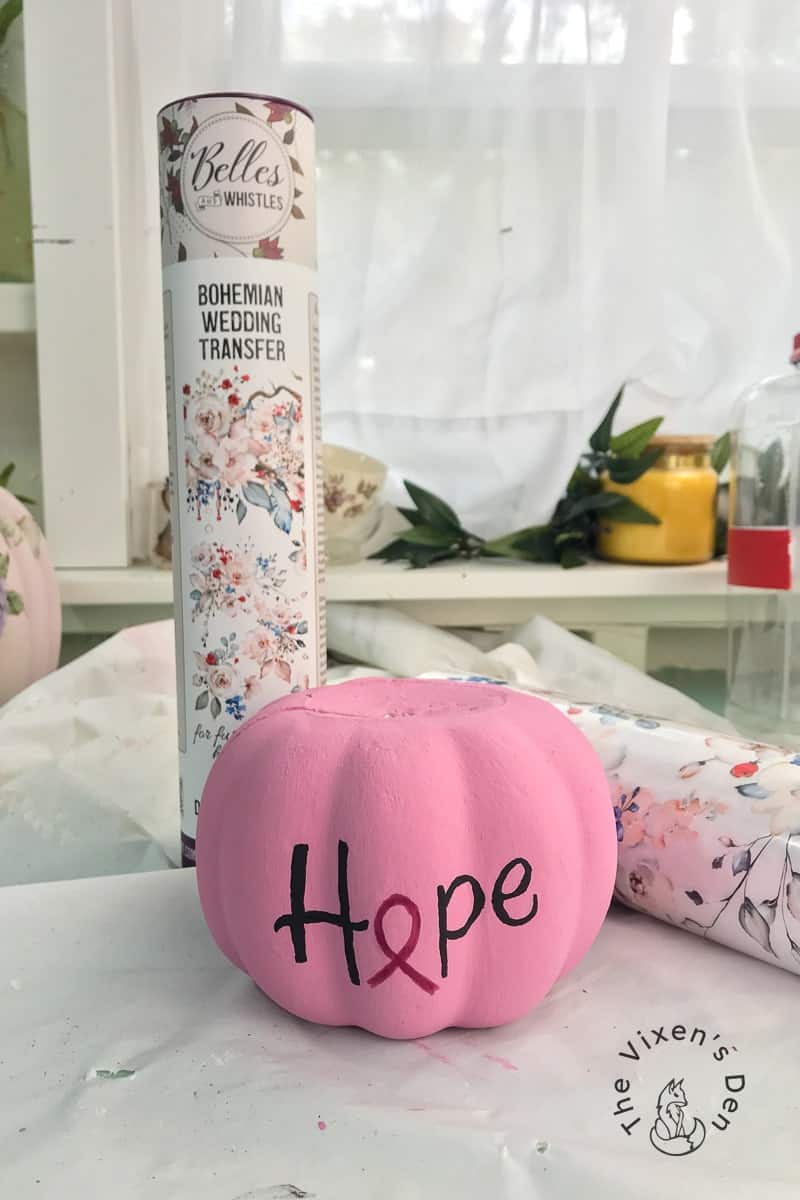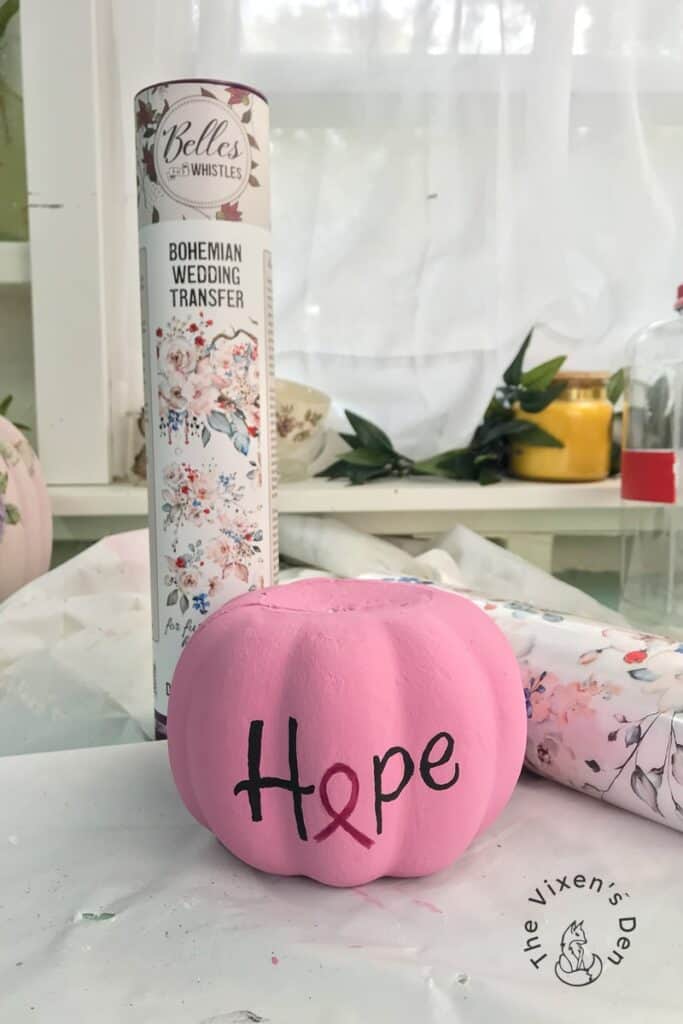 I cut out the pieces that I wanted to use and then began applying them from the crease of the pumpkin outward. Each tube of transfers contains a rubbing stick to help you apply the transfer. For this particular project, however, I found that rubbing the transfer onto the surface with my fingernails worked best. I smoothed out the transfer with my fingers before removing the acetate.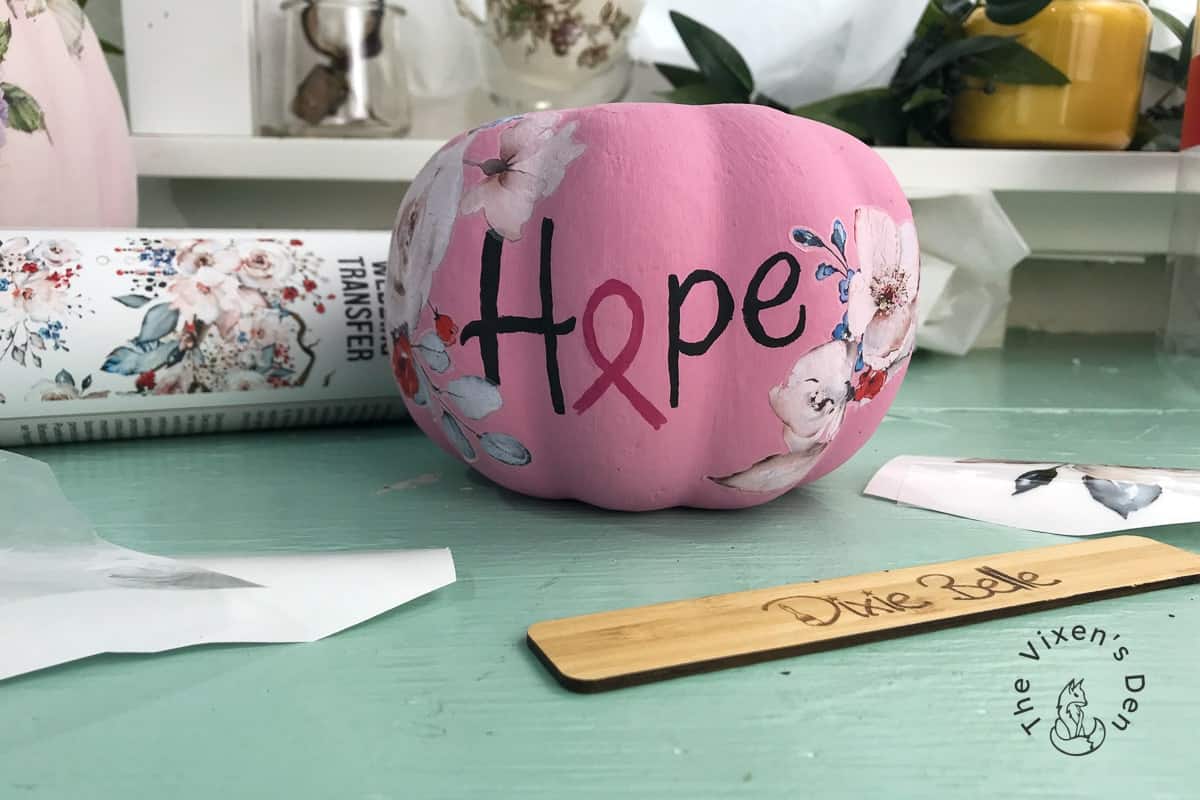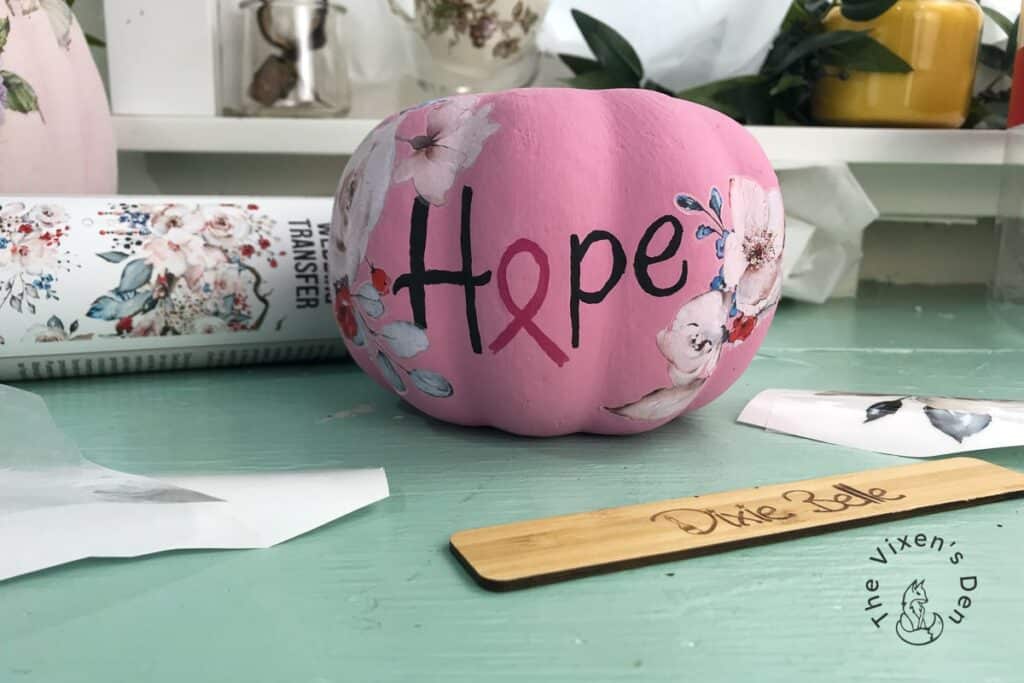 Touching up the Transfer
Whenever I apply a transfer to a non-flat surface, I always find that I need to touch up rips and cracks. The Dixie Belle Chalk Paint line blends beautifully with the transfer colors to help with this process. I used Pink Champagne, Rustic Red, and Tea Rose to fill in the gaps and tears.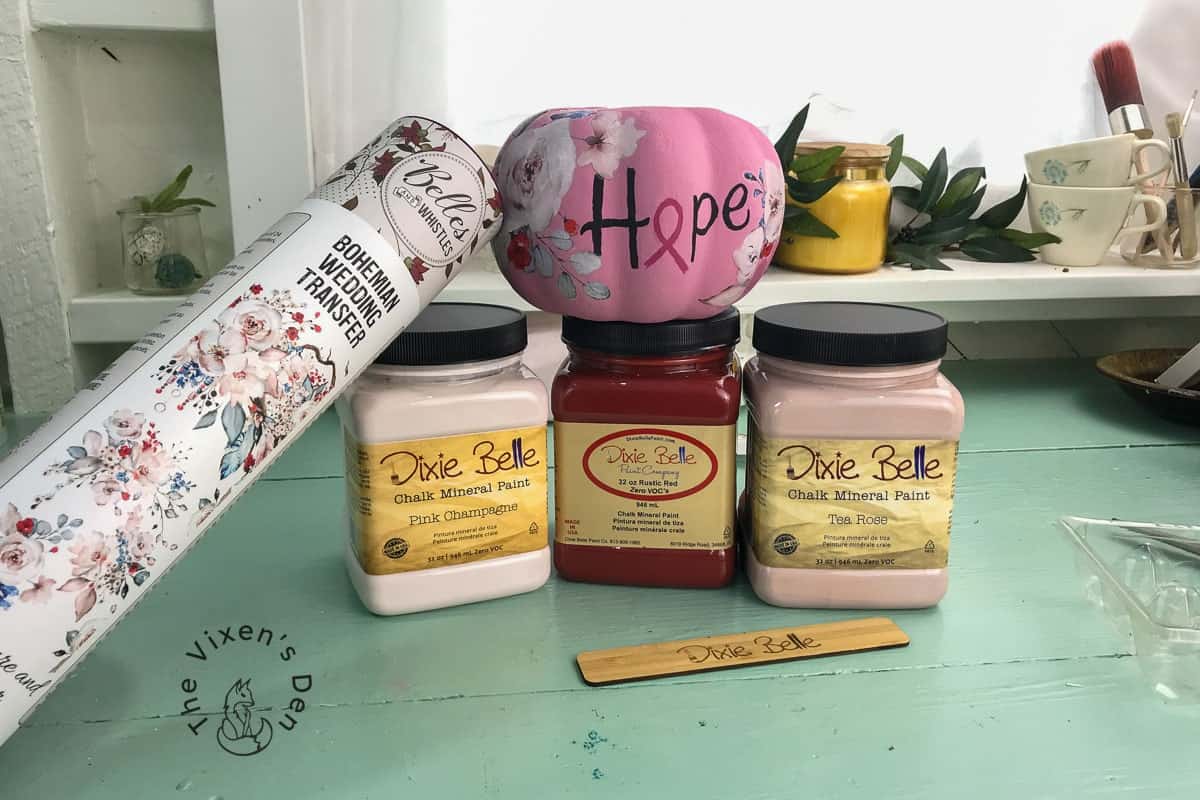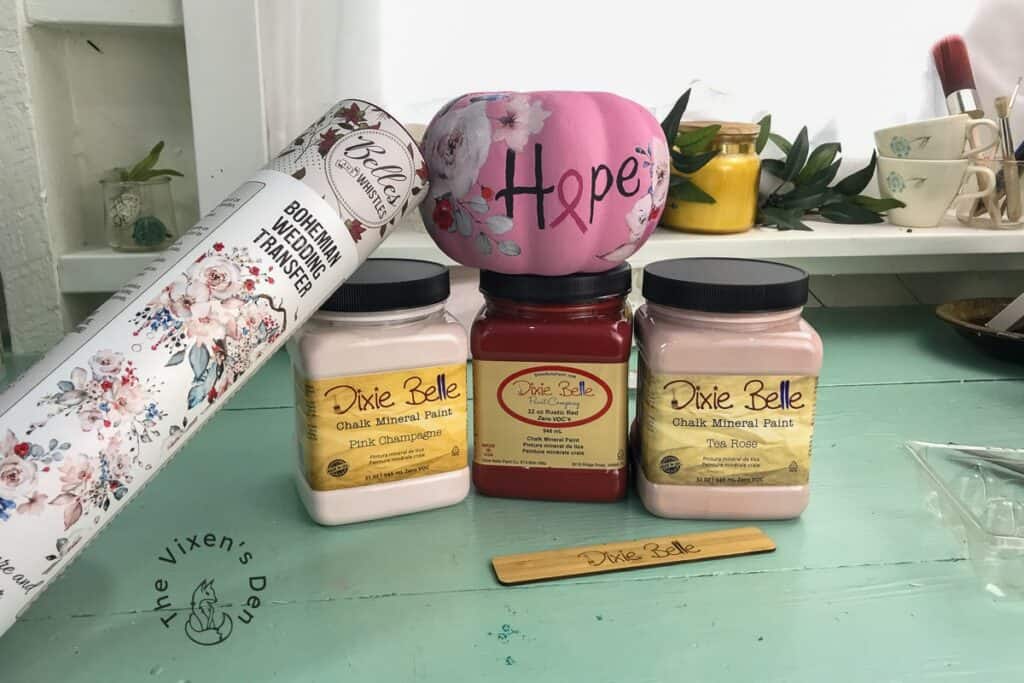 Can you tell that this transfer was touched up?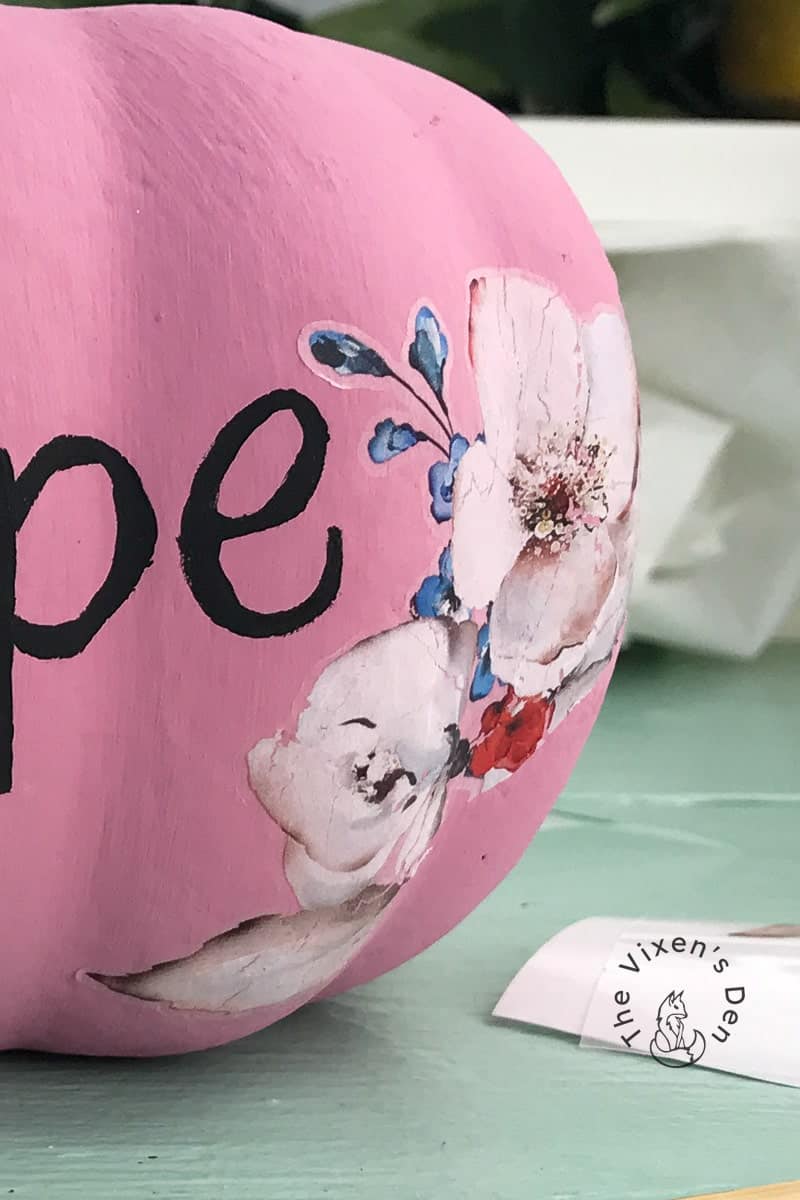 Sealing the Paint and Transfer
I wanted to add a little something more to the project. Before I moved any further in the process, however, I needed to seal in the transfer and paint. I applied a coat of Terra Seal. This is a great sealer because not only is it water resistant, but it provides a beautiful matte finish. This was especially important because of the next step.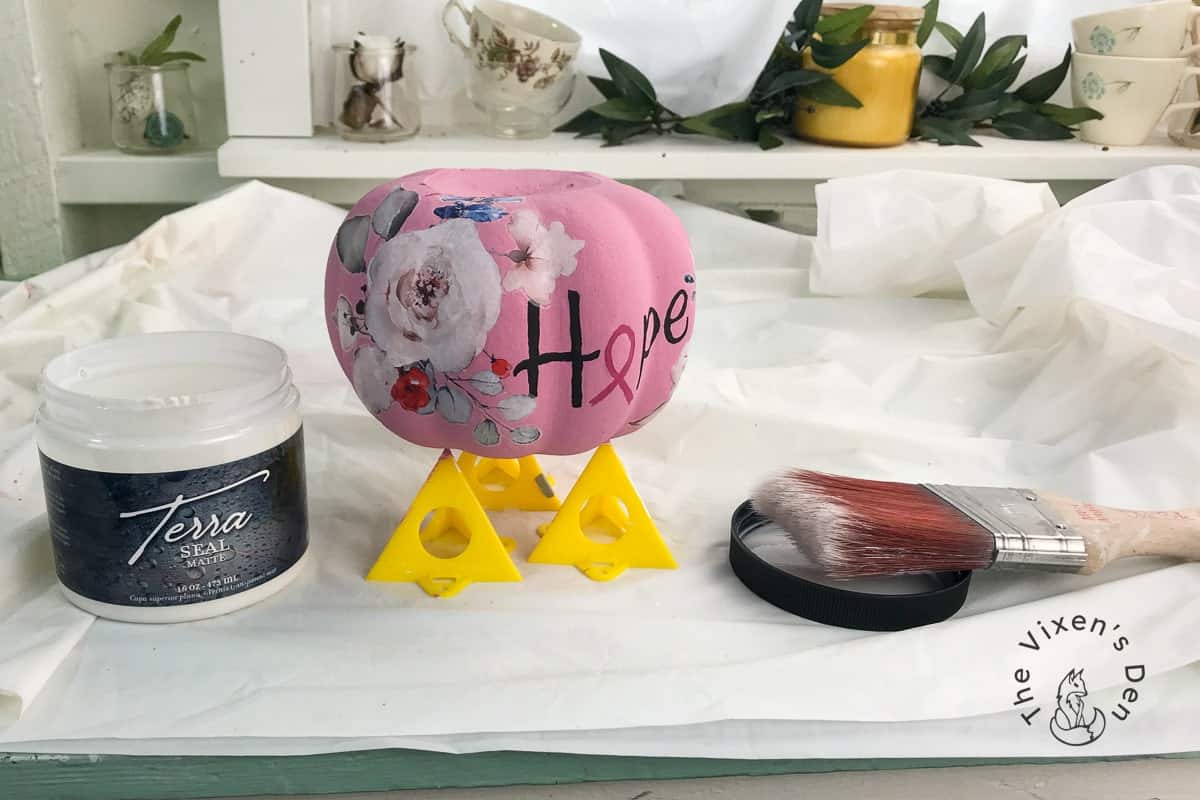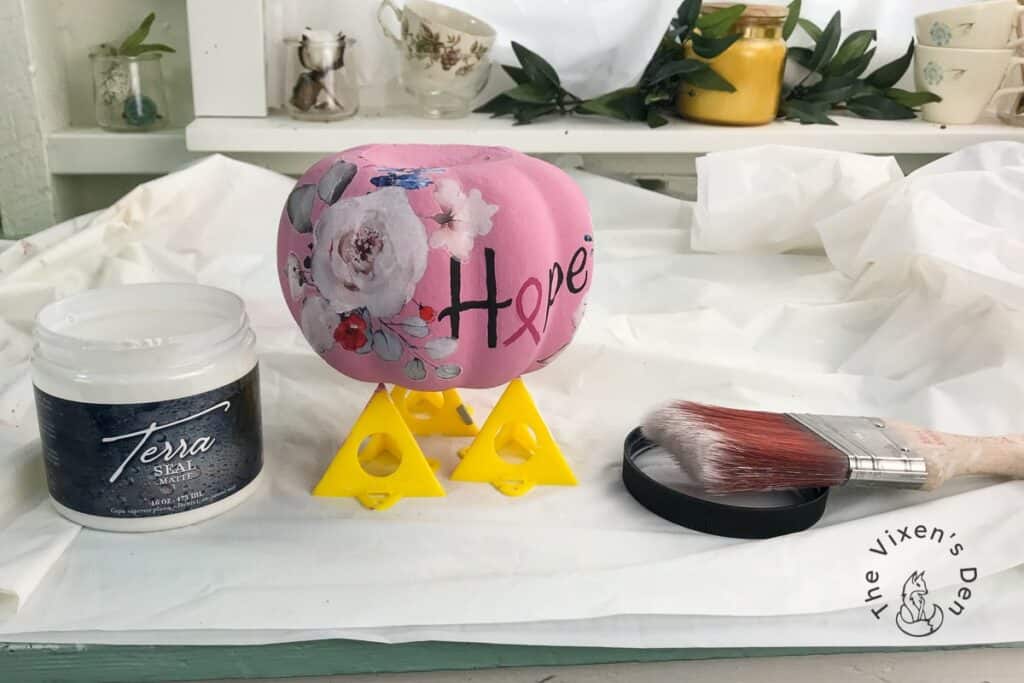 Painting with Metallic Paint
To help the transfer stand out and add a bit of something extra special, I painted the surface of the pumpkin with Moonshine Metallics Paint in Rozay. This is a beautiful shimmery color that added a hint of elegance to this transformed pumpkin. I did not paint the transfer, because I wanted it to stand out on its own with that beautiful matte finish.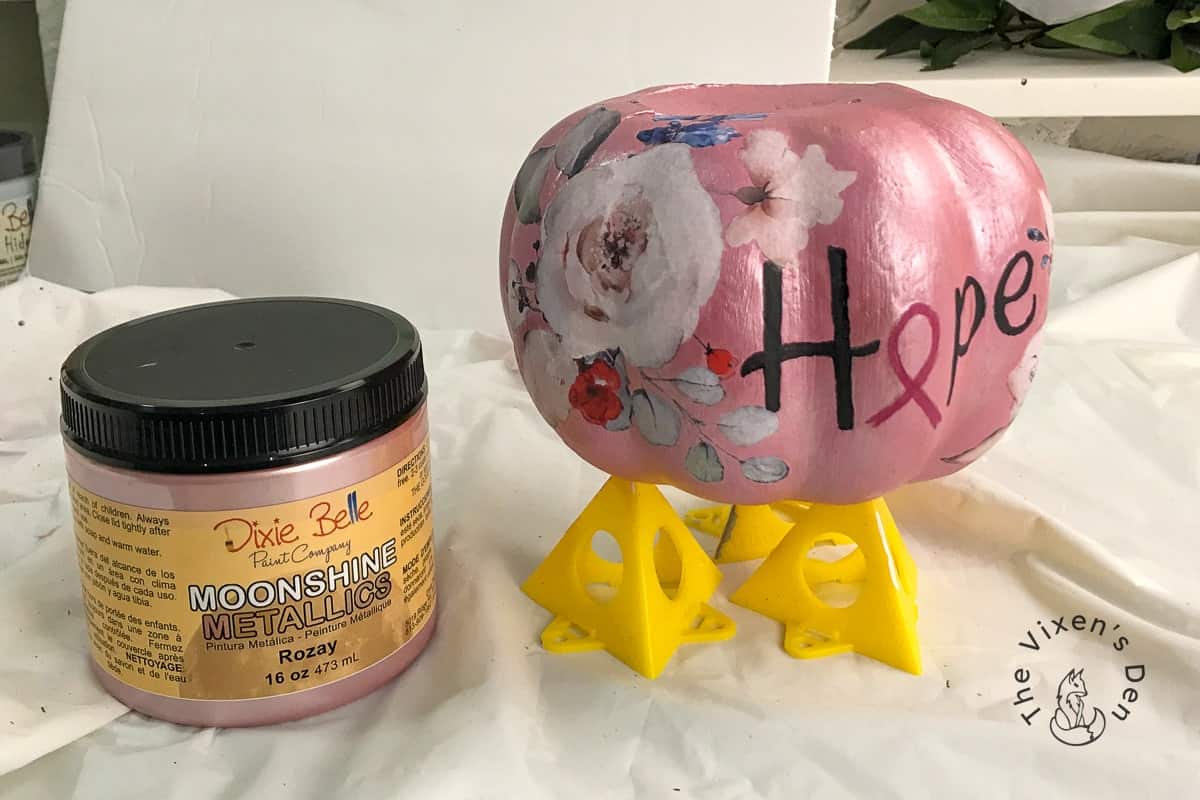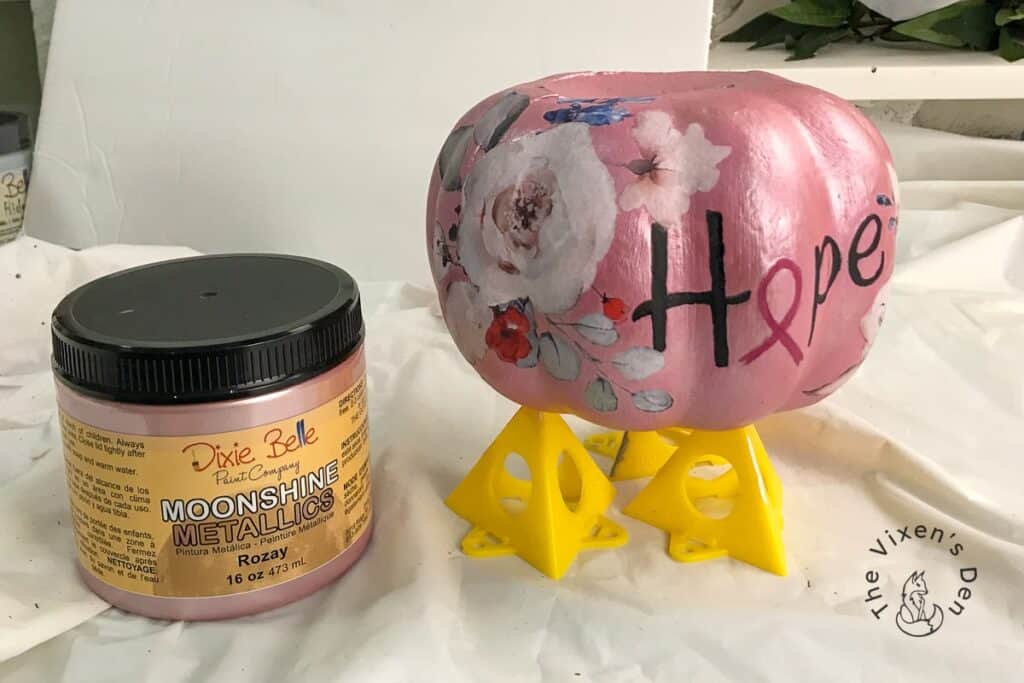 Adding the Final Details
To finish off this cute pumpkin, I needed to craft a new stem. I found the perfect stem in a bag of Dollar Tree Birchwood Stems. To create a vine, I used a piece of fabric-covered floral wire.
I painted the floral wire and birchwood stem in the same Desert Tan that I used earlier. Once the paint was dry, I coiled the ends of the floral wire around a pen. Then I lined up the center of the wire around the stem, wrapped it around to the front, and twisted the two sides together.
I hot-glued the stem to the top of the pumpkin and brushed on one more coat of Terra Seal.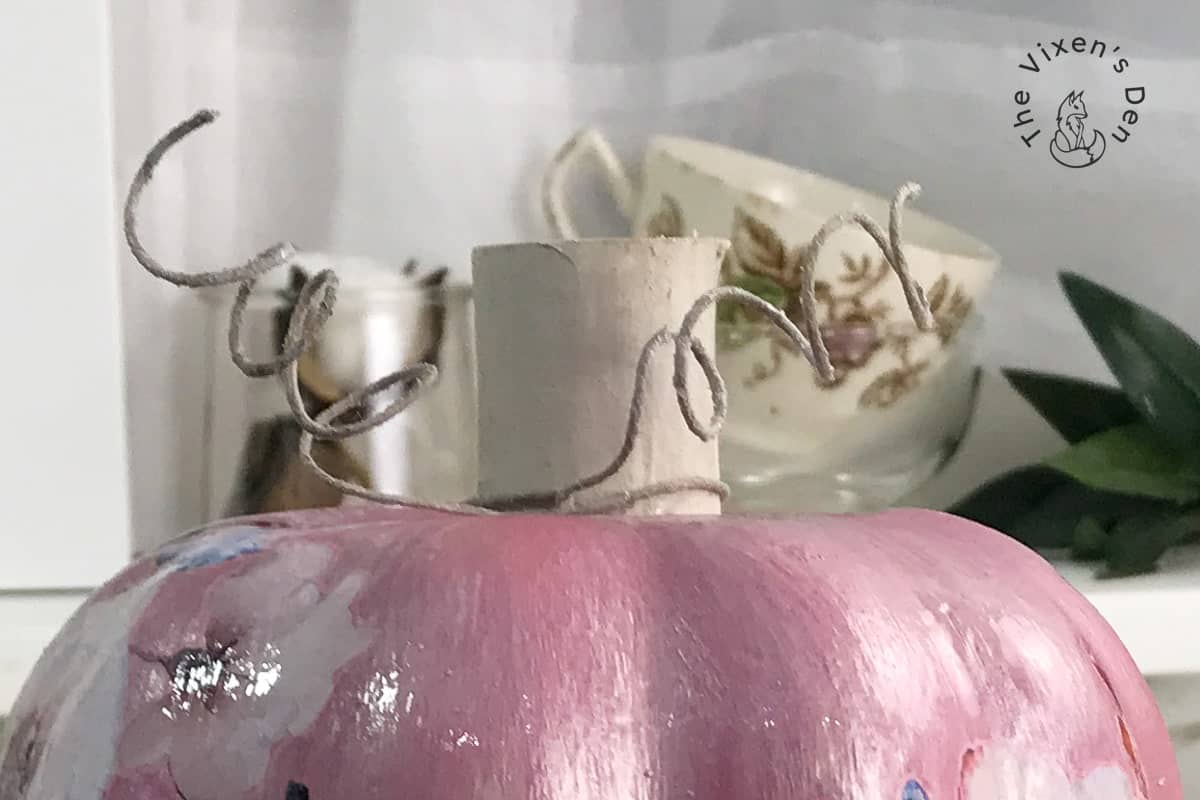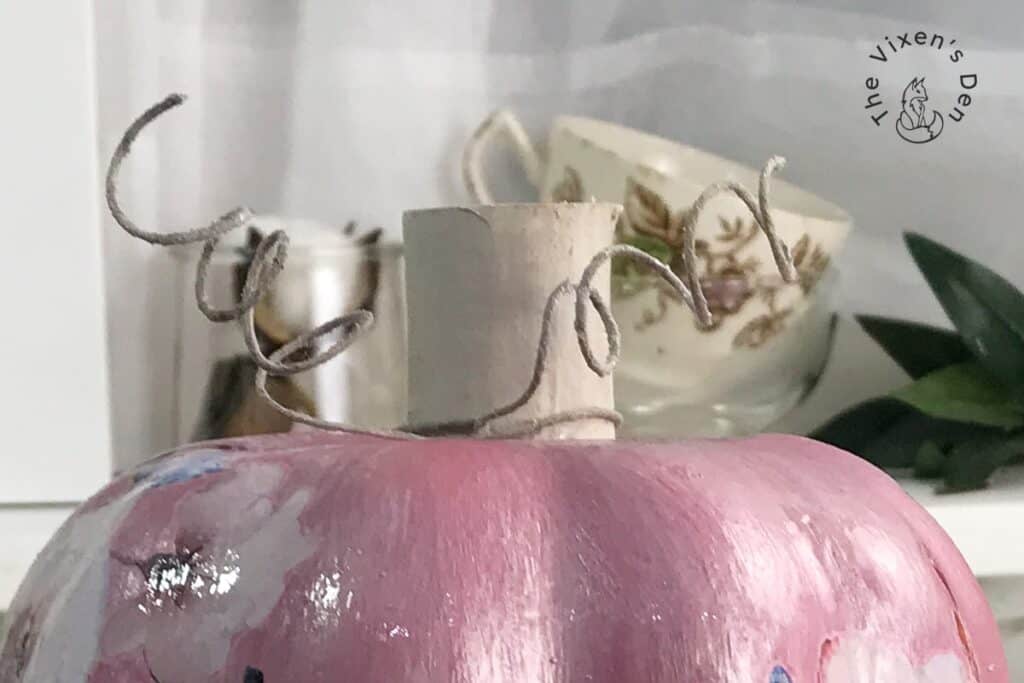 Breast Cancer Pink Pumpkin Before and After
Can you believe this is the same pumpkin?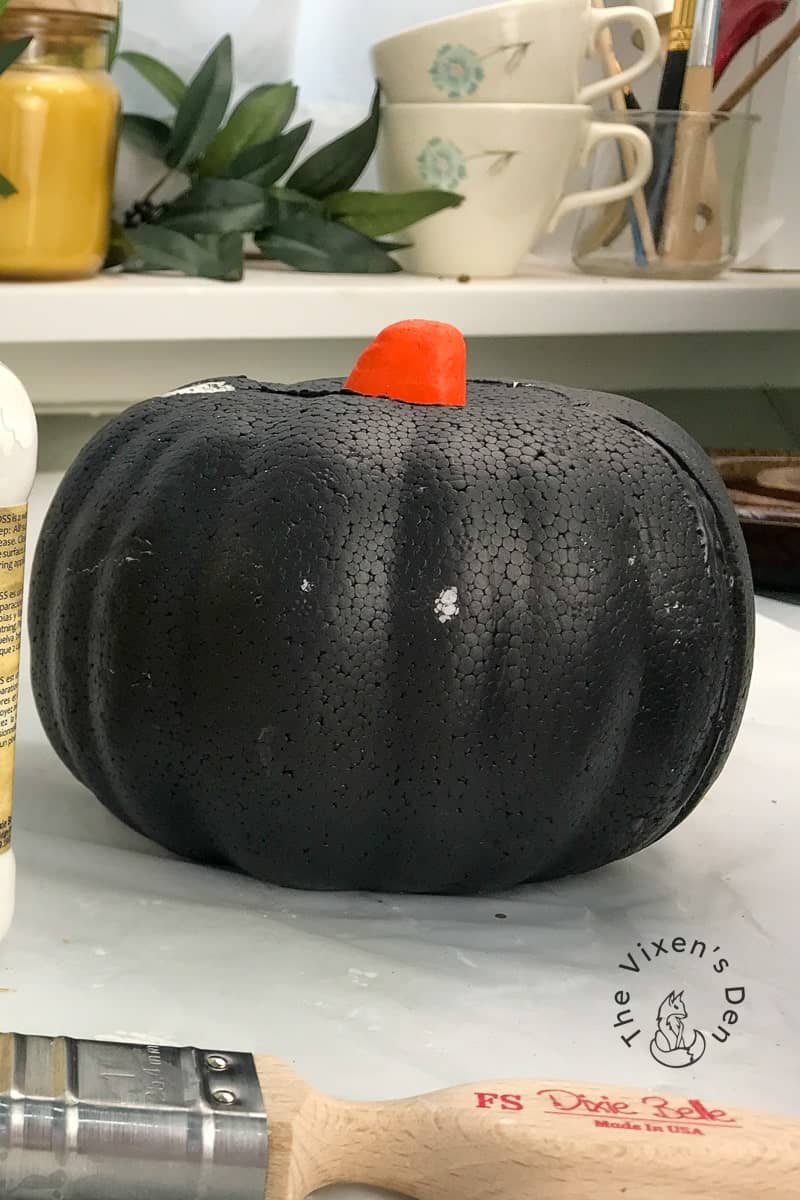 This sad little pumpkin has a shiny new outlook on life. It has transformed from shabby Halloween trash to a reminder that there is hope even in the most challenging circumstances.
Have you had a moment of hope and transformation in the midst of life's storms? I would love to hear your story in the comments below.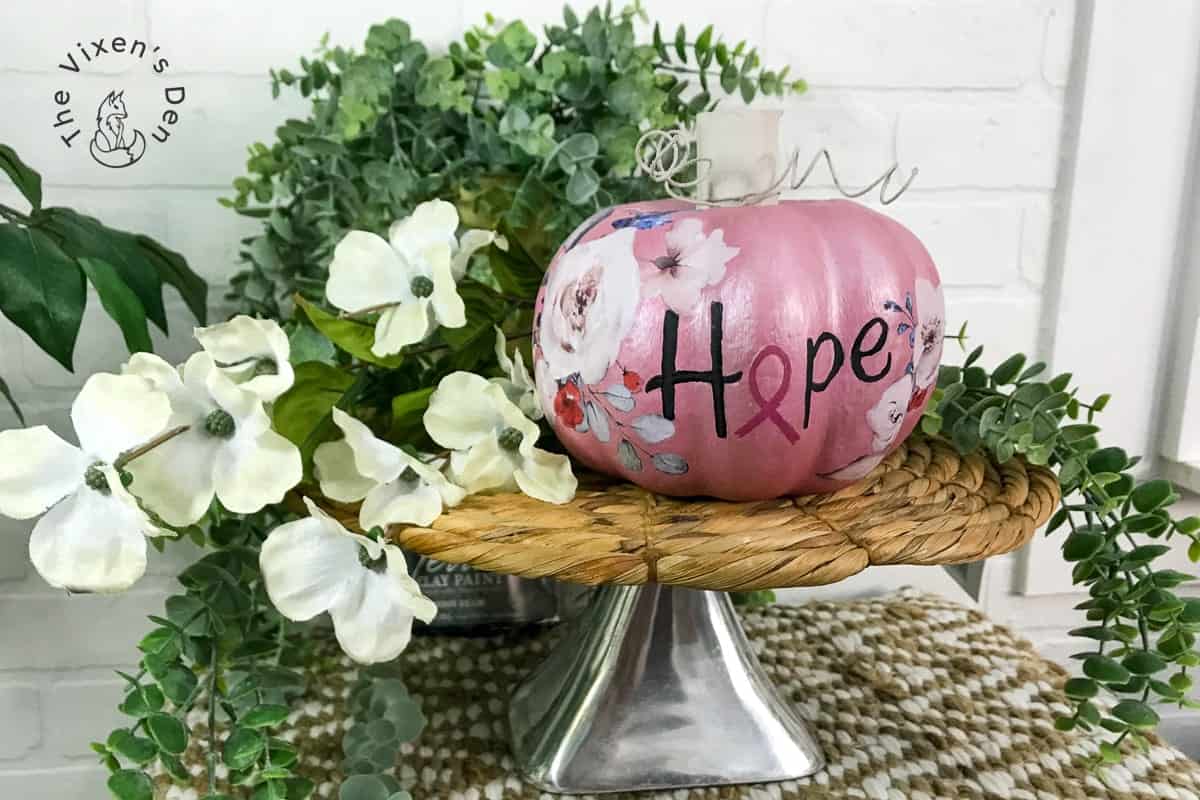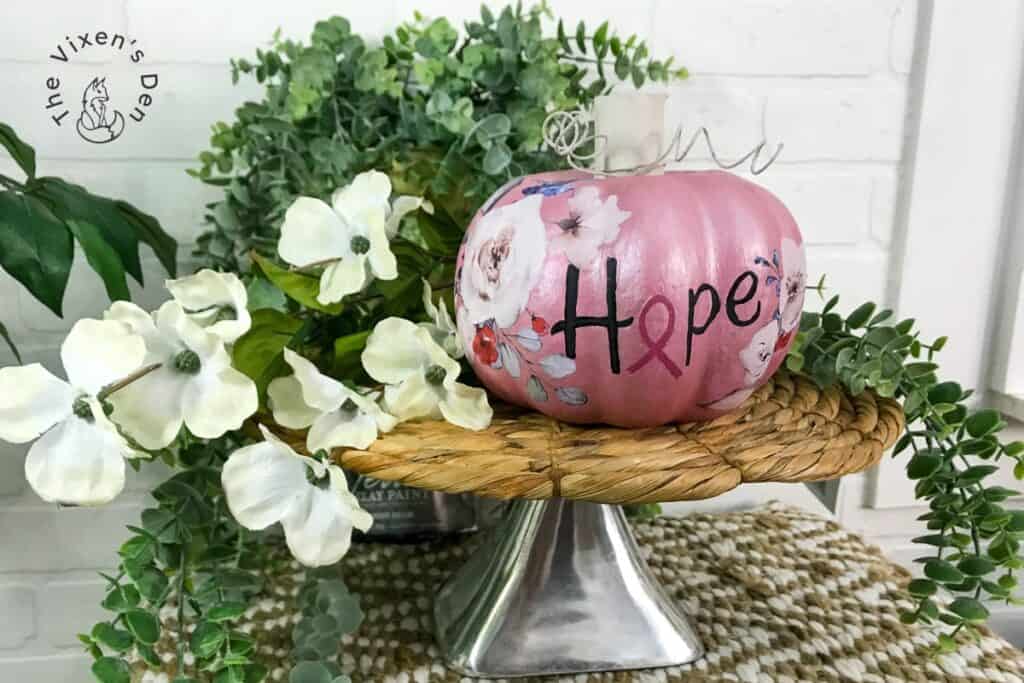 Thank you so much for stopping by! Check out the other amazing projects at the link parties below. I know the hostesses will appreciate your visit and comments.
Until next time, have a beautiful and blessed day!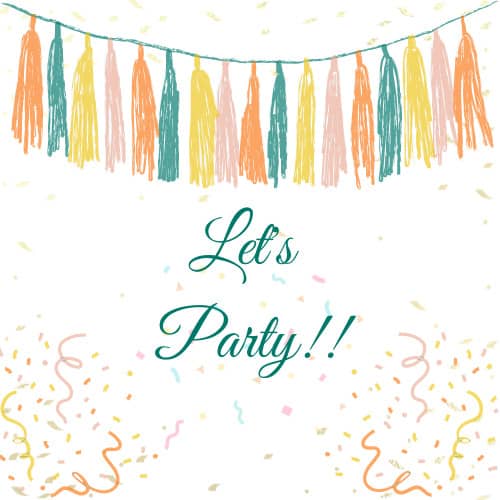 Linked up to these lovely link party hostesses at:
Don't forget to sign up so you hear all about the next misadventure! Until then, you may also like this Magazine Rack makeover or this Dresser upcycle.
---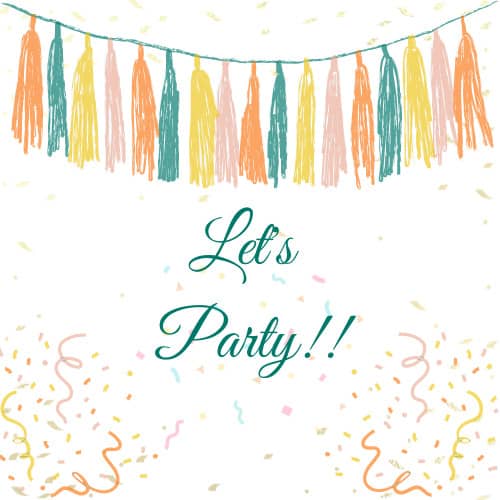 Linked up to these lovely link party hostesses at:
Don't forget to sign up so you hear all about the next misadventure! Until then, you may also like seeing this post on How to Add Transfers to a Rounded Surface or this post on Alice in Wonderland Transfers on a Chalk Painted Side Table.

I am so excited to be a Dixie Belle affiliate! Whenever you make a purchase through my affiliate link, I receive a commission at no additional cost to you. My Disclosure page has more information if you're curious. Thank you for supporting The Vixen's Den!